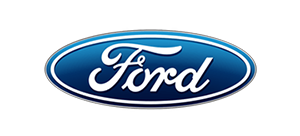 Need to Transport a Ford F350? Choose Heavy Haulers! Call (877) 202-3718
You will never get it Choosing Heavy Haulers when it comes to shipping an F350 medium and heavy-duty truck. With more than ten years of experience specializing in the heavy hauling industry, we have all it takes to deliver your Ford F350 to its destination, safely securely and on-time. We have the most experienced drivers who are highly trained and knowledgeable on the dynamics of the logistics industry, thus able to provide all heavy-duty shipping needs.

Additionally, we have a committed team of logistics professionals who are dedicated and prepared to handle your hauling needs anytime you need us. Once you submit the request, we arrange for pick up immediately, match your load with the right heavy-duty truck, plot the safest and shortest route, and schedule transportation quickly. All you require is to give us your request on (877) 202-3718, and we will take your load to its destination.
Why Choose Heavy Haulers for Shipping Ford F350 Medium and Heavy-Duty Trucks?
Ford F350 Heavy duty trucks require specialized trailers for transportation due to their heavyweights, sizes, and heights. You need a company with select vehicles to ensure they accommodate the size of your heavy-duty truck, secure it properly, and deliver to its destination safely. At Heavy Haulers, we understand without specialized trailers; the industry would suffer serious problems. We have the most versatile vehicles like Removable Goosenecks(RGNs) step deck trailers, flatbeds, and double drop decks to enable us to keep all our customer's cargo on the road. Our vehicles are versatile with an adjustable ability, thus assuring you that your heavy-duty truck will get a vehicle regardless of their height, weight, length, or shape. Call us on (877) 202-3718 and rest assured of the most reliable services for your Ford F350 heavy-duty trucks.
Recent Passenger Ford F350's Heavy Haulers Has Shipped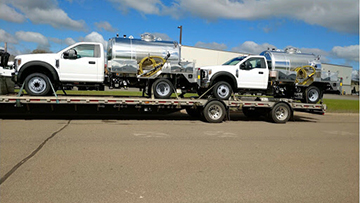 Ford F-550 1,300 Gallon Tank Hauled on a hotshot trailer
Origin: Rothschild, WI 54474
Destination: Patterson, CA 95363
Specs: 2019 Ford F-550 23L X 8W X 9H; 11,000lbs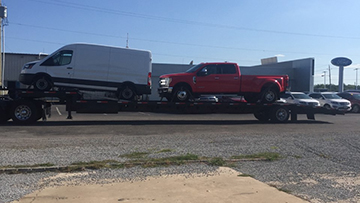 2017 Ford F-350 Super Duty/Dually Shipped on a Hotshot Trailer
Origin: Pryor Creek, OK 74361
Destination: Plant City, FL 33565
Specs: 2017 Ford F-350 Super Duty/Dually Pickup Extended Cab; 22L X 8W X 6.75H; 7,000lbs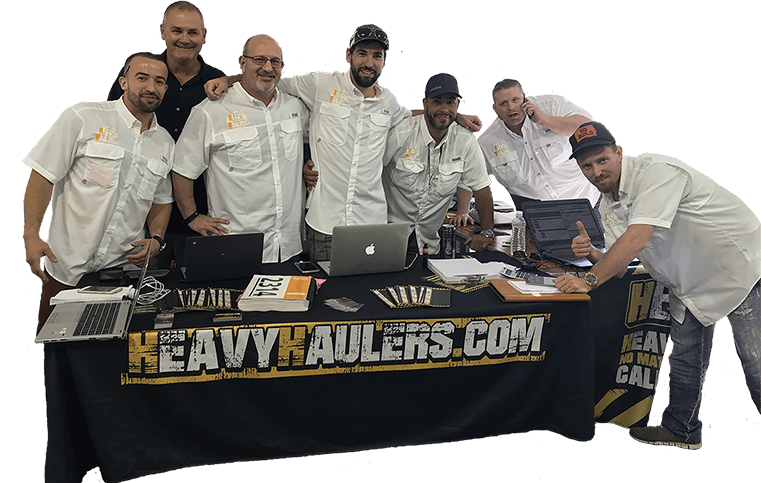 Looking For Transport
With a Specific Trailer?

Max Weight: 150,000+ lbs. | Main Deck Length 29 ft.
| Well Width 8.5 ft. | Legal Height Limit 11.6 ft.

Max Weight: 48,000 lbs. | Max Length 53 ft.
| Max Width 8.5 ft. | Max Height 8.5 ft.
Max Weight: 48,000 lbs. Max Length 53 ft. |
Max Width 8.5 ft. | Max Height 11 ft.
Max Weight: 45,000 lbs. | Max Length 29 ft.
| Max Width 8.5 ft. | Max Height 11.5 ft.
Heavy Haulers Ships Across All 50 States
Alabama - Alaska - Arizona - Arkansas - California - Colorado - Connecticut - Delaware - Florida - Georgia - Hawaii - Idaho - Illinois - Indiana - Iowa - Kansas - Kentucky - Louisiana - Maine - Maryland - Massachusetts - Michigan - Minnesota - Mississippi - Missouri - Montana - Nebraska - Nevada - New Hampshire - New Jersey - New Mexico - New York - North Carolina - North Dakota - Ohio - Oklahoma - Oregon - Pennsylvania - Rhode Island - South Carolina - South Dakota - Tennessee - Texas - Utah - Vermont - Virginia - Washington - West Virginia - Wisconsin - Wyoming
Heavy Haulers Pilot Car Services
Are you looking for a reliable pilot car
for your transport?
Get Started
When It Comes To Transport - Heavy Haulers Has What you Need!
5-Star Rating (Transportreviews.com)

A+ Rating from (Better Business Bureau)

Contingency Insurance

Experienced Drivers

24/7 Customer Service

Oversize and Overweight Load Shipping Specialists

Transport Services in All 50 States, Canada, And Mexico