Helicopter Transport with Heavy Haulers | (800) 908-6206
Ours team is the best when it comes to shipping your helicopter. With over a decade in heavy haul and oversize loads, Heavy Haulers have become the industry leader in helicopter transport. Heavy Haulers has a comprehensive fleet offering helicopter shipping throughout the US, Canada, and Mexico with partners and affiliates spread in over 50 regions to better meet customer demand for unique or heavy cargo moving.
Contact Our Expert Shipping Specialists
(800) 908-6206
We offer safe and comprehensive helicopter shipping. Helicopters can be tall, wide and heavy, requiring more than a regular flatbed trailer. Our drop or step deck trucking solution remains the best and safest option for helicopter transportation. At Heavy Haulers, we run a unique fleet of helicopter transport trucks to handle those abnormally cumbersome cargoes safely, and a free valuation is available.
Your helicopter truckload is made safer during low visibility using rear light reflectors and turn-indicative lights on the side. Coupled with maximum strength fog lamps and number plate light, our helicopter hauling transports are secure while driving in low light and foggy conditions. Helicopter transport combines all the mechanical marvels of general haulage with a height booster as a single or double drop on our hauling trailer.
Start Your Helicopter Transport Solution Search
This drop deck partition enables shipping a helicopter at a lower height, significantly adding stability while avoiding overhead obstructions. Helicopters are well accommodated by the Heavy Haulers dispatch and logistics team that hauls them in one neat package. Machinery and equipment that handles your helicopter consignment are also graded and certified to high industry standards.
Helicopters That Heavy Haulers Also Transport:
• Northrop-Grumman MQ-8
• Sikorsky UH-60 Black Hawk
• MD Helicopters MH-6 Bird
• Robinson R-22
• Mil Mi-26
• Beechcraft C-12 Huron
• Eurocopter UH-72 Lakota
• Boeing AH-64 Apache
See More of Our Recent Helicopter Shipments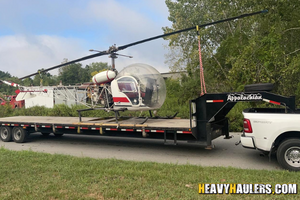 1959 Bell 47 Helicopter Haul
Origin: Goshen, NY 10924
Destination: Stratford, CT 06615
Specs: L30 W8 H9.4; 2400lbs
When It Comes To Transport - Heavy Haulers Has What you Need!
5-Star Rating (Transportreviews.com)

A+ Rating from (Better Business Bureau)

Contingency Insurance

Experienced Drivers

24/7 Customer Service

Oversize and Overweight Load Shipping Specialists

Transport Services in All 50 States, Canada, And Mexico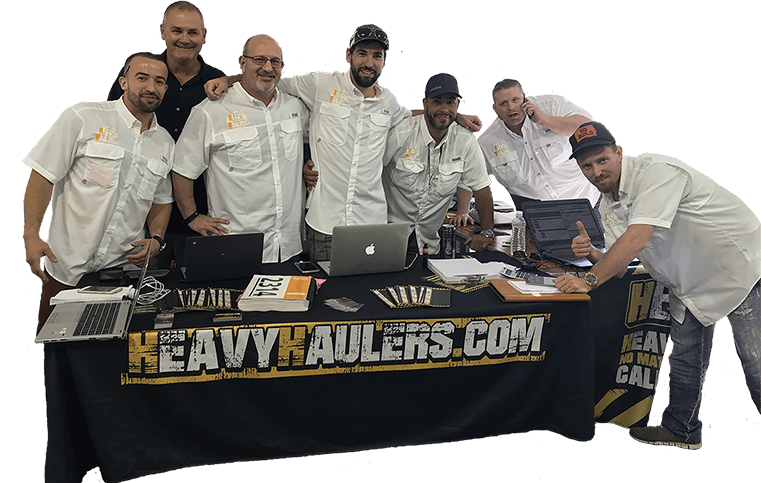 Common Types of Helicopters We Transport Include:
Looking For Transport
With a Specific Trailer?

Max Weight: 150,000+ lbs. | Main Deck Length 29 ft.
| Well Width 8.5 ft. | Legal Height Limit 11.6 ft.

Max Weight: 48,000 lbs. | Max Length 53 ft.
| Max Width 8.5 ft. | Max Height 8.5 ft.
Max Weight: 48,000 lbs. Max Length 53 ft. |
Max Width 8.5 ft. | Max Height 11 ft.
Max Weight: 45,000 lbs. | Max Length 29 ft.
| Max Width 8.5 ft. | Max Height 11.5 ft.
Heavy Haulers Ships Across All 50 States
Alabama - Alaska - Arizona - Arkansas - California - Colorado - Connecticut - Delaware - Florida - Georgia - Hawaii - Idaho - Illinois - Indiana - Iowa - Kansas - Kentucky - Louisiana - Maine - Maryland - Massachusetts - Michigan - Minnesota - Mississippi - Missouri - Montana - Nebraska - Nevada - New Hampshire - New Jersey - New Mexico - New York - North Carolina - North Dakota - Ohio - Oklahoma - Oregon - Pennsylvania - Rhode Island - South Carolina - South Dakota - Tennessee - Texas - Utah - Vermont - Virginia - Washington - West Virginia - Wisconsin - Wyoming
Heavy Haulers Pilot Car Services
Are you looking for a reliable pilot car
for your transport?
Get Started