Shipping a Container Tilter with Heavy Haulers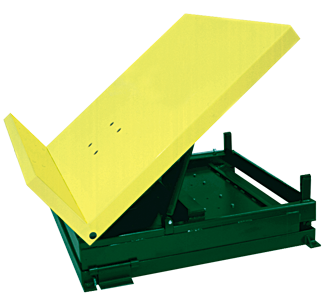 Trust only the experts to move an important piece of equipment like a container tilter. The professionals at Heavy Haulers specialize in transporting oversize machinery of all types. Our experience in hauling container tilters and other heavy cargo-handling equipment for port terminals and ship-to-shore operations means you are in capable hands. We handle all the major manufacturers, including A-Ward, Shandong Zhongfan, Zhangjiagang KS Machinery, Dandong Crane, Zhecheng Hong Xin, KDR Powder Engineering, and more. With service in all 50 states, we can get your cargo-handling machinery wherever you need it. Heavy Haulers today and talk to our shipping specialists about transporting a container tilter. Call (800) 908-6206.
Container tilters provide an indispensable function for the loading and unloading of bulk materials. When transported in a shipping container, even the heaviest materials are quickly and efficiently dumped out by the tilter. Container tilters are designed to work with 20- or 40- foot intermodal containers. Port terminals and ship-to-shore operations rely heavily on container tilters, which provide an extra level of safety. These hydraulic tilters are often designed specifically for your purposes. They can be elevated to provide a tilt of anywhere from 30 degrees to around 65 degrees. The angle of the tilt is important and should be custom-fit to handle what you need. The larger the angle, the more quickly the material will come out, so the weight of the product is a major determining factor. Container tilters not only speed up the unloading process, they also greatly reduce labor costs, by allowing a single employee to remotely handle the work.
Looking For Transport
With a Specific Trailer?

Max Weight: 150,000+ lbs. | Main Deck Length 29 ft.
| Well Width 8.5 ft. | Legal Height Limit 11.6 ft.

Max Weight: 48,000 lbs. | Max Length 53 ft.
| Max Width 8.5 ft. | Max Height 8.5 ft.
Max Weight: 48,000 lbs. Max Length 53 ft. |
Max Width 8.5 ft. | Max Height 11 ft.
Max Weight: 45,000 lbs. | Max Length 29 ft.
| Max Width 8.5 ft. | Max Height 11.5 ft.
Heavy Haulers Ships Across All 50 States
Alabama - Alaska - Arizona - Arkansas - California - Colorado - Connecticut - Delaware - Florida - Georgia - Hawaii - Idaho - Illinois - Indiana - Iowa - Kansas - Kentucky - Louisiana - Maine - Maryland - Massachusetts - Michigan - Minnesota - Mississippi - Missouri - Montana - Nebraska - Nevada - New Hampshire - New Jersey - New Mexico - New York - North Carolina - North Dakota - Ohio - Oklahoma - Oregon - Pennsylvania - Rhode Island - South Carolina - South Dakota - Tennessee - Texas - Utah - Vermont - Virginia - Washington - West Virginia - Wisconsin - Wyoming
Heavy Haulers Pilot Car Services
Are you looking for a reliable pilot car
for your transport?
Get Started