Premium Side Loader Transport from Heavy Haulers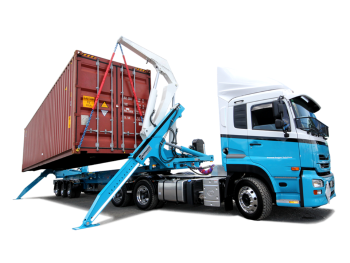 Choose Heavy Haulers to transport your side loader professionally and fast! We transport all types of side loaders from all manufacturers including VNA trucks, VNA forklift, Yale, Toyota, Jungheinrich, Crown, Hyster, Clark. Heavy Haulers ships side loaders in all 50 states. Call (800) 908-6206 to ship your side loader!
Side loaders are designed to handle full shipping container loads. They are also known as VNA, or very narrow aisle, trucks, due to the nature of their work. You can choose from manual and automated side loaders. They can deliver and drop off a shipping container and drive off, leaving the full container behind. This is a quick method of handling, sorting and keeping track of many items, making it perfect for automated systems.
Quality Service When Shipping a Side Loader with Heavy Haulers
We provide shipping services for all size side loaders to any destination local or cross country! The side loader has several advantages over other vehicles made to haul cargo. First, because the container didn't have to be emptied before moving, you have much more time to get your shipment unloaded. There's no need to keep a crew ready for loading and unloading containers upon arrival. Also, you have easier access to your goods when you do unload. When considering switching to side loaders, it is important to assess your space first. Since side loader trucks need more space for unloading than other options, you need to ensure you have enough room.
Looking For Transport
With a Specific Trailer?

Max Weight: 150,000+ lbs. | Main Deck Length 29 ft.
| Well Width 8.5 ft. | Legal Height Limit 11.6 ft.

Max Weight: 48,000 lbs. | Max Length 53 ft.
| Max Width 8.5 ft. | Max Height 8.5 ft.
Max Weight: 48,000 lbs. Max Length 53 ft. |
Max Width 8.5 ft. | Max Height 11 ft.
Max Weight: 45,000 lbs. | Max Length 29 ft.
| Max Width 8.5 ft. | Max Height 11.5 ft.
Heavy Haulers Ships Across All 50 States
Alabama - Alaska - Arizona - Arkansas - California - Colorado - Connecticut - Delaware - Florida - Georgia - Hawaii - Idaho - Illinois - Indiana - Iowa - Kansas - Kentucky - Louisiana - Maine - Maryland - Massachusetts - Michigan - Minnesota - Mississippi - Missouri - Montana - Nebraska - Nevada - New Hampshire - New Jersey - New Mexico - New York - North Carolina - North Dakota - Ohio - Oklahoma - Oregon - Pennsylvania - Rhode Island - South Carolina - South Dakota - Tennessee - Texas - Utah - Vermont - Virginia - Washington - West Virginia - Wisconsin - Wyoming
Heavy Haulers Pilot Car Services
Are you looking for a reliable pilot car
for your transport?
Get Started