Cargo Handling Machinery & Equipment Transportation Services from Heavy Haulers
Trust the oversize load specialists at Heavy Haulers when you need to transport cargo-handling equipment. We plan and schedule your route and calculate your overweight load's shipping costs. We provide all permits and pilot or escort cars necessary to ship your cargo-handling equipment. Our highly skilled drivers have the knowledge and experience needed to make the haul safe and efficient. We can safely haul cranes, reach stackers, top pickers, spreaders, and more to any U.S. location. Contact us today for solutions to your oversize cargo-handling equipment transportation issues.
MEET THE HEAVY HAUL BROS! Reach us at (800) 908-6206
Common Cargo Handling Equipment Heavy Haulers Move Cross-Country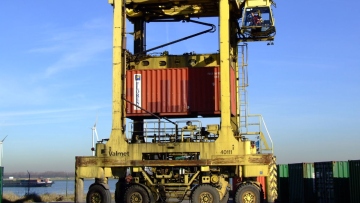 Straddle Carrier Shipping
A straddle carrier can pick up its freight by straddling it and carrying it underneath. This allows port terminals to stack heavy containers up to four high. Trust the transport professionals at Heavy Haulers to provide premium straddle carrier shipping services in all states.

Transport a Straddle Carrier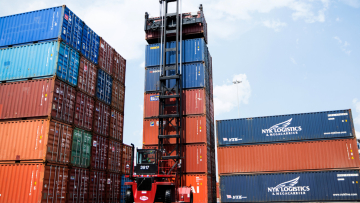 Container Top Picker Hauling
Top-pick spreaders are some of the most versatile cargo-movers available, and certain types can stack up to five high. Top pickers are able to lift and stack even the heaviest loaded shipping containers with ease. Heavy Haulers transports top pickers everywhere in the nation.

Transport a Top Picker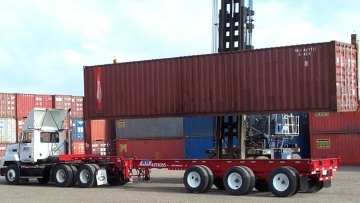 Shipping Containers – 20', 40', 45'
Containers come in a variety of sizes and are designed to fit a multitude of shipping needs. Choose from 20', 40', and 45' models to ship everything from heavy machinery to refrigerated food items. Heavy Haulers provides premium container transport in all 50 states.

Transport a 20 ft., 40 ft., or 45' Container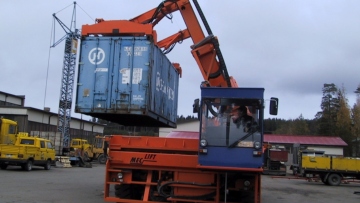 Side Loader Shipping
Side loader trucks are able to deliver and drop off your shipping container, leaving the load behind. This gives you time to unload the cargo later. When you need to move a side loader, Heavy Haulers can transport your side loader anywhere in all 50 states.

Shipping a Side Loader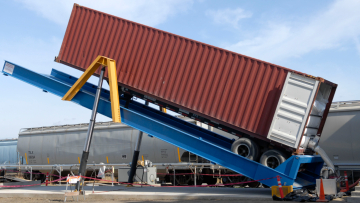 Container Unloader Transportation
When dealing with bulk materials, an unloader can be the most efficient choice for unloading. Unloaders can handle the heaviest cargo loads with ease. Heavy Haulers offers top-quality shipping for unloaders to all 50 states.

Shipping an Container Unloader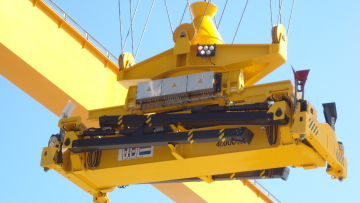 Container Spreader Relocation
Spreaders keep ship-to-shore terminals organized and working efficiently. The corner locking mechanisms on a spreader allow it to lift heavy cargo containers from above and place them where needed. Heavy Haulers offers premium spreader transport services to any location in the United States.

Shipping a Spreader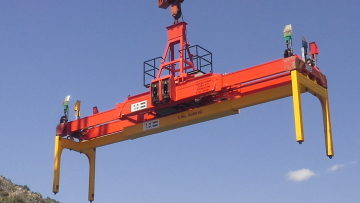 Twin Lift Spreader Shipping
Twin lift spreaders provide twice the lifting power for 20' and 40' containers as a regular spreader. Twin lifts are able to adapt for loads that are of different weights. For the finest twin lift shipping in the industry, trust Heavy Haulers for safe transport everywhere in the nation.

Shipping a Twin Lift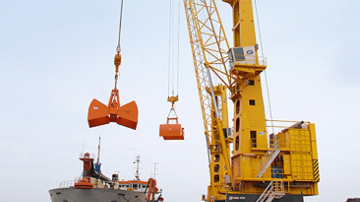 Transporting a Container Crane
A container crane, sometimes referred to as a ship-to-shore crane, are essential to dockside container terminals. They are typically classified by the size containers they can load and unload and their lifting capacity. Heavy Haulers is the nation's choice for professional container crane transport in all 50 states.

Shipping a Container Crane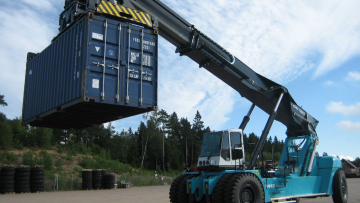 Reach Stacker Transportation
Reach stackers are perfect for small terminals and medium-sized ports. They can move containers quickly across short distances. Heavy Haulers provides safe, efficient reach stacker shipping everywhere in the United States.

Shipping a Reach Stacker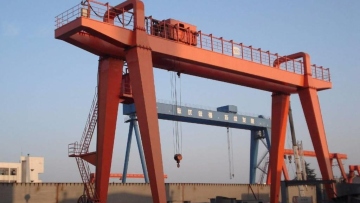 Gantry Crane Transportation
A gantry crane is an indispensable powerhouse for port terminals dealing with intermodal containers. Gantry cranes are able to unload extremely heavy shipments. Heavy Haulers provides professional shipping services for your gantry crane, anywhere in the nation.

Shipping a Gantry Crane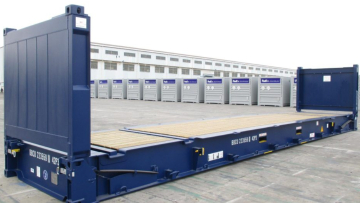 Flat Rack Container Shipping – 20 ft. & 40 ft.
When dealing with heavy loads and freight that need to be loaded from the top or sides, flat rack containers are the preferred choice. Available in 20' and 40' dimensions, these steel containers come with or without walls and can be collapsible or non-collapsible. For the finest transport for flat rack containers in all 50 states, trust the professionals at Heavy Haulers.

Shipping a Flat Rack Container
Container Tilter Transportation
Ship a container tilter for port terminals and barges with Heavy Haulers. Professional transport services for oversize loads, such as container tilters and other cargo-handling equipment. Heavy Haulers moves container tilters in all 50 states. Call us at (800) 908-6206..

Shipping a Container Tilter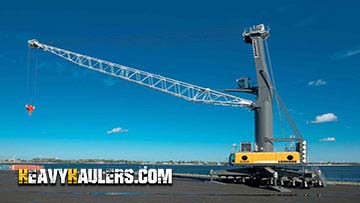 Harbor Crane Transportation
Moving a harbor crane, port cranes for ship-to-shore, barge, and port terminals. Heavy Haulers ships harbor cranes in all 50 states. Brands like Kalmar, Konecranes, Liebherr, American Crane, Cargotec, and more. Expert shipping services for harbor cranes. Call Heavy Haulers at (800) 908-6206.

Shipping a Harbor Crane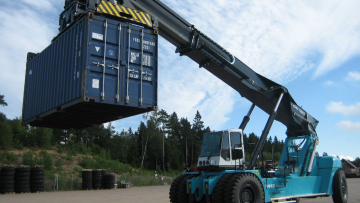 Unloader Transportation
Underloaders offer tremendous moving power to your port terminal or ship-to-shore operations. Container under loaders are versatile, easily handling intermodal containers, both empty and fully loaded. Whether you are working with 20' containers, 40' containers, or 45' cargo containers, an underloader can load and unload them with ease.

Shipping an Unloader