Container Unloader Transportation Services from Heavy Haulers | (800) 908-6206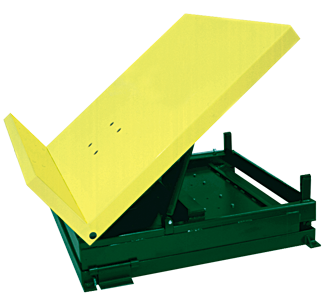 Have a container unloader you need relocated? Heavy Haulers can transport your unloader to from anywhere it's located to any destination in the United states and now internationally! We know how to transport all cargo-handling equipmnet including container unloaders, so when it comes time to haul one, we know how to get it done! Mechanized container unloaders provide a steady transfer of packaged and bagged goods both into and out of your shipment container. It's how many production-based manufacturers keep a proper timetable, avoiding costly delays and workplace injuries. Your drop-packaging machine, place packer, or elite Copal container unloader is a hard-core workhorse – and you understand the value of that piece of equipment. Choose Heavy Haulers to transport this expensive piece of equipment from one location to the next.
Properly loading your manufactured goods for shipment can make a difference in time, money, and secure arrival of your merchandise. From hydraulic ramps to mechanized arms, Heavy haulers can ship unusually sized and heavy equipment anywhere you need it. We take care of planning the route, securing al equipment, small pieces, and writing, and even file the transportation paperwork along the way. Your ability to stay ahead of the competition isn't just about service and prices – it's also about how fast you can deliver.
Container Unloader and Cargo Equipment Shipping Services Provided in All 50 States
Container Unloader shipping services is provided in all 50 states, as well as to any port in the world! We provide ground transportation services for all container unloaders in all 50 states as well as Canada and Mexico. Companies that use premium container unloaders typically see a 50% increase in productivity – and time is money. Adding mechanized support to unloading containers for retail stores or warehouses also reduces the occurrence of workplace injuries, keeping your employees safe and your insurance costs lower. Heavy Haulers can help your business transport the ideal container unloaders to your dock, plant, store, or hotel.
We are able to accommodate any for of transport, open, enclosed, expedited on a case-by-case basis, so we encourage you to give us a call at (800) 908-6206 to arrange a custom quote. We work with only the best shippers in the business, arranging door-to-door transport of your container unloader and protecting your investment.
Looking For Transport
With a Specific Trailer?

Max Weight: 150,000+ lbs. | Main Deck Length 29 ft.
| Well Width 8.5 ft. | Legal Height Limit 11.6 ft.

Max Weight: 48,000 lbs. | Max Length 53 ft.
| Max Width 8.5 ft. | Max Height 8.5 ft.
Max Weight: 48,000 lbs. Max Length 53 ft. |
Max Width 8.5 ft. | Max Height 11 ft.
Max Weight: 45,000 lbs. | Max Length 29 ft.
| Max Width 8.5 ft. | Max Height 11.5 ft.
Heavy Haulers Ships Across All 50 States
Alabama - Alaska - Arizona - Arkansas - California - Colorado - Connecticut - Delaware - Florida - Georgia - Hawaii - Idaho - Illinois - Indiana - Iowa - Kansas - Kentucky - Louisiana - Maine - Maryland - Massachusetts - Michigan - Minnesota - Mississippi - Missouri - Montana - Nebraska - Nevada - New Hampshire - New Jersey - New Mexico - New York - North Carolina - North Dakota - Ohio - Oklahoma - Oregon - Pennsylvania - Rhode Island - South Carolina - South Dakota - Tennessee - Texas - Utah - Vermont - Virginia - Washington - West Virginia - Wisconsin - Wyoming
Heavy Haulers Pilot Car Services
Are you looking for a reliable pilot car
for your transport?
Get Started