Shipping 20' & 40' Flat Rack Containers with Heavy Haulers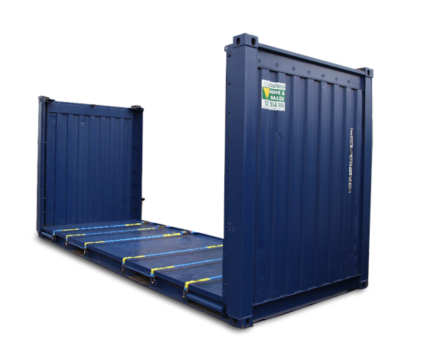 Whether your flat rack container needs to be relocated down the street or cross country - Heavy Haulers has the right trailers and drivers to haul them properly, we supply local and long disatance drivers anywhere in the country! We have eperience shipping all size and make of flat racks including 20', 40' intermodal containers, DSV, Gateway, Seaco. Heavy Haulers transports flat rack containers in all 50 states. Call (800) 908-6206.
Flat rack containers are used primarily for transportation or storage cargo with unusual dimensions. This could include any oversize load, such as equipment or vehicles. By design, flat racks only have two sides, on the short sides of the container. This allows the cargo to stick out on the longer sides while being shipped. Flat rack containers come in 20' and 40' lengths. The width and height of the two containers is about the same.
Trust the Right Shipping Company with your Flat Racks! - That's Heavy Haulers!
Besides being able to choose the length of your flat rack, you can also choose from two distinct types. The fixed end flat rack has fixed ends on both short sides of the container. This allows the container to be shipped with a greater top load. The collapsible flat rack containers sides are collapsible, to facilitate more efficient shipping of the empty container. In fact, four collapsible flat rack containers occupy the same space as one standard dry van container.
Looking For Transport
With a Specific Trailer?

Max Weight: 150,000+ lbs. | Main Deck Length 29 ft.
| Well Width 8.5 ft. | Legal Height Limit 11.6 ft.

Max Weight: 48,000 lbs. | Max Length 53 ft.
| Max Width 8.5 ft. | Max Height 8.5 ft.
Max Weight: 48,000 lbs. Max Length 53 ft. |
Max Width 8.5 ft. | Max Height 11 ft.
Max Weight: 45,000 lbs. | Max Length 29 ft.
| Max Width 8.5 ft. | Max Height 11.5 ft.
Heavy Haulers Ships Across All 50 States
Alabama - Alaska - Arizona - Arkansas - California - Colorado - Connecticut - Delaware - Florida - Georgia - Hawaii - Idaho - Illinois - Indiana - Iowa - Kansas - Kentucky - Louisiana - Maine - Maryland - Massachusetts - Michigan - Minnesota - Mississippi - Missouri - Montana - Nebraska - Nevada - New Hampshire - New Jersey - New Mexico - New York - North Carolina - North Dakota - Ohio - Oklahoma - Oregon - Pennsylvania - Rhode Island - South Carolina - South Dakota - Tennessee - Texas - Utah - Vermont - Virginia - Washington - West Virginia - Wisconsin - Wyoming
Heavy Haulers Pilot Car Services
Are you looking for a reliable pilot car
for your transport?
Get Started