Transport Your Train Caboose with Heavy Haulers | Call (800) 908-6206
Contact Our Expert Shipping Specialists


(800) 908-6206
Choose Heavy Haulers to ship your train caboose – or any other railway gear – across North America, through rough terrain and mountainous areas, or simply across town. Our specialty railway equipment services help you secure the right sized caboose for your rail line. The caboose typically rides at the end of your cargo cars, providing shelter for your hardworking crew. These cars also help ensure safe travels for your train, allowing the crew to observe the cars during switching and shunting, watching for load shifting or potential damage to the cargo and equipment, and even overheating axels.

Heavy Haulers is a railway equipment transportation specialist, a company that focuses on heavy equipment transportation. Our services include door-to-door shipment of your caboose, rail gear, and any other railway equipment using bonded, insured drivers experiences in transporting heavy and oversized loads. We have experience moving equipment into even rugged, undeveloped terrain, as well as navigating cross-country highways and urban traffic. Heavy Haulers ships cabooses and any other freight cars you need to be transported and we can even provide an escort service if needed. Our full-service heavy equipment company takes the headaches out of moving your gear.

Get Your Heavy Haulers Caboose Shipment Started Today
Your Heavy Haulers caboose transport services start with a phone call to one of our transportation specialists. They'll gather information about the size of your load, as well as the timeline for delivery. We prepare a custom quote for you, including any customs or weigh stations documents needed so you don't have to worry about it. You'll also receive a unique online code, allowing you to track your caboose shipment in real time. Ready to get started? Give us a call today at (800) 908-6206.
See More of Our Recent Caboose Shipments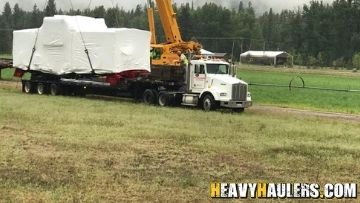 Shipping a Caboose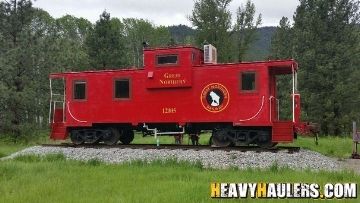 Caboose ready for Transport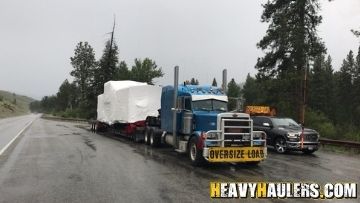 Delivering a Caboose
Looking For Transport
With a Specific Trailer?

Max Weight: 150,000+ lbs. | Main Deck Length 29 ft.
| Well Width 8.5 ft. | Legal Height Limit 11.6 ft.

Max Weight: 48,000 lbs. | Max Length 53 ft.
| Max Width 8.5 ft. | Max Height 8.5 ft.
Max Weight: 48,000 lbs. Max Length 53 ft. |
Max Width 8.5 ft. | Max Height 11 ft.
Max Weight: 45,000 lbs. | Max Length 29 ft.
| Max Width 8.5 ft. | Max Height 11.5 ft.
We Can Ship Your Equipment Anywhere in the
US, Canada, and Mexico
Heavy Haulers Pilot Car Services
Are you looking for a reliable pilot car
for your transport?
Get Started