Superior Services for Shipping a Subway Car
A lot of money goes into the purchase of new rail cars, and it understandable to be skeptical about whoever you hire to transport a subway car. The towing industry has many companies. Most of them lack the resources and expertise to handle the shipment of such heavy loads. At Heavy Haulers, we don't just say, but we get the job done. Since our establishment in 2006, Heavy Haulers has invested in all kinds of equipment to ensure secure transportation and safe delivery within the agreed timeframe.
As an authority and leading shipping company, we work around the clock to create innovative freight solutions. We research new tools and test market-driven business practices so that we can contribute to the industry to bolster operations within the sector. Therefore, you can let us handle the transportation of your subway car, rest assured that it will reach the intended location as you ordered it. Call now! (800) 908-6206
Contact Our Expert Shipping Specialist's
(800) 908-6206
Get Quality Subway Car Shipping at Reasonable Quotes at Heavy Haulers
While other companies may take advantage of the size and distance factors to swindle clients on the pricing, Heavy Haulers will work with you to achieve the cheapest shipment estimates to help you save as much as you can. That said, we will look for the shortest route to save on fuel expenses and low-toll motorways to reduce transportation fees. Furthermore, we will consult you about the load specs, so that we find the appropriate shipping method. Do you need escort services to ensure security while in-transit? We have dispatch cars that can move with your cargo to safeguard it until it reached the point of delivery.
Common Types of Subway Cars We Ship
Subway/rail cars are used to transport goods and people along a railway track. Transportation is achieved by using different kinds of rolling stocks. Some typical examples include:
● Box Cars
● Dump Cars
● Gondola Cars
● Freight Rail Cars
● Goods Wagon
● Passenger Coach
● Tilting Train
How to Ship a Subway Car with Heavy Haulers
With offices situated in every state, you can promptly get in touch with us on (800) 908-6106, and we will take care of the entire shipment process. Our long list of trailers features RGN, step deck, and flat deck options with different axle systems. Therefore, we have the right trailer to transport a subway car. We have cranes and hoisting cables to carefully load the cargo and position it on the trailer to alleviate shifting during haulage. Our team of logistics agents also comprises weight and leverage experts, who provide valuable skill and knowledge when placing the cargo on the trailer. We can also plan for crane services at the delivery location for unloading. We back that up with our contingency secondary cargo insurance. You can count on us to get the cargo delivered in one piece. Let's ship your subway car now! (800) 908-6206
Looking For Transport
With a Specific Trailer?

Max Weight: 150,000+ lbs. | Main Deck Length 29 ft.
| Well Width 8.5 ft. | Legal Height Limit 11.6 ft.

Max Weight: 48,000 lbs. | Max Length 53 ft.
| Max Width 8.5 ft. | Max Height 8.5 ft.
Max Weight: 48,000 lbs. Max Length 53 ft. |
Max Width 8.5 ft. | Max Height 11 ft.
Max Weight: 45,000 lbs. | Max Length 29 ft.
| Max Width 8.5 ft. | Max Height 11.5 ft.
We Can Ship Your Equipment Anywhere in the
US, Canada, and Mexico
Heavy Haulers Pilot Car Services
Are you looking for a reliable pilot car
for your transport?
Get Started
HEAVYHAULERS.COM
START YOUR SHIPMENT TODAY!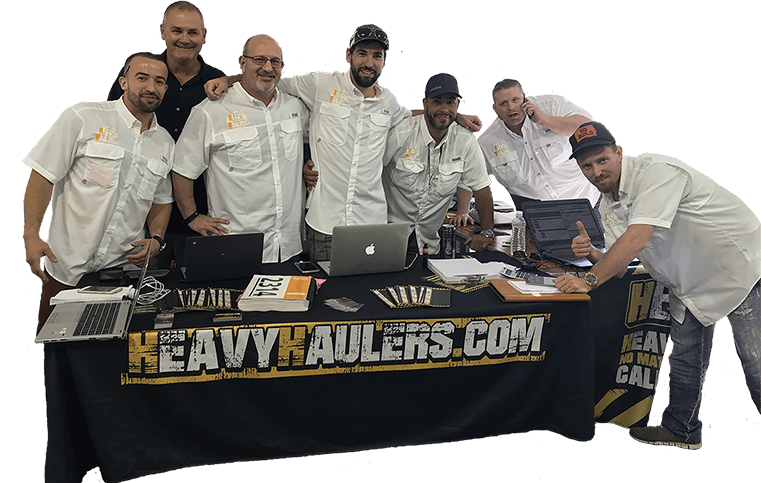 We Are Ready To Help You Haul Your Equipment!