Shipping a Tie Crane with Heavy Haulers is Easy - Find Out For Yourself!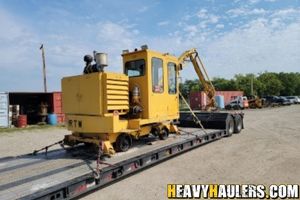 Contact Our Expert
Shipping Specialists
(800) 908-6206
Taking care of the upkeep on a railroad includes using tie cranes as part of a specialized gang. Heavy Haulers, the heavy-duty equipment moving specialists, can help you move your tie crane from one location to the next, swiftly and safely. Tie cranes are simple and small pieces of maintenance equipment. They're versatile and can handle everything from paying out a new tie to picking up and disposing of used ones along the wayside. While they typically work in a mechanized crew, they also perform solo general maintenance such as clearing the right-of-way of spent railway ties.

Heavy Haulers provides equipment moving services that can transport your tie crane and other equipment through rough terrain, and were in North America, including Mexico, Canada, and Alaska. Our door-to-door service includes transport on properly rated trailers driven by drivers who are licensed and bonded, with experience moving wide loads whether along a highway tor through narrow urban streets. We provide a fair, transparent quote that includes escort or convoy services as needed. We can even file weigh station and customs paperwork so you don't have to!

Learn to Transport Tie Cranes and Maintenance Equipment with Heavy Haulers
Transporting your tie crane begins with a phone call to one of our transportation specialists. They will collect information about your deadline and equipment, setting up the best route for it to travel and even giving you a code to keep up with the transport in real time. Heavy Haulers provides themselves on successfully moving challenging equipment, and we can't wait to get started with you. A simple phone call to (800) 908-6206 can get you started right away!
Looking For Transport
With a Specific Trailer?

Max Weight: 150,000+ lbs. | Main Deck Length 29 ft.
| Well Width 8.5 ft. | Legal Height Limit 11.6 ft.

Max Weight: 48,000 lbs. | Max Length 53 ft.
| Max Width 8.5 ft. | Max Height 8.5 ft.
Max Weight: 48,000 lbs. Max Length 53 ft. |
Max Width 8.5 ft. | Max Height 11 ft.
Max Weight: 45,000 lbs. | Max Length 29 ft.
| Max Width 8.5 ft. | Max Height 11.5 ft.
We Can Ship Your Equipment Anywhere in the
US, Canada, and Mexico
Heavy Haulers Pilot Car Services
Are you looking for a reliable pilot car
for your transport?
Get Started