Affordable Car Crusher Transport
We deliver cost-effective, safe, and flexible car crusher transportation services. Recognized as experts in heavy hauling solutions, we can offer specialized transport backed by the expertise of one of the largest logistics providers in North America.From general shipping of over-dimensional freight to major infrastructure projects, we provide services designed to transport even oversized car crushers around the country or the corner. Similarly, the blend of a dedicated and experienced staff plus the strength of our capabilities allows us to offer affordable and bespoke car crusher hauling solutions from one point of contact. Call now! (800) 908-6206
Leave it in our able hands, and we will organize all the necessary permits as well as utilize the most suitable route to ship the crusher. We also promise you a more straightforward, reliable, and dependable process, which means we can adjust to your needs as they change and refine your service solution to match your needs.
Contact Our Expert Shipping Specialist's
(800) 908-6206
Car Crusher Uses and Shipping with Heavy Haulers
Car crushers are machines used to compress metal remains of junked cars after they have been stripped of all the essential parts. Compressing them means they will take less space when transported or stored. Crushers can also be used to compress other types of metal, such as old appliances and combines. Crushers can be stationary or portable. Older models are fixed, while newer ones are portable. They are usually built or mounted on a truck trailer and then towed to different locations for use.
Now whether it is the older or newer version, we have the capacity to haul them. We have multimodal heavy haulage solutions for a wide array of over-dimensional equipment. Our extensive network allows us to connect our customers across the world with their clients. So regardless of how challenging or complex the load is, trust us to deliver.
Why Transport Car Crushers With Heavy Haulers?
• Experience and tradition - We have several years in the industry. As such you can trust for quality advice and service.


• A perfect overview - Thanks to our GPS monitoring system, we have an excellent overview of real-time status and location of the transported load.


• Insurance and guarantee - All our services are insured and bonded.


• Individual solution - We approach every client individually.


How to Ship a Car Crusher with Heavy Haulers
Heavy Haulers works with the best experts in the business to ship your car crusher. We make sure we're able to transport it on the best trailer available. All your paperwork and permits are handled by our capable logistics agents. Also, we handle all pilot car and escort services required for oversize loads. Call now for a free shipping estimate! (800) 908-6206
Common Trailer Types Available from Heavy Haulers
Heavy Haulers specializes in hauling heavy loads such as construction equipment, oil field rigging and Super Loads. We are wideload experts! We offer an extensive range of trailer choices, including:
Max Weight: 48,000 lbs. | Max Length 53 ft. | Max Width 8.5 ft. | Max Height 11 ft.




Max Weight: 45,000 lbs. | Max Length 29 ft. | Max Width 8.5 ft. | Max Height 11.5 ft.
Max Weight: 150,000+ lbs. | Main Deck Length 29 ft. | Well Width 8.5 ft. | Legal Height Limit 11.6 ft.




Max Weight: 48,000 lbs. | Max Length 53 ft. | Max Width 8.5 ft. | Max Height 8.5 ft.
HEAVYHAULERS.COM
START YOUR SHIPMENT TODAY!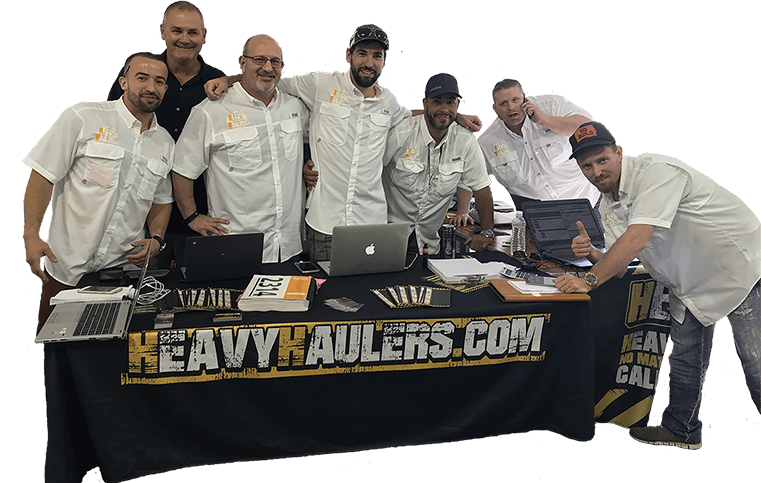 We Are Ready To Help You Haul Your Equipment!
See what you need?
Call us for a FREE Shipping Estimate at (800) 908-6206