Shipping Three Roll Crushers with Ease
Transporting Heavy machines is done with ease once you trust in Heavy Haulers. We have specialized people who ensure that your equipment arrives safe, as well as well equipped shipping machines that eases the transportation process. How do we handle a Three Roll Crusher and ensure a smooth shipping process?
When it comes to dealing with specialized equipment such as the three-roll crusher, trust us for a well planned special transport. Heavy Haulers has been transporting crushers and other heavy equipment for over a decade. We ensure that you're matched with the best tractor trailer and that your cargo is properly secured for transport. Call now for a free shipping estimate. (800) 908-6206
Contact Our Expert Shipping Specialist's
(800) 908-6206
Three Roll Crusher Uses and Shipping with Heavy Haulers
A three roll crusher is specialized to allow producers accomplish the stages of reduction of feed materials using a single crusher. The materials majorly fed include coke, salt, glass and trona. The three-roll crusher can achieve a 6:1 reduction ratio at the secondary stage. We understand the need to make sure your three roll crusher is delivered safely and on time, so you can get back to work.
The use of a Three Roll Crushers is to crush the feed materials using crush plates automatically. This process happens using three stages.
• The top stage of the crusher is composed of a tooth roll assembly that crushes the fed in materials against a crushing plate. This is to reduce larger sizes of the feed as it prepares for the secondary stage.


• The secondary stage of crushing involves a Double Roll Crusher arrangement. This stage is directly fed from the top stage where the supplied materials are channeled between the crushing rolls using rolls that reduce the fed materials to the desired product.


• Tertiary stage has a tramp relief system that employs the toggle-and-spring mechanism that activates when an object is uncrushable.


How to Ship Three Roll Crushers with Heavy Haulers
Safety is the main agenda for us when it comes to shipping your expensive equipment. Before the shipping process, we ensure that we consult with our specialists. Our specialists are well knowledgeable about the various rules and regulations for different cities and states through which the crushing machinery will cruise through. Moreover, we ensure that the paperwork is ready for all the weigh stations and customs to prevent red tapes of the crushers. We make sure that you can track the shipping process and we deliver on time. Upon arrival, we offload the three-roll crusher and assemble the necessary equipment for efficiency in your future projects.
Common Trailer Types Available from Heavy Haulers
Heavy Haulers specializes in hauling heavy loads such as construction equipment, oil field rigging and Super Loads. We are wideload experts! We offer an extensive range of trailer choices, including:
Max Weight: 48,000 lbs. | Max Length 53 ft. | Max Width 8.5 ft. | Max Height 11 ft.




Max Weight: 45,000 lbs. | Max Length 29 ft. | Max Width 8.5 ft. | Max Height 11.5 ft.
Max Weight: 150,000+ lbs. | Main Deck Length 29 ft. | Well Width 8.5 ft. | Legal Height Limit 11.6 ft.




Max Weight: 48,000 lbs. | Max Length 53 ft. | Max Width 8.5 ft. | Max Height 8.5 ft.
HEAVYHAULERS.COM
START YOUR SHIPMENT TODAY!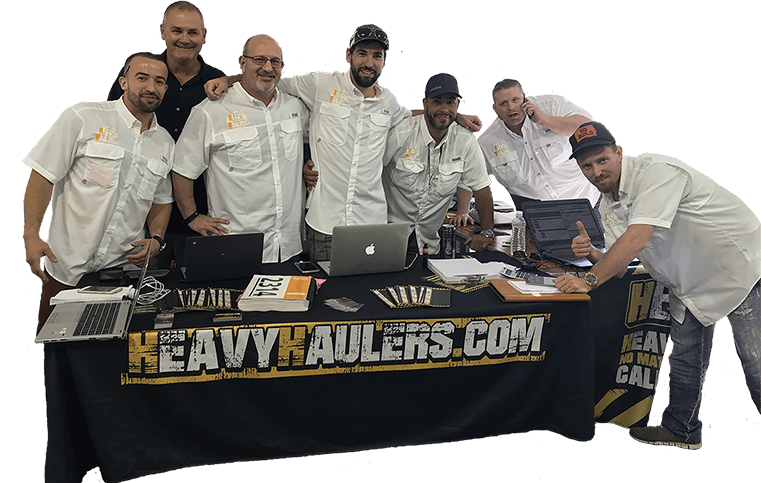 We Are Ready To Help You Haul Your Equipment!
See what you need?
Call us for a FREE Shipping Estimate at (800) 908-6206