Affordable Lump Breaker Transport
Thinking of how complex and tough it is to transport that lump breaker? Well, it is a Heavy Hauler's job! We take pride in our specialty in everything heavy hauling. Our lump crusher hauling company offers trustworthy, reliable, and affordable lump breaker transport services throughout the country. We are experts in all lump breakers and other types of heavy machinery. All our equipment and facilities are licensed, insured, and bonded to haul loads of any kind, size, and shape throughout the United States, Mexico, and Canada. Call now! (800) 908-6206
Trust our logistics experts to plot the cheapest but reliable and safe path. Our lump breaker hauling company also offers load tracking upon request, and our agents are available 24 hours a day, seven days a week. So if you are looking for an affordable hauling firm you can rely on, contact us today for an easy and quick estimate. We want your business!
Contact Our Expert Shipping Specialist's
(800) 908-6206
Lump Breaker Uses and Shipping with Heavy Haulers
Also referred to as Lump crushers, lump breakers are large-sized machines used in size reduction by various manufacturing companies. They can decrease lumps created in the transportation, storage, or production of bulk powders, solids carefully without generating excessive fines and dust.
And yes we can transport them too! Lump crusher shipping is our specialty. Heavy equipment shipping creates various challenges in terms of getting them moved from one place to another properly. We can meet that challenge. Whether it is having specialized trailers or special permits, we can do it. Similarly, our high tech systems provide an integrated and seamless service for such projects handling everything from lump breaker shipping to on-site, erection, assembly, and construction.
How to Transport a Lump Breaker with Heavy Haulers
If you are looking for a reliable lump breaker transport service to move your equipment by trailers or through any other specialized method; by land, sea or rail, Heavy Haulers is the lump crusher shipping firm that will give you the best service to acclimate to every stage of the process within the shortest time possible. On-time delivery, honest pricing, customer friendly services, and superb professionalism are what separates us from the rest. Act now for the best deal at desirable rates. Get in touch with us now for more on our offers and services. We will be happy to help you. (800) 908-6206
Common Trailer Types Available from Heavy Haulers
Heavy Haulers specializes in hauling heavy loads such as construction equipment, oil field rigging and Super Loads. We are wideload experts! We offer an extensive range of trailer choices, including:
Max Weight: 48,000 lbs. | Max Length 53 ft. | Max Width 8.5 ft. | Max Height 11 ft.




Max Weight: 45,000 lbs. | Max Length 29 ft. | Max Width 8.5 ft. | Max Height 11.5 ft.
Max Weight: 150,000+ lbs. | Main Deck Length 29 ft. | Well Width 8.5 ft. | Legal Height Limit 11.6 ft.




Max Weight: 48,000 lbs. | Max Length 53 ft. | Max Width 8.5 ft. | Max Height 8.5 ft.
HEAVYHAULERS.COM
START YOUR SHIPMENT TODAY!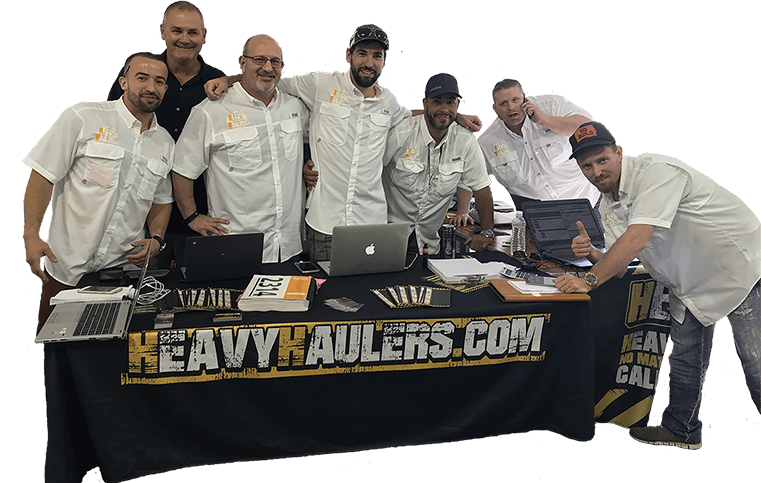 We Are Ready To Help You Haul Your Equipment!
See what you need?
Call us for a FREE Shipping Estimate at (800) 908-6206