How Jaw Crushers Are Used, so You Can Be Cognizant of How to Ship One Securely
A jaw crusher works by using a pair of jaws which crush the rocks that are fed into this machine. Consequently, you should keep in mind that the two jaws are used together to crush down the rocks. Hence, you should be cognizant that a jaw crusher functions by utilizing the compressive force to break down a number of rocks.
Additionally, you should be aware that one of the jaws will be fixed while the other jaws move against the fixed jaw. Therefore, it is the compressive force that is generated from this pressure that is produced between the stationary jaw and the mobile jaw which is used to break down the rocks that are placed in the jaw crusher.
Common manufacturers who presently build jaw crushers:
Eagle Crushers | McLanahan | Terex | TRIO
See More of Our Recent Jaw Crusher Shipments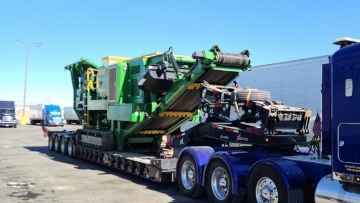 Shipping a McClosky J40 Jaw Crusher
Shipping From: El Paso, TX

Transporting To: Detroit Lakes, MN

Specs: 2014 McClosky J40 Jaw Crusher; 43L x 8.2W x 12H; 76,300lbs

Transport Specialist: Luke F.
(772) 732-2492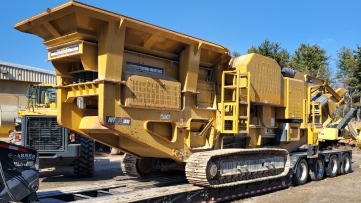 Screen Machine JHT Jaw Crusher Transport
Shipping From: Londonderry, NH

Transporting To: Slidell, LA

Specs: Screen Machine JHT Jaw Crusher; 48.6L x 9.1W x 11.6H; 98,000lbs

Transport Specialist: Jay H.
(561) 562-4968
Heavy Haulers can transport your Jaw Crusher to all 50 States
When you need shipping for your jaw crusher, you can count on Heavy Haulers to get the job done in a fast and reliable manner across all 50 states. We know that what we transport is important for our clients, which is why we want to make sure that you know exactly what makes us the hauling service provider to count on when you need the right results. Feel encouraged to contact us at your earliest convenience to learn about our process.
For a free quote to get your jaw crusher, call Heavy Haulers toll free at (800) 908-6206 for your jaw crusher transport needs!
Common Trailer Types Available from Heavy Haulers
Heavy Haulers specializes in hauling heavy loads such as construction equipment, oil field rigging and Super Loads. We are wideload experts! We offer an extensive range of trailer choices, including:
Max Weight: 48,000 lbs. | Max Length 53 ft. | Max Width 8.5 ft. | Max Height 11 ft.




Max Weight: 45,000 lbs. | Max Length 29 ft. | Max Width 8.5 ft. | Max Height 11.5 ft.
Max Weight: 150,000+ lbs. | Main Deck Length 29 ft. | Well Width 8.5 ft. | Legal Height Limit 11.6 ft.




Max Weight: 48,000 lbs. | Max Length 53 ft. | Max Width 8.5 ft. | Max Height 8.5 ft.







11423605

MILES TRAVELED






1214292

LOADS SHIPPED







1315658103

TONS TRANSPORTED






921637

CLIENTS SATISFIED