Top-Tier Solar Container Home Transportation Solutions
Similar to cob homes, recycled shipping containers provide an eco-friendly alternative to traditional buildings and structures. Once you've successfully ordered the mobile home, the next hurdle is to haul it to the intended destination. It doesn't matter whether you need it shipped to a disaster-prone area or your vacation destination; Heavy Haulers is here to help you haul the solar container home with ease. We have a proven 10-year track record in the freight and moving industry, and we aim to provide superior services while meeting each client's needs.
Prefabricated shipping-crate homes feature several critical components, including solar panels, central HVAC systems, water drains, among others. Sometimes loading and transporting a solar container home requires utmost knowledge and experience. At Heavy Haulers, we have a competent team of logistics agents who will gather the details about the freight, and match it with a capable trailer and an experienced driver for safe transportation and delivery.
Contact Our Expert Shipping Specialist's
(800) 908-6206
Domestic and International Solar Container Home Transport
Are you worried about how you can transport your shipping-crate solar home across the US to your location? Heavy Haulers promises to provide consumer-centric cross-country moving solutions to make sure your container home reaches you safely and securely. Furthermore, we are dedicated to offering valuable long-haul and freight services. We will work diligently to find the cheapest path to the destination. Our representatives help clients to save cash; the reason why they browse through the available routes to achieve the cheapest transportation tolls.
Solar-powered container homes are prefabricated from used shipping crates and remodeled into mobile, eco-friendly homes. Featuring solar panels, they are an excellent housing solution for vacationers, back-up shelter during disasters, etc. Heavy Haulers will even provide additional secondary insurance that covers the cargo during loading, transportation, and unloading. Get a free shipping estimate now! (800) 908-6206
How to Move a Solar Container Home with Heavy Haulers
With Heavy Haulers, you don't have to worry about packing. We are lucky to have a team of professional and experienced technicians who will always help in skillfully packing the solar container home to ensure that you receive white-glove shipping service from the very first step to delivery. Transporting a solar container home with Heavy Haulers is hassle-free. Task our professional logistics professionals and drivers with the long-haul project and experience custom-made freight services. Whether it's a single container or a double-crate house, we will tow it safely to its destined location of residence. We will choose a suitable trailer for the load, depending on its size and dimensions. A combined effort among our weight and leverage experts ensures the mobile home settles securely on the trailer. Later, an experienced freight transporter takes over transportation, towing it to the final destination safely. Let's get started! (800) 908-6206
Common Trailer Types Available from Heavy Haulers
Heavy Haulers specializes in hauling heavy loads such as construction equipment, oil field rigging and Super Loads. We are wideload experts! We offer an extensive range of trailer choices, including:
Max Weight: 48,000 lbs. | Max Length 53 ft. | Max Width 8.5 ft. | Max Height 11 ft.




Max Weight: 45,000 lbs. | Max Length 29 ft. | Max Width 8.5 ft. | Max Height 11.5 ft.
Max Weight: 150,000+ lbs. | Main Deck Length 29 ft. | Well Width 8.5 ft. | Legal Height Limit 11.6 ft.




Max Weight: 48,000 lbs. | Max Length 53 ft. | Max Width 8.5 ft. | Max Height 8.5 ft.
HEAVYHAULERS.COM
START YOUR SHIPMENT TODAY!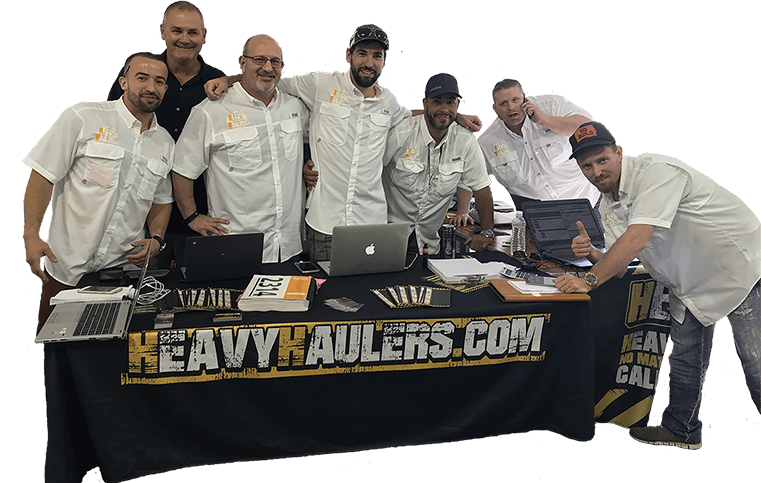 We Are Ready To Help You Haul Your Equipment!