Affordable Conex Container Transport and Delivery.
Using Conex containers for your Industrial project is not only considered an ideal solution but an excellent one. Its high flexibility and versatile hence can be used to transport a wide range of products over a short or long distance. For these reasons, Conex containers are a perfect piece of hauling equipment that is widely used to achieve diverse demands.
At Heavy Haulers, we pride ourselves in providing you with well-maintained state-of-the-art Conex containers shipping services at a fair price—to assist in the movements of heavy equipment to the desired location. We provide highly skilled logistic personnel and truck drivers. And all our trucks are insured to protect you and the company from any catastrophic losses. At an affordable price, we ensure that our Conex containers delivery team provides the service needed and the commercial contract fulfilled in the shortest time possible without compromising efficiency and quality of work. Call now! (800) 908-6206
Contact Our Expert Shipping Specialist's
(800) 908-6206
National and International Conex Containers Towing with Heavy Haulers
Are you looking for a company to transport your new luxury vehicle or heavy equipment from one country or state to another? Are you stuck on a highway because your car battery died or had a flat tire or just had an accident and wondering how to get your car safely to your mechanics' garage? We are here to help. You can trust Heavy Haulers to use their ultra-modern Conex containers and crane truck (a vehicle equipped with a type of machine that has a hoist rope, chains, and sheaves used to move oversize loads from one point to another in a horizontal or vertical direction) to safely transport your motor vehicle to your desired location.
We provide top quality conex container transport. Whether you're shipping a conex container across the country or overseas, we're here to get it done right. Heavy Haulers handles every aspect shipping, so you can have a confident transport experience. Call now and let's get your conex container transport started! (800) 908-6206
Common Types of Conex Containers We Ship
● Open Side Storage Container
● Open Top Container
● Dry Storage Container
● Car Carriers
● Tanks
● Flat Rack Container
● Refrigerated ISO Containers
● Dry Storage Container
● Cargo Storage Roll Container
● Insulated/Thermal Containers
● Half Height Containers
● Open Side Storage Container
● Special Purpose Containers
Recent Conex Containers Transported by Heavy Haulers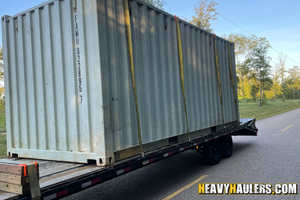 Shipping a Conex Box
Origin: Robert, LA 70455
Destination:Old Bridge, NJ 08857
Specs: 20ft: 9,500lbs
How to Move Conex Containers with Heavy Equipment Transport
All you need to do is call our world class transport specialists. We'll find out every tiny detail of your project, what kind of equipment you are to transport, its measurements that is height, width, weight. Secondly, the necessary location routes that will be used and back up options. Your pickup location and destination. Thirdly, acquisition of necessary permits that might be needed to transport the heavy equipment to avoid any altercations with the law only causing delays. You can trust Heavy Haulers to move your Conex Containers or any other heavy equipment. We are a reputable company that is experienced in the transport of heavy machinery. We have skilled, licensed and bonded drivers, well-maintained crane trucks for equipment handling, and will be well conversant with logistics of travel. Call now! (800) 908-6206
Looking For Transport
With a Specific Trailer?

Max Weight: 150,000+ lbs. | Main Deck Length 29 ft.
| Well Width 8.5 ft. | Legal Height Limit 11.6 ft.

Max Weight: 48,000 lbs. | Max Length 53 ft.
| Max Width 8.5 ft. | Max Height 8.5 ft.
Max Weight: 48,000 lbs. Max Length 53 ft. |
Max Width 8.5 ft. | Max Height 11 ft.
Max Weight: 45,000 lbs. | Max Length 29 ft.
| Max Width 8.5 ft. | Max Height 11.5 ft.
HEAVYHAULERS.COM
START YOUR SHIPMENT TODAY!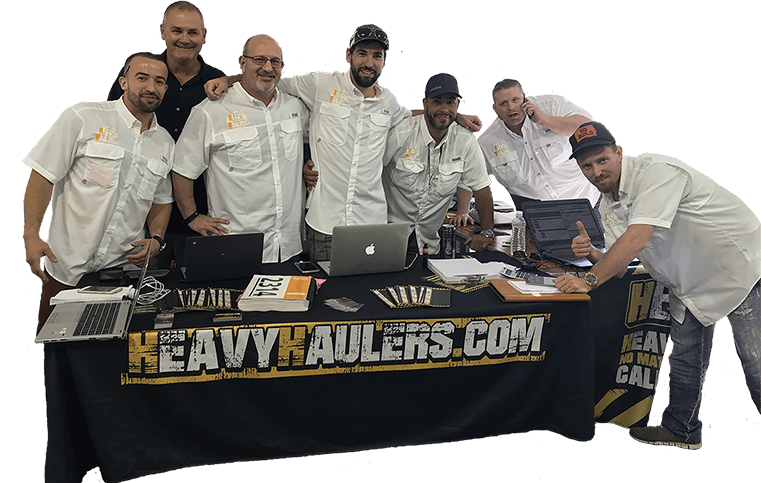 We Are Ready To Help You Haul Your Equipment!
Common Equipment Heavy Haulers Transports
Trust Heavy Haulers to transport any brand of equipment you own. Most of our drivers are experienced heavy-machinery operators who can safely maneuver your loads aboard our trailers. Some of the brands we have shipped include:
See what you need?
Call us for a FREE Shipping Estimate at (800) 908-6206