Nationwide Concession Trailer Shipping Solutions
Do you specialize in street food and want to move your food cart or concession trailer to another strategic location or an event or festival? Task us with the consignment, and we promise to offer affordable and efficient shipment services. We have crews of logistics and transportation experts who can plan the freight shipment with attention to detail and exceptional care, because we know the importance and value of your food cart, especially if it impacts your food vending business.
Heavy Haulers' mission is to cater to all clients who need shipping solutions within the continental US. Please take advantage of your local HH offices, and let our professionals demonstrate how food cart transportation is done at another level. We command authority in the business, and our reputation allows us to work with qualified and insured drivers. They have experience in traveling the northern roads to ensure each cargo reaches its destination safely. Call now! (800) 908-6206
Contact Our Expert Shipping Specialist's
(800) 908-6206
Safe and Secure Food Cart Transportation
A concession trailer or food cart is a unique, wheeled kiosk or stand used to vend snacks, such as popcorns, soft beverages, pizzas and cotton candy. They are typically used to serve attendees in a car show, festival, and fairs. Our professionals know that these events operate in a schedule. We are capable of delivering the trailer at a time that will be convenient for you.
At Heavy Haulers, each freight and oversized cargo we transport is done with utmost professionalism and dedication to protecting every appliance and culinary tool inbuilt within the interior. Our logistics experts can coordinate with leverage and weight professionals to haul your cart or trailer. We have an excellent fleet of power-only cabs that can tow the equipment at a decent pace, whether it is on busy city roads or a high-speed-traffic highway. We guarantee that your concession trailer will reach you in one piece.
Types of Food Carts and Concession Trailers Heavy Haulers Ships
Concession trailers and food carts come in all types and sizes. Many business owners prefer custom trailers that match their theme and menu. Some examples include:
● Donut Trailers
● Gooseneck
● Pretzel trailers
● Smoker Trailers
● Food Trolleys
● Barbeque Trailers
● Bar Carts
● Food Containers, etc.
Recent Concession Trailers Transported by Heavy Haulers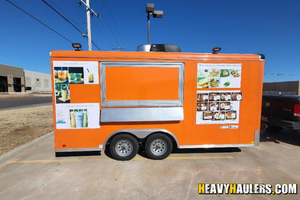 Shipping a 2021 Food Truck Trailer
Origin: Oklahoma City, OK 73182
Destination: Long Beach, CA 90816
Specs: 16L X 8.6W X 9H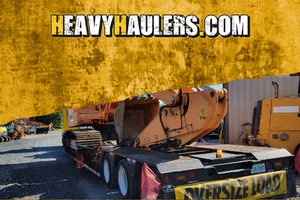 Get a Transport Quote
New Concession
Trailer Transports
With Heavy Haulers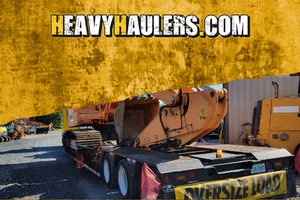 Get a Transport Quote
New
Concession Trailer Transports With Heavy Haulers
How to Haul a Food Cart/Concession Trailer with Heavy Haulers
Food carts are relatively smaller than concession trailers. To ensure that your carts are securely and safely transported, they are carefully loaded on a step-deck trailer using ramps that can handle the load demands. With concession trailers, we can organize a power-only cab to tow the equipment to your destination. Our logistic professionals have a knack for handpicking insured and seasoned drivers who can handle the shipment. Therefore, whenever you want to serve your esteemed customers, and you need to move your trailer, look no further than Heavy Haulers. Let's get started! (800) 908-6206
Looking For Transport
With a Specific Trailer?

Max Weight: 150,000+ lbs. | Main Deck Length 29 ft.
| Well Width 8.5 ft. | Legal Height Limit 11.6 ft.

Max Weight: 48,000 lbs. | Max Length 53 ft.
| Max Width 8.5 ft. | Max Height 8.5 ft.
Max Weight: 48,000 lbs. Max Length 53 ft. |
Max Width 8.5 ft. | Max Height 11 ft.
Max Weight: 45,000 lbs. | Max Length 29 ft.
| Max Width 8.5 ft. | Max Height 11.5 ft.
HEAVYHAULERS.COM
START YOUR SHIPMENT TODAY!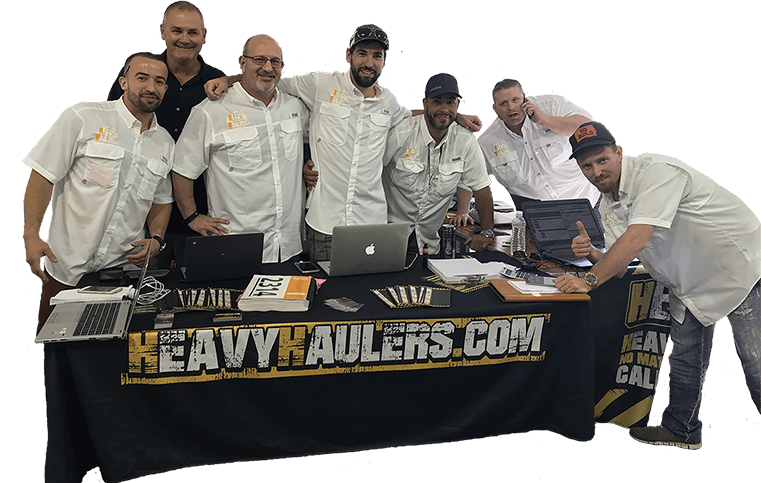 We Are Ready To Help You Haul Your Equipment!
Common Equipment Heavy Haulers Transports
Trust Heavy Haulers to transport any brand of equipment you own. Most of our drivers are experienced heavy-machinery operators who can safely maneuver your loads aboard our trailers. Some of the brands we have shipped include:
See what you need?
Call us for a FREE Shipping Estimate at (800) 908-6206