Transport Crated Military Equipment with The Best
Heavy Haulers is proud to transport crated military equipment for our nations armed forces. If you'd like to ship crated military equipment and machinery, trust Heavy Hauler to handle the consignment. Our transport specialists are passionate about oversized and overweight equipment. They are knowledgeable in logistics and heavy-cargo transportation across the continental US. Our transportation and logistics teams comprise industry-seasoned professionals with experience in hauling military equipment efficiently and economically.
We work with the best and most reliable drivers to transport crated military equipment. They are accustomed to handling heavy-cargo transportation on any road, whether it is off-road access to a remote military base or a busy city street. Furthermore, they are familiar with the many of the military bases in the country and can ensure the load gets to the specified destination in good condition and on time. We ship crated military equipment with the utmost professionalism, so you can be confident in our transport skills. Call now! (800) 908-6206
Contact Our Expert Shipping Specialist's
(800) 908-6206
Shipping Crated Military Equipment at The Most Affordable Prices
As a leading heavy-equipment transportation company in the US, we are dedicated to providing high-quality and cost-effective crated military equipment transport. We will work together with you to achieve the best price for your shipment project. We won't make promises that we can't keep. Neither will we fleece you to provide upfront payments or lowball our services with "too-good-to-be-true" estimates. We are professionals who can map out the shortest and cheapest route for efficient haulage. Furthermore, we will accurately calculate the estimate while looking for various ways that you can save money.
Heavy Haulers is proud to be patriotic and ship crated military equipment wherever our armed forces need it to go. We have an extensive collection of trailers, including standard freight trailers with swing doors that are designed to carry your boxed, crated, or palletized military supplies. Additionally, we have loading professionals who use project-specific rigs for the job. We are here to provide the best crated military equipment transport possible. Call now! (800) 908-6206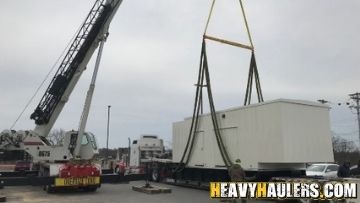 How to Ship Crated Military Equipment with Heavy Haulers
Transporting heavy, palletized military equipment is done with ease when you work with us. With Heavy Haulers, no shipment is too challenging or too simple for us. We have professional weight and leverage professionals who can come setup the necessary loading rigs, such as conveyors and ramps with level offs to load the goods. Depending on the nature of cargo, we can also use forklifts to load the shipment on the standard freight trailer. We transport all crated military equipment, making sure each shipment is tailored to fit your needs. Call now! (800) 908-6206
Common Trailer Types Available from Heavy Haulers
Heavy Haulers specializes in hauling heavy loads such as construction equipment, oil field rigging and Super Loads. We are wideload experts! We offer an extensive range of trailer choices, including:
Max Weight: 48,000 lbs. | Max Length 53 ft. | Max Width 8.5 ft. | Max Height 11 ft.




Max Weight: 45,000 lbs. | Max Length 29 ft. | Max Width 8.5 ft. | Max Height 11.5 ft.
Max Weight: 150,000+ lbs. | Main Deck Length 29 ft. | Well Width 8.5 ft. | Legal Height Limit 11.6 ft.




Max Weight: 48,000 lbs. | Max Length 53 ft. | Max Width 8.5 ft. | Max Height 8.5 ft.
HEAVYHAULERS.COM
START YOUR SHIPMENT TODAY!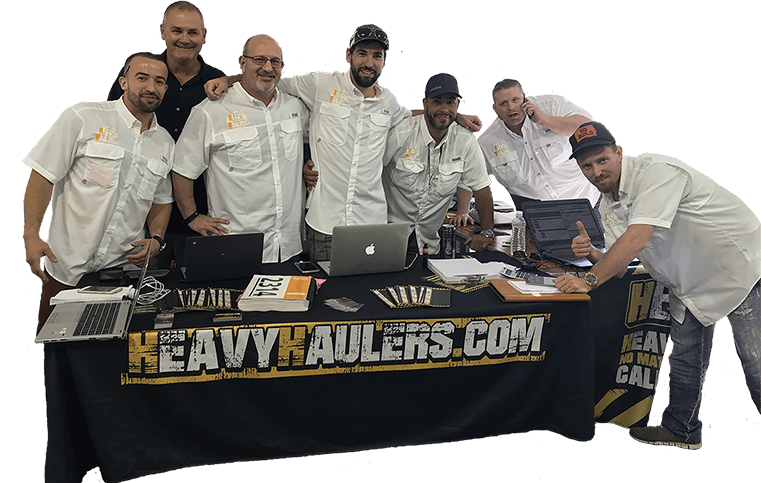 We Are Ready To Help You Haul Your Equipment!
Common Equipment Heavy Haulers Transports
Trust Heavy Haulers to transport any brand of equipment you own. Most of our drivers are experienced heavy-machinery operators who can safely maneuver your loads aboard our trailers. Some of the brands we have shipped include:
See what you need?
Call us for a FREE Shipping Estimate at (800) 908-6206