Affordable and Efficient K-loader Transport and Delivery
Heavy Haulers operates a commendable fleet of k-loaders, crane trucks, and other heavy equipment. By incorporating the latest technologies, our personnel ensure your heavy and oversize equipment is delivered within the agreed deadline. Our staff is insured, licensed, and bonded to ensure efficient trucking and delivery of your k-loader. If you are scheduling your package delivery at budget-friendly costs, we have streamlined our services to suit your unique transport needs. As the world leading shipping and hauling company, we are committed to providing reliable and comprehensive trucking services at an affordable rate.
Our routinely upgraded vehicles ensure the optimum security of your package. They are GPS-monitored to provide you instant locations, details of your goods, and the time they'll arrive at their destination. We review our quality assurance systems daily to ensure smooth communication between service providers and patrons. Let's get started! (800) 908-6206
Contact Our Expert Shipping Specialist's
(800) 908-6206
National and International K-loader Towing
We offer heavy hauling from inland origins across the U.S., Mexico, and Canada to any ports in this region and beyond. Heavy Haulers will arrange inland towing with specialized trailers and trucks, such as step-deck trailers, flatbeds, expandable trailers, and removable neck trailers. All our inland towing projects are insured, and the heavy gear shipping expenses include the cost of escorts and permits. We can move cargo from any U.S port—from Oregon to Florida, from Maine to Alaska, and across any state or province.
K-loaders are equipment for loading pallets or containers to and from an aircraft. They have two platforms that descent and ascend independently. Their in-built wheels or rollers move the pallets and containers on the loader. One of the easiest ways of transporting loaders internationally is through the Roll-on/Roll-off service. When using the ro/ro service, the international shipping charge depends on the unit's size. Container loaders shipped via ro-ro service are driven to the vessel and secured within the ship. To cut costs, we may detach some parts and ship them separately. Call today! (800) 908-6206
Common Types of K Loaders Heavy Haulers Ship
We have vast experience in transporting various types of k-loaders such as;
How to Move a K-loaders with Heavy Haulers
Legal and safe transportation of heavy loaders require expertise and a well-organized team of professionals. When handling loaders, we implement a set protocol for loading, transit, and unloading. We'll perform a risk assessment on the loaders, and our supervisor will record weight loads and determine the transportation timeline. We'll also conduct a comprehensive inspection of our trucks' hauling capacities. We assess the state of the truck's tires and comply with regulations regarding tie-down points. Although most states recommend four tie-downs, we can add more tie-downs for larger loaders. Before loading, we assign duties to specific personnel such as the driver moving the equipment to the deck, spotter offering hand cues, etc. We also clean the trailer, level the loading surface, and securely chain the loaders. Call now! (800) 908-6206
Looking For Transport
With a Specific Trailer?

Max Weight: 150,000+ lbs. | Main Deck Length 29 ft.
| Well Width 8.5 ft. | Legal Height Limit 11.6 ft.

Max Weight: 48,000 lbs. | Max Length 53 ft.
| Max Width 8.5 ft. | Max Height 8.5 ft.
Max Weight: 48,000 lbs. Max Length 53 ft. |
Max Width 8.5 ft. | Max Height 11 ft.
Max Weight: 45,000 lbs. | Max Length 29 ft.
| Max Width 8.5 ft. | Max Height 11.5 ft.
HEAVYHAULERS.COM
START YOUR SHIPMENT TODAY!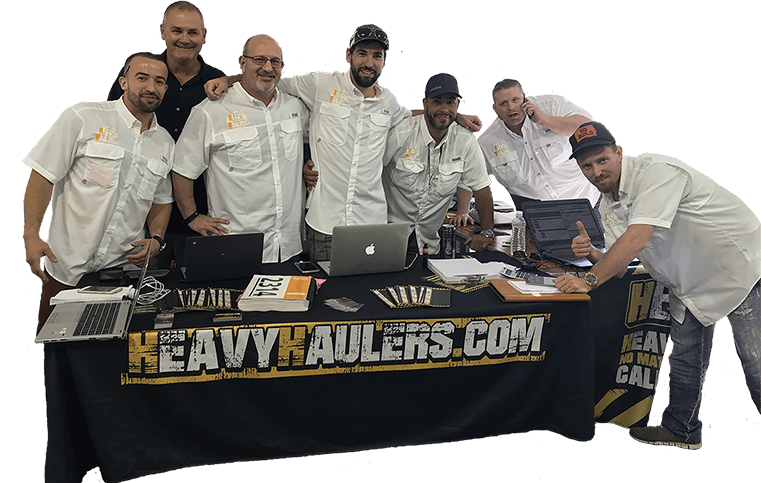 We Are Ready To Help You Haul Your Equipment!
Common Equipment Heavy Haulers Transports
Trust Heavy Haulers to transport any brand of equipment you own. Most of our drivers are experienced heavy-machinery operators who can safely maneuver your loads aboard our trailers. Some of the brands we have shipped include:
See what you need?
Call us for a FREE Shipping Estimate at (800) 908-6206