On-Time Delivery When Shipping a Jet Engine
We are a leading company in the transport of jet engines and offering logistics to a wide range of clients. We are strategically located, and this positions our business to haul large loads such as engines by use of the specialized equipment. We have a dedicated team to handle the transport and logistics by the use of a robust support system without any delay.
We understand the urgency of the delivery of jet engines, which is why we time our deliveries to ensure we do not inconvenience your business. Whether transport is local or overseas, we provide quick, safe, and timely delivery. We deliver a jet engine even on holidays and weekends, thus taking care of emergencies such as replacements. There exists seamless coordination between ground transport and air transports necessary to move your engine to various destinations of the world.
Contact Our Expert Shipping Specialist's
(800) 908-6206
Transporting a Jet Engine Overseas
Jet engines are necessary for moving the plane forward at very high speeds. They are also known as gas turbines and features a fan that sucks in air. Jet engines are large cargo that is transported by ship, truck, or load area of a large plane. Heavy Haulers can ship jet engines to any part of the world. Transporting jet engines overseas is a specialized procedure that requires proper planning and professional handling.
We are flexible in adapting to market demand while moving jet engines across international borders. Our jet transport overseas involves cross channels transport support. Our logistics specialists manage a sound and streamline transport plan of jet engines around various destinations of the world. We have many years' experience in shipping heavy loads alongside extensive global connections and networks to meet the specific demand of our clientele. Over the years we have built strong ties with stakeholders in the air industry, and this enables us to handle your load depending on your specific requirements. Call now! (800) 908-6206
Common Jet Engines We Transport
How to Ship a Jet Engine with Heavy Haulers
When transporting a jet engine, it is essential to choose the right transport and Logistics Company. At Heavy Haulers, we have some of the best trucks and trailers to transport jet engines. Our drivers and engine handlers are trained to handle the cargo with care. We are experts in handling jets components. As such, you can trust us with the handling of your engine and total care from the pickup point to delivery. We offer heavy haul services to ensure your engine reaches its destination safely. Our trucks have special equipment and custom fittings to secure the engine while on the move. Let us handle the shipment of your valuable asset by getting in touch with us today.
Common Trailer Types Available from Heavy Haulers
Heavy Haulers specializes in hauling heavy loads such as construction equipment, oil field rigging and Super Loads. We are wideload experts! We offer an extensive range of trailer choices, including:
Max Weight: 48,000 lbs. | Max Length 53 ft. | Max Width 8.5 ft. | Max Height 11 ft.




Max Weight: 45,000 lbs. | Max Length 29 ft. | Max Width 8.5 ft. | Max Height 11.5 ft.
Max Weight: 150,000+ lbs. | Main Deck Length 29 ft. | Well Width 8.5 ft. | Legal Height Limit 11.6 ft.




Max Weight: 48,000 lbs. | Max Length 53 ft. | Max Width 8.5 ft. | Max Height 8.5 ft.
See what you need?
Call us for a FREE Shipping Estimate at (800) 908-6206
HEAVYHAULERS.COM
START YOUR SHIPMENT TODAY!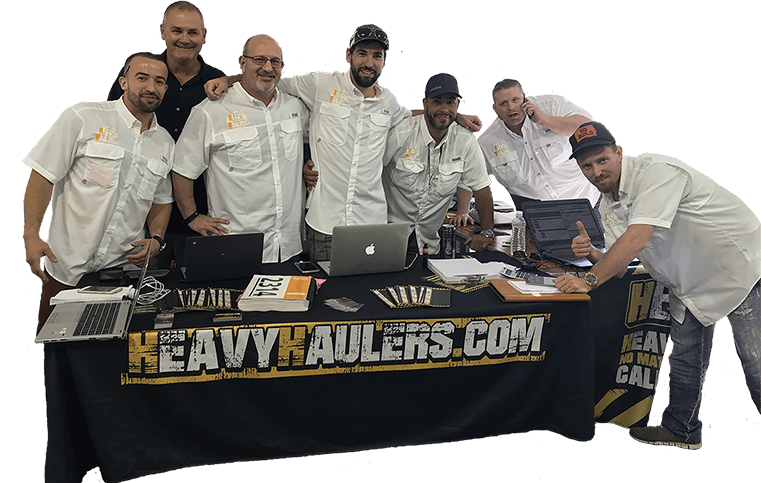 We Are Ready To Help You Haul Your Equipment!
See what you need?
Call us for a FREE Shipping Estimate at (800) 908-6206