Shipping Thermal Engines with Heavy Haulers
Thermal engines are an integral part of many vehicles, and safe transportation throughout the U.S. is necessary for a variety of industries to keep functioning. Heavy machinery, cars, trucks, airplanes, and trains may all make use of thermal engines to run effectively. It doesn't matter to us if you need to ship a thermal engine for a personal project, or your business needs to organize a large-scale shipment. We can handle thermal engine shipments of any size by carefully choosing the right trailer, ensuring every load is appropriately assessed and rated for transport.
Heavy Haulers understands how to meet deadlines, and we stick to them so you can too. Safety is also crucial to us – we ensure all our people are highly trained in how to handle heavy equipment safely, and treat the shipping of a thermal engine with the TLC it deserves. Call now! (800) 908-6206
Contact Our Expert Shipping Specialist's
(800) 908-6206
Comprehensive Thermal Engine Shipping Services
We've moved thermal engines just about anywhere, throughout the U.S., from Canada to Mexico, to inner-city locations and the country. We're a thermal engine shipping company that provides comprehensive services, including door-to-door shipping. Our logistics specialists have a thorough knowledge of the rules and regulations for each city and state in the U.S. and handle all the paperwork at weigh stations and customs if your shipment is crossing borders. We even offer load tracking so that you can keep up with your thermal engine shipment during its route. No matter where your delivery site is, our thermal engine shipping services include the scheduling, loading, and unloading of your engine. We can also provide expedited shipping, for when you have a more urgent thermal engine transport need.
Common Types of Thermal Engines:
• Internal combustion
• External combustion
• Spark ignition
• Airplane engines
• Train engines
• Compression ignition
• Steam engines
• Stirling engines
• Boat engines
How to Ship Thermal Engines
Thermal engines require a delicate touch and a knowledgeable hand to be shipped safely. Engines should be shipped while drained of fluid to prevent leakage and safely stowed to avoid movement and damage in transit. A variety of shipping methods can be used to transport a thermal engine, depending on its size and weight. Your budget also plays an essential factor, as some transportation methods are more costly than others. If you give Heavy Haulers a call, one of our specialists will be able to discuss your thermal engine shipping requirements and work with you to arrange a transportation method that suits your budget and timescale.
Common Trailer Types Available from Heavy Haulers
Heavy Haulers specializes in hauling heavy loads such as construction equipment, oil field rigging and Super Loads. We are wideload experts! We offer an extensive range of trailer choices, including:
Max Weight: 48,000 lbs. | Max Length 53 ft. | Max Width 8.5 ft. | Max Height 11 ft.




Max Weight: 45,000 lbs. | Max Length 29 ft. | Max Width 8.5 ft. | Max Height 11.5 ft.
Max Weight: 150,000+ lbs. | Main Deck Length 29 ft. | Well Width 8.5 ft. | Legal Height Limit 11.6 ft.




Max Weight: 48,000 lbs. | Max Length 53 ft. | Max Width 8.5 ft. | Max Height 8.5 ft.
HEAVYHAULERS.COM
START YOUR SHIPMENT TODAY!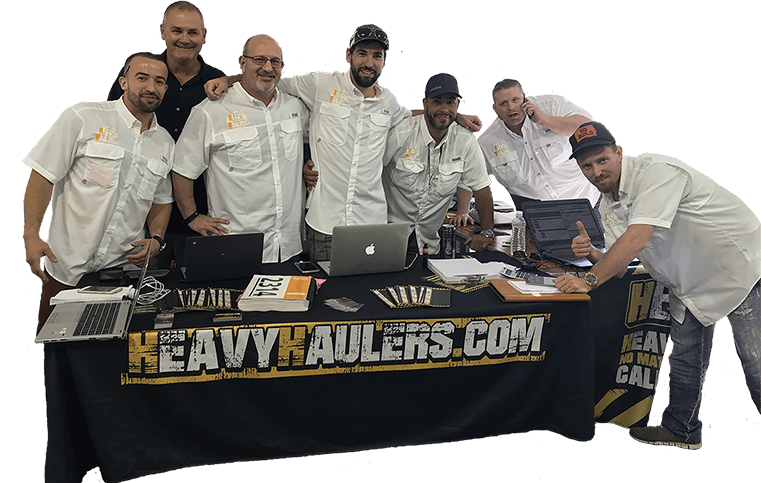 We Are Ready To Help You Haul Your Equipment!