Hauling Industrial Shredders Throughout America
Paper shredding and document destruction are much easier with an industrial shredder. Trust Heavy Haulers, the machinery shipping specialists, to ship your industrial shredders throughout America, Canada, and even Mexico. We assess your shipping requirements, carefully choosing the right trailer and transportation gear, including lift gates, wraps, and secure banding, to ensure that our shredder shipping service reliably transports your equipment without a scratch. We know that shredders can be expensive, and they are of vital importance in industries that require the secure destruction of sensitive paperwork, and we'll treat your shredder machine with the TLC it needs. Call now for a free shipping quote! (800) 908-6206
Heavy Haulers has made shipping shredders, oversized office equipment, and heavy industrial machinery our priority. We've shipped shredders everywhere from offices in big cities to remote government and military facilities where security is paramount. Our drivers are experts at hauling sensitive equipment throughout the U.S., and you can trust us to find the safest and quickest route to unite you with your shredder equipment, no matter where you are.
Contact Our Expert Shipping Specialist's
(800) 908-6206
Reliable, Comprehensive Shredder Shipping Services
At Heavy Haulers, we offer seamless door-to-door shredder shipping services, and we pride ourselves on being a professional, dependable shredder shipping service that you can trust. We utilize the latest technology to safely ship shredder machines, using lift gates or the safest manual handling techniques. For your peace of mind, we can provide regular GPS tracking updates, and our office staff is always happy to answer any queries you may have regarding the current location of your shredder.
Industrial shredders and bulk destroyers can shred large quantities of paper, media, and other sensitive waste in just one pass, making them a vital asset in office blocks. Industrial shredders are characterized by their high reliability and the ability to handle extraneous materials, not just paper. They comprise of a heavy-duty cutting unit with multiple blades. Knife mill shredders have a variety of farming and industrial applications, used for shredding corn, straw, and fodder for animal bedding. Whatever type of shredder you're looking to transport, we apply highly-trained professionals to your shredder shipping projects.
Common Shredders We Transport
• E-scrap Shredders


• Franklin Miller Taskmaster TM8500


• Franklin Miller Taskmaster TM8500 Inline


• Franklin Miller Taskmaster XL Pallet Shredder


• Knife Mill Shredders


• Office Shredders


• Tissue Log Shredders


• Untha RS50


• Untha RS60


• Untha RS100


How to use our Shredder Transport Service
Heavy Haulers takes the hard work out of shredder transport, and handles everything from the initial quote to unloading at the final destination. Give us a call to discuss where and when you need your shredder transport service. We'll match you with local expertise and equipment to facilitate the transfer between one site and the next. Our office staff will handle the scheduling and paperwork, and our professional drivers will handle the safe and secure transportation of your shredder.
Heavy Haulers Ships Across All 50 States
Alabama - Alaska - Arizona - Arkansas - California - Colorado - Connecticut - Delaware - Florida - Georgia - Hawaii - Idaho - Illinois - Indiana - Iowa - Kansas - Kentucky - Louisiana - Maine - Maryland - Massachusetts - Michigan - Minnesota - Mississippi - Missouri - Montana - Nebraska - Nevada - New Hampshire - New Jersey - New Mexico - New York - North Carolina - North Dakota - Ohio - Oklahoma - Oregon - Pennsylvania - Rhode Island - South Carolina - South Dakota - Tennessee - Texas - Utah - Vermont - Virginia - Washington - West Virginia - Wisconsin - Wyoming
Looking For Transport
With a Specific Trailer?

Max Weight: 150,000+ lbs. | Main Deck Length 29 ft.
| Well Width 8.5 ft. | Legal Height Limit 11.6 ft.

Max Weight: 48,000 lbs. | Max Length 53 ft.
| Max Width 8.5 ft. | Max Height 8.5 ft.
Max Weight: 48,000 lbs. Max Length 53 ft. |
Max Width 8.5 ft. | Max Height 11 ft.
Max Weight: 45,000 lbs. | Max Length 29 ft.
| Max Width 8.5 ft. | Max Height 11.5 ft.
Heavy Haulers Pilot Car Services
Are you looking for a reliable pilot car
for your transport?
Get Started
HEAVYHAULERS.COM
START YOUR SHIPMENT TODAY!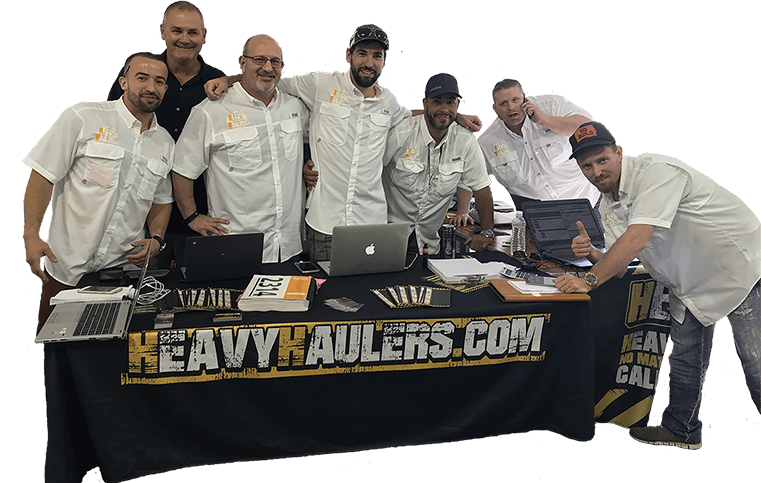 We Are Ready To Help You Haul Your Equipment!
See what you need?
Call us for a FREE Shipping Estimate at (800) 908-6206