Qualified Trash Compactor Shipping Professionals
Trash compactor shipping services from Heavy Haulers cater to clients across the entirety of North America, whether you're looking to ship an apartment trash compactor or a large, industrial model. Our drivers are highly skilled, and provide you with access to the most sophisticated vehicles in the shipping industry, fully accommodating oversized and overweight trash compactor shipping requirements. Trained in the safe use of cargo-handling equipment, loading and unloading onto flatbeds, RGNs, step decks, and adjustable drop decks, our qualified logistics experts have the equipment available to back up their extensive handling knowledge.
With more than a decade of shipping experience, Heavy Haulers have handled a variety of trash compactors, from apartment trash compactors to large, vertical trash compactors, finetuning our trash compactor handling knowledge in order to provide you with a professional, efficient service. Call now for a free shipping estimate! (800) 908-6206
Contact Our Expert Shipping Specialist's
(800) 908-6206
Efficient Trash Compactor Shipping
Choose Heavy Haulers for your trash compactor shipping needs, and we will distribute your trash compactor to wherever you need it, and fast. Our nationwide connections enable us to match you with an available driver who has trash compactor handling knowledge. We pride ourselves on being a trash compactor shipping company with extensive shipping experience, handling trash compactors across the US. We travel the nation's interstate highways, delivering to and from all major cities, and to undeveloped areas that may require the use of a trash compactor service.
Trash compactors are simple but effective pieces of machinery used in a wide variety of applications. In its simplest form, trash is crushed with a metal ram into smaller pieces. Trash compactors onsite at construction sites, excavations and demolitions, can break large debris into smaller, more manageable pieces, allowing for easier shipment of waste material offsite and improving the efficiency of construction projects. Many of our drivers are trained in the use of machinery that we transport, enabling us to provide a skilled, knowledgeable workforce for your trash compactor shipping needs.
See More of Our Recent Trash Compactor Shipments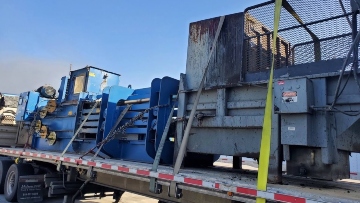 Trash Compactor Transport
Shipping From: Riverside, CA

Transporting To: Bay Shore, NY

Specs: Trash compactor; 25L x 8.5W x 8.8H; 8,500lbs

Transport Specialist: Jamie H.
(754) 203-8738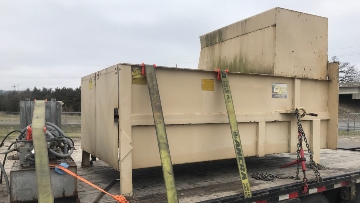 Shipping a Trash Compactor from KS to TX
Shipping From: Tonganoxie, KS

Transporting To: Santa Fe, TX

Specs: 1 trash compactor; 10.3L x 6.7W x 7H; 4,000lbs

Transport Specialist: Sam D.
(561) 931-6741
How to Ship Trash Compactors with Heavy Haulers
Using Heavy Haulers for shipping a trash compactor throughout the U.S. is easy to arrange. Call us to get started, and one of our logistics professionals will be happy to guide you towards the best truck and driver to complete the transportation of your trash compactor. We provide free, accurate, and comprehensive quotes that can be used to compare trash compactor shipping services. Trust us to complete trash compactor shipping for you, and we'll handle all the paperwork and more.
Common Trash Compactors Heavy Haulers Transports
Apartment Trash Compactors
High-rise compactors for apartments and buildings are designed for use with trash chute systems. These compactors can play a significant part in reducing the waste hauling requirements in inner cities, and containerizing waste can help to control or eliminate pest control issues. They simplify housekeeping for building maintenance crews.
Garbage Compaction Containers
Garbage compaction containers are often used for industrial trash and recyclable materials. Trash is compacted into containers, rather than inside the compactor itself. Ideal for handling dry waste such as cardboard, pallets, and packaging, garbage compaction containers are emptied on an exchange basis.
Waste Pre-Crushers
These crushers are designed to help process bulky, difficult to handle waste that may need multiple crush cycles for the most space-saving compaction. Waste pre-crushers can be used to compact wet waste, allowing excess liquid to drain off before being fully compacted in another container.
Self-Contained Compactors
Self-Contained compactors are the most widely used type of compactor used for wet waste. Often found outside grocery stores, restaurants, hospitals, and stadiums, they're easy to load from ground level. Garbage can be added while the unit is cycling to maintain efficiency in high-usage environments.
Stationary Compactors
Stationary compactors can be used to reduce the volume of dry waste, such as paper, cardboard, glass, plastic, wood, and metal. Waste volume reduction between 4:1 and 8:1 is possible with this type of compactor. They can be used in conjunction with bin-lifters designed to lift up to 400kg or 1,000 liters.
Vertical Balers for Recycling
Vertical balers are used to bale materials into stable, space-saving blocks, reducing the requirement for waste storage, and lowering the cost of waste collection. They are typically used for dry recyclable materials such as cardboard and plastic. Industries effectively utilizing vertical balers include retailers, printers, manufacturers, hotels, restaurants, catering, and production.
Vertical Trash Compactors
Vertical trash compactors are ideal where space for a compaction system is minimal, but a unit is still necessary. Often used as an alternative to a roll-off collection service, this type of trash compactor is widely used at shopping plazas, fast food locations, homes, schools, and hospitals.
Looking For Transport
With a Specific Trailer?

Max Weight: 150,000+ lbs. | Main Deck Length 29 ft.
| Well Width 8.5 ft. | Legal Height Limit 11.6 ft.

Max Weight: 48,000 lbs. | Max Length 53 ft.
| Max Width 8.5 ft. | Max Height 8.5 ft.
Max Weight: 48,000 lbs. Max Length 53 ft. |
Max Width 8.5 ft. | Max Height 11 ft.
Max Weight: 45,000 lbs. | Max Length 29 ft.
| Max Width 8.5 ft. | Max Height 11.5 ft.
HEAVYHAULERS.COM
START YOUR SHIPMENT TODAY!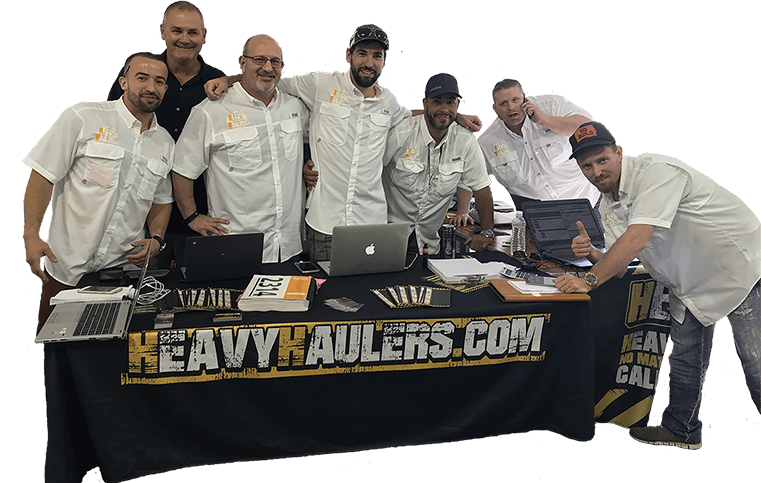 We Are Ready To Help You Haul Your Equipment!
See what you need?
Call us for a FREE Shipping Estimate at (800) 908-6206