Simple, Effective Roll-Off Waste Management
Roll-off dumpsters, though simply designed, are invaluable during many construction and remodeling projects. They keep disposable materials of all types securely contained until its time to be hauled away. At its heart, Heavy Haulers is a bulk equipment transport company, specializing in oversized and overweight deliveries. To complement your roll-off waste management equipment needs, we offer a roll-off transport delivery network that's simple to book and effective at transporting roll-offs throughout the U.S.
Backed by professionals that take pride in their customer service and cargo-handling expertise, our roll-off transport service is guaranteed to safely and securely transport your equipment. We understand the importance of delivering on schedule and meeting our client's needs with hassle-free roll-off transport services. Call now! (800) 908-6206
Contact Our Expert Shipping Specialist's
(800) 908-6206
Secure Transportation of All Types of Roll Offs
Whether you're looking to move or replace trailers, hoists, or dumpsters, Heavy Haulers can assist you. For more than a decade, we have transported bulk equipment, handling the loading, offloading, security, and transportation of popular waste management solutions, including oversized roll-off dumpsters. Roll-off dumpsters are generally characterized by their rectangular open-top design that's commonly used to store construction and demolition waste. They're often used to quickly offload and compile waste and recyclable materials, including dirt, stone, metal, and ceramics that can easily roll off the truck bed once tilted by the hoist.
Depending on the size of your project, you may need us to transport roll-offs of varying sizes, from 5-yard containers for storing waste accumulated during small bathroom remodels to 40-yard containers for medium to large construction projects. We have the most sophisticated vehicles in the industry and can provide you with suitably sized trucks and trailers for the transportation of all roll-off dumpsters and accessories. Alongside our fleet of trucks and trailers, we offer superior customer service and years of cargo handling experience.
Common Roll-Off Equipment We Transport
• Tub Style Roll-Offs


• Rectangular Roll-Offs


• Cable Hoist Roll-Offs


• Hook Lift Roll-Offs


• Concrete Washout Roll-offs


• Steel Container Systems Inc. Roll-Offs


• Palfinger Roll-Offs


• Heavy Duty Roll-Offs


• Open-Top Roll-Offs


• Covered Roll-Offs


• Bucks Fab Roll-Offs


• Wastequip Roll-Offs


• Manser Welding Roll-Offs


• Box Gang Roll-Offs


How to Ship Roll-Off With Heavy Haulers
Contact us with your dumpster, dumpster hoist, or dumpster trailer transportation request, and we'll provide you with transparent cost estimates based on the latest live market data, scheduling requirements, and additional services selected. Start the process online or give us a call straightaway for us to compile an accurate quote. We'll combine all our services into a one-off payment, and make all necessary transport arrangements on your behalf. Call now! (800) 908-6206
Looking For Transport
With a Specific Trailer?

Max Weight: 150,000+ lbs. | Main Deck Length 29 ft.
| Well Width 8.5 ft. | Legal Height Limit 11.6 ft.

Max Weight: 48,000 lbs. | Max Length 53 ft.
| Max Width 8.5 ft. | Max Height 8.5 ft.
Max Weight: 48,000 lbs. Max Length 53 ft. |
Max Width 8.5 ft. | Max Height 11 ft.
Max Weight: 45,000 lbs. | Max Length 29 ft.
| Max Width 8.5 ft. | Max Height 11.5 ft.
HEAVYHAULERS.COM
START YOUR SHIPMENT TODAY!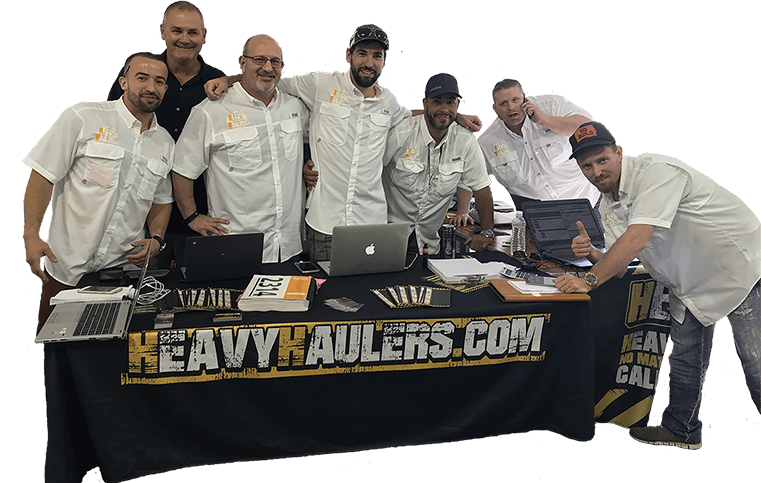 We Are Ready To Help You Haul Your Equipment!
See what you need?
Call us for a FREE Shipping Estimate at (800) 908-6206