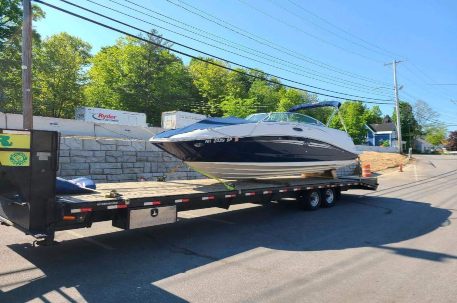 Heavy Haulers Ships All Manufacturer Boats and Yachts
At Heavy Haulers we understand that transporting your boat or yacht requires top quality care and service. That's we we are licensed, bonded, and insured for boat shipping. We haul anything from small fishing boats to oversize yachts all across the country and even overseas. We have experience transporting all makes, models, and manufacturers of boats and yachts. Our comprehensive boat shipping services are all-inclusive, so you can be fondent in the boat transport experience. Call now! (800) 908-6206

Harris Boats was started in the 1940s and 50s by brothers Pete and Ernie Harris. Initially, the company was called Harris Manufacturing. While looking to expand after being inspired by the high number of people building pontoon boats, the two started Harris FloteBote Marine in 1957.


Hatteras was founded in New Bern, North Carolina by Willis Slane in 1959. Willis Slane, who was a fisherman, wanted to create a new type of fishing boat that would withstand the waves of Cape Hatteras. The first yacht to be built was the 41 feet Knit Wits fiberglass yacht which changed the industry.



Horizon Yachts was started in 1987 by John Lu, Gong Shan Chiai and Cheng Shun Hui in Kaohsiung. The company was started to supply yachts to the American buyers and local people. However, the company started supplying yachts to Europe, Australia and Asia markets in 1989.



In 1972, he designed a cabin version of the same boat and named it the Hunter 19. Oliver Lee was the naval architect of Hunter Boats. He also designed Hunter 490 and Hunter 701. The company produced a lot of racing sailboats.



Intrepid was started by John Michel in Largo Florida in 1983. This is when they launched their first 30 feet powerboat. This was the world's first boat to be made using vacuum bagging or resin infusion method.



Island Packet was started by Bob Johnston, an MIT graduate in naval architecture in 1979. After he graduated, he started by working for McDonnell Douglas developing missiles. He had a passion for sailing and worked for Endeavor and Irwin.



Heavy Haulers has been shipping J boats for more than a decade now. Over the years, we have put smiles on many clients who were not sure how to transport a J boat. We've invested in better resources to make our J boats shipping services fast and reliable.


Jeanneau was founded by Henri Jeanneau in 1957. He already had a passion for automobiles and aeroplanes. However, after watching a boat pass by his window, he discovered his love for powerboating. Initially, they started by making powerboats.



Cobalt Boats was started by Pack St. Clair in Neodesha, Kansas in 1968. They made high end speedboats. They made their reputation through quality and not price. Around 2017, the company was making more than 2000 boats a year in their Neodesha facility.



When shipping Leopard Catamarans, hiring a reliable shipping company like Heavy Haulers guarantees that you'll get it delivered safely and on time. At Heavy Haulers, we've gathered years of experience that has made us more effective.



When shipping Mainship boats, it's important to find a shipping company that has resources and experience like Heavy Haulers. We've been shipping used and new Mainship boats for more than a decade now.



At Heavy Haulers, we offer reliable Meridian yacht shipping services. We have a team of professionals who plan your Meridian yacht shipment. Before a Meridian yacht is dispatched, we ensure that it's fully insured and has all the necessary documents.



Shipping Monterey boats with Heavy Haulers has been easy and highly reliable. We transport Monterey boats door to door and port to port efficiently. When shipping Monterey boats, we fully insure them and have all the paperwork ready.



When transporting NauticStar boats, we take good care of them until they are safely delivered. We only use professional specialists with years of experience. We ensure every NauticStar boat we transport is fully insured.



Nautique is owned by Correct Craft which was founded in 1925 by Walt C. Meloon. The first Ski Nautique was made in 1957 in South Florida by Leo Bentz. The producer of Nautique started its first ski team in 1977.



Nautor's Swan was started in 1966 by Pekka Koskenkyla. Nautor's Swan boat models range between the sizes of 36 to 131 feet. Throughout its history, Nautor has only worked with four naval architects.



Shipping Ocean Alexander yachts with professionals like Heavy Haulers is convenient and reliable. We go over and beyond to meet our clients expectations. We put in the work so that our clients' Ocean Alexander yachts are delivered safely and on time.



Ocean Yachts is located in Egg Harbor, New Jersey. The company was founded in 1977 by Jack Leek. The Leek family had started making quality boats from as early as 1721. Heavy Haulers has been transporting Ocean yachts for more than a decade now.



When shipping Parker boats, we put all our resources into use to ensure that they are delivered safely and on time. We transport new and used Parker boats across the country and internationally.



When transporting a yacht manufactured by Pershing Yachts, looking for a reliable and convenient shipping company like Heavy Haulers is important. Our specialists fully insure all the Pershing Yachts we transport and acquire the right paperwork.



Transporting a Prestige yacht with a professional like Heavy Haulers guarantees its safety. We utilize our resources to ensure that every Prestige yacht we transport gets to the owner safely. Prestige Yachts is well known for manufacturing luxury yachts.



Transporting any Princess Yachts luxurious yacht requires a company that's experienced and reliable. Heavy Haulers has been transporting yachts manufactured by Princess Yachts for more than a decade now.



Heavy Haulers offer Pursuit boats shipping services of an industry leader. We use cranes to load Pursuit boats on our trailers. We offer power only shipping services for the Pursuit boats that are large and already in trailers.



Shipping Ranger Tug boats with a professional like Heavy Haulers guarantees safety and timeliness. We've been shipping Ranger Tugs boats for more than ten years now. We transport new and used Ranger Tugs boats at affordable rates.