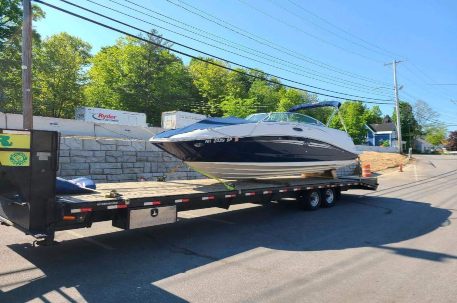 Transport Boats by All Brands and Manufacturers with Heavy Haulers
Heavy Haulers transports boats of all shapes and sizes. From a small dinghy to an oversize yacht, we ship boats across the U.S. and overseas. Our boat specialists will determine the best type of trailer to move your load. Heavy Haulers transports boats from all manufacturers and brands. We can ship a boat to a new owner, or haul it off from a trade show for you. Whether you're towing your boat to the marina or need to transport it internationally, we'll get it hauled with confidence. Call Heavy Haulers for a free shipping estimate! We'll transport your boat, no matter how big or small, with quality and precision. (800) 908-6206

Established in 1969, Azimut Yachts began as a sailboat charter company. Over the years they grew and began producing their own yachts. Fifty years later, they are one of the most prestigious yacht manufacturers in the business.



Bavaria Yachtbau is one of the top three market leaders for yachts in the 30 to 56 foot range. Established in 1978, Bacaria Yachtbau is the biggest yacht yard in Germany and one of the largest manufacturers in Germany. They create top quality sailing and motor yachts.



Bayliner is one of the most trusted name in boat manufacturers. They have a wide and versatile inventory, allowing multiple models to fit their customers' needs. Bayliner believes anything is possible and creates their boats with that in mind.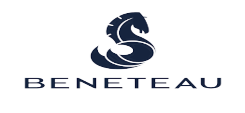 Beneteau is a manufacturer of sailing and power motor yachts. The Beneteau family has been thriving in the boating business since 1884. Throughout the years they have adapted and grown with the boating industry.


Boston Whaler creates multiple models including the Super Sport, Montauk, Dauntless, Vantage, and more. An American boat manufacturer, Boston Whaler is a subsidiary of the Brunswick Boat Group.



Carver Yachts is based in Pulaski, Wisconsin and is recognized as the leader in the luxury motor yacht market. They have 7 different models of yachts that are known for both their quality and luxury.



Catalina Yachts was founded in 1969 in Hollywood, California by Frank Butler. Over the past 50 years Catalina Yachts has grown into one of the largest boat manufacturers in the world.



Since 1874 Chris-Craft Boats has been a well known name among boat manufacturers. They have sold boats to well known famous customers such as Dean Martin, Frank Sinatra, and Elvis Presley.



Custom Line Yachts is known for creating luxury yachts that are considered some of the best in the world. They have several models that are made to a luxury yacht lifestyle.



Dufour Yachts guarantees uncompromising seaworthy excellence that never stints on comfort levels. Established in 1964, Dufour Yachts has been an industry-leading yacht manufacturer for almost 60 years.



Based in the UK, Fairline Boats is a British manufacturer of luxury motor yachts. Fairline Boats has dealers all across the world, ready to provide the best boating experience available.



The Feretti Group, owner of Feretti Yachts, is the world leader in manufacturing luxury motor yachts. Known for their excellent quality, safety, and performance at sea, Feretti Yachts have a unique charm consumers love.



Grady-White is a manufacturer of outboard powerboats ranging from 18' to 45'. They primarily deal with dual and center console fishing boats. With several models to choose from, Grady-White is a popular boat manufacturer.



Hatteras Yacht has offered luxury yachts from day one. They believe in offering benchmark quality and innovation in their yachts. For over sixty years Hatteras Yacht has been providing inspired designs and quality in their yachts.


Heavy Haulers offers fast and stress free Hunter Boats shipping services. We offer door to door and port to port Hunter Boats shipping services. Our specialists are experienced and plan the shipment from start to finish.


Jeanneau is a manufacturer of quality sailboats and powerboats. Established in 1996 in Maryland, Jeanneau America is dedicated to manufacturing top quality boats.



Lagoon Boats, also known as Cata-Lagoon, are known for creating sailing and motor yachts that people love. With several models, Lagoon Boats is one of the industry-leading sailing and motor yacht manufacturers.



Princess Yachts is a leading British luxury yacht manufacturer. They pride themselves on creating yachts by paying meticulous attention to detail and providing high quality results.



Riva Yachts come in different sizes and models. Some Riva Yachts are easy to transport because they are small in size which makes them easy to handle. Established in 1842, Riva Yachts is an Italian-based yacht manufacturer.



Scout Boats provide luxury, center console, dual console, and bay boats. Scout Boats believes in superior quality manufacturing, making sure each model is the best it can be.



Sea Ray Boats is known for their Sundancer, SLX, and SDX boat series. Sea Ray boats manufacturers their products to make each moment exceptional. Sea Ray Boats have a variety of models to suit all families.



Sea Hunt manufactures boat models between the sizes of 15 to 19 feet. We offer power only shipping services when transporting large Sea Hunt boats that are already in their own trailers. Our drivers hitch them and ship them to the given drop off location.



Sealine produces different ranges of flybridge boats ranging between the sizes of 30 to 60 ft. They include Sealine T60 and more. Sealine Coupe boats include Sealine C330, Sealine C530. Sealine sports cruisers range between 23 to 53 feet. We transport Sealine boats locally and internationally at affordable rates..



Sunseeker primarily manufacturers motor yachts. Originally named Poole Power Boats, they have grown into a large International yacht company. They were rebranded Sunseeker International in 1985.