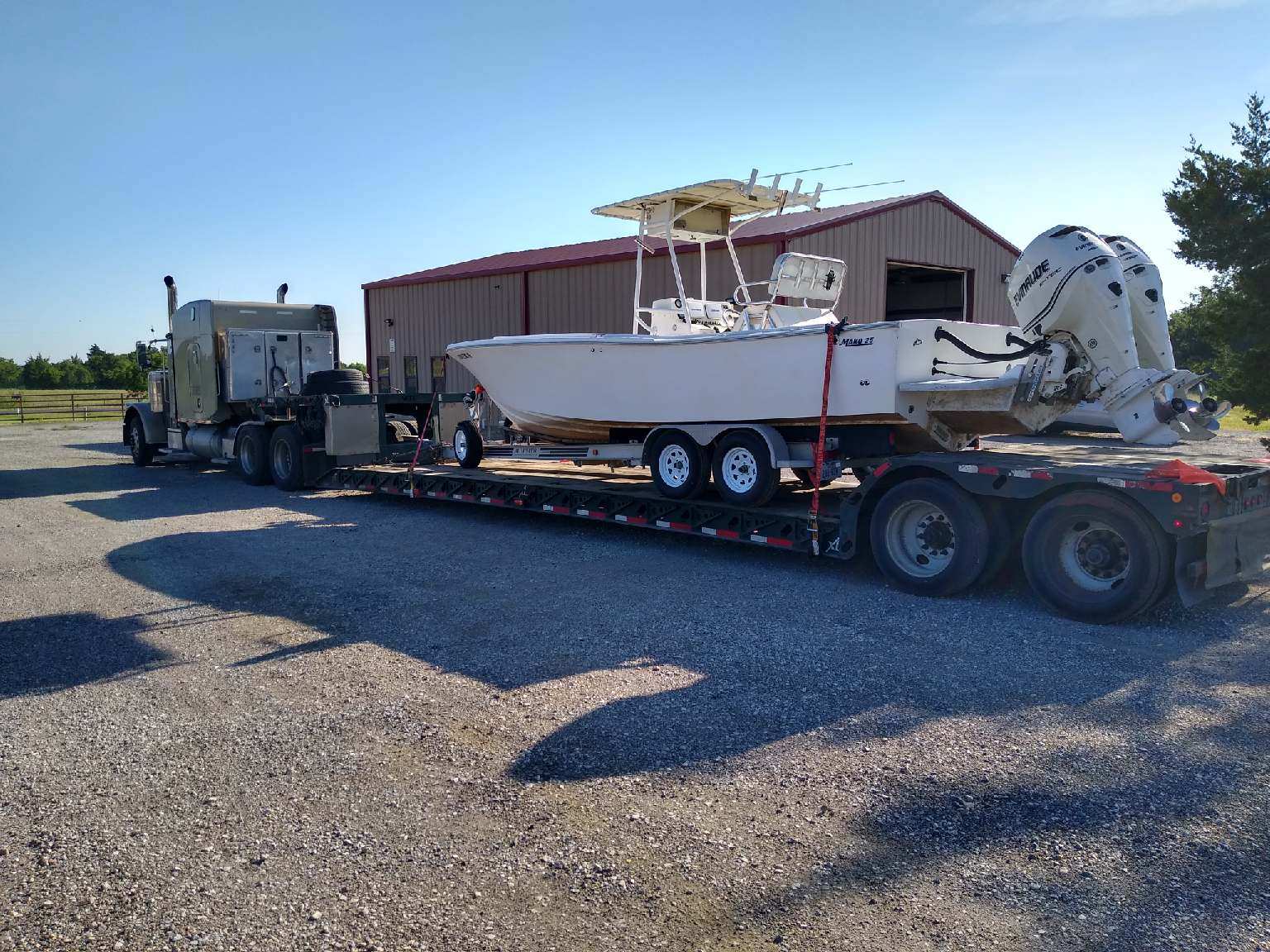 Heavy Haulers Ships Boats by All Manufacturers and Brands
Heavy Haulers is a one stop shop for all your boat shipping needs. We take care of the paperwork, permits, load assistance, and more. For over a decade, Heavy Haulers has provided boat hauling solutions across the United States and overseas. We transport all boats, whether new or old, by any manufacturer. Whether you need to ship a boat overseas, or haul it down to the marina, Heavy Haulers will get it done right. Call for a free boat transport estimate! (800) 908-6206

We've been transporting yachts made by Absolute Yachts for more than a decade now. We've gained the experience and invested in a lot of resources to make our shipping operations fast and reliable. Our specialists are experienced and familiar with every step of the way.


Our specialists are dedicated professionals who know how to prepare an Astondoa yacht for smooth transport. Before dispatch, they fully insure the Astondoa boat and acquire all the right paperwork. We help our clients by deciding the most suitable trailers to transport Astondoa yachts based on the specifications.



Transporting Axopar boats is quick and stress free with Heavy Haulers. We do all the work so that our clients can rest. We ensure that Axopar boats are fully insured and have the right paperwork before they are dispatched. We've invested in cranes to help us load the Axopar boats on our modern RGN or drop deck trailers.



Transporting Benetti Yachts with Heavy Haulers saves you the headache. We do all the work so that our clients can rest as they wait for their Benetti Yacht delivery. Our specialists are professionals who ensure your Benetti Yacht has all the right documents and is fully insured before dispatch.



When transporting Bennington Boats, we ensure that they are fully insured before they are dispatched. Our specialists are professionals and plan everything from start to finish. They ensure that your Bennington Boat is transported in the most suitable trailer and has all the right paperwork.



Heavy Haulers offers door to door and port to port Bertram Yachts shipping services. We've invested in resources such as cranes and trailers to help us handle yachts manufactured by Bertram Yachts easily. Our specialists process Bertram Yachts shipping requests.



For the oversize yachts made by C&C Yachts, we apply for their shipping permits so that we can transport them on public roads without a problem. At Heavy Haulers, we ship all the models and sizes of yachts produced by C&C Yachts locally and internationally.



We've been transporting Chaparral Boats for more than a decade now. Over the years we've gained a lot of experience to help us serve our clients faster and efficiently. We invested in modern resources such as trailers and cranes for easy Chaparral Boats shipping services.



Cobalt Boats was started by Pack St. Clair in Neodesha, Kansas in 1968. They made high end speedboats. They made their reputation through quality and not price. Around 2017, the company was making more than 2000 boats a year in their Neodesha facility.



Cranchi Yachts was founded in 1866 by Giovanni Cranchi on the shores of Lake Como. The company was registered in 1870 and the journey began. In 1932, the boatyard was located in Brienno. This is where the mass production of wooden vessels started.



The first Crownline model was launched in March 1991. The 182 Bowrider was made in a small facility in Whittington, IL. This is the boat that led Crownline into a path of greatness. In the next 5 years, Crownline had achieved unprecedented success.



Cruisers Yachts was started in 1953 by brothers Roy and Grant, brothers Bob and Ted Thompson, Ray and Glenn in Oconto. Initially, the company was called Cruisers Incorporated or Cruisers Inc. We ensure that every Cruisers Yacht we transport is accompanied by the right paperwork and fully insured.



EdgeWater was founded by Bob Dougherty in 1992. This is after he left Boston Whaler after working for them for many years. However, the company was sold two years after it was started after Bob realised that the investors they had taken had a different vision for the company.



Elan was started in 1945 in the northwestern part of the Slovenian Alps which was at the time known as Yugoslavia. It started by being called Worker's Ski Cooperative. In 1949, it diversified into boat building making kayaks and canoes.



Everglades Boats was started by Bob Dougherty in 2001. In 2001 Bob Dougherty was ready for a new challenge, and Everglades Boats was born. Over the last decade the product line has grown, including center consoles, cabin models and dual consoles, measuring 23 to 43 feet.



Formula Boats is a pleasure boats building company located in Decatur, Indiana, United States. Formula was started in 1962 by Don Aronow in Miami, Florida. In 1964, the company was purchased by Alliance Machine Company of Alliance , Ohio.



Fountain Boats was started by Reggie Fountain Jr. in 1979. The company grew to be one of the most respected in performance boat history and has sold more than 10,000 boats making more than $1 billion in sales. Fountain Boats was bought by Iconic Marine Group together with Donzi Marine and Baja Marine.



Fountaine-Pajot Yachts was founded by Jean Francois Fountaine and Yves Pajot in 1976 in Aigrefeuille-d'Aunis in Charente-Maritime. Fountaine-Pijot Yachts is a well known cruising catamaran manufacturer.



Four Winns Boats was started in 1975 by John Winn, his dad Bill Snr and brothers Bill Jnr and Charlie. This is after they acquired a struggling boat company in Cadillac and launched a new brand; Four Winns.



Galeon Yachts was started in 1982 and has remained to be a privately owned company manufacturing luxury yachts and motorboats. We have the experience and resources to transport Galeon Yachts all over the world easily.



Grand Banks Yachts was started by Robert Newton and his two sons in Junk Bay along the Hong Kong waterfront. They are known for their top performance stats in luxury motor yachts. They take pride in their construction and manufacturing.



Grand Soleil Yachts was started in 1973 in Bologna, Italy. Initially, it was known as Cantiere Pardo Pardo. Their aim was to manufacture regatta boats with the best possible performance and innovative design.



Hallberg-Rassy Yachts was founded in 1943 by Harry Hallberg. Christoph Rassy started a yard that was recently vacated by Hallberg-Rassy in 1965. Hallberg-Rassy was started after Rassy bought the Hallberg yard in 1972.



Hanse Yachts AG is a yacht manufacturer in Germany. Its headquarters are found in Greifswald (Baltic Sea). It was founded in 1990 by Michael Schmidt who was the winner of the Admiral's Cup in 1985. We guarantee safe and secure Hanse Yachts shipping services.