Crushing Machinery Shipping Services
Heavy Haulers transports crushers and screening machinery for the mining and construction industry. Whether you need mobile crushing plants for contracting work, screeners, articulated trucks or generators, we've got the experience and equipment to transport your heavy machinery to and from anywhere in the U.S., Canada and Mexico.
Heavy Haulers can Transport all Types of Crushing Machinery including:
See what you need?
Call us for a FREE Shipping Estimate at (800) 908-6206
Heavy Haulers Will Ship Your Crushing Machinery Carefully
Heavy Haulers always provides accurate pricing on all our crushing machinery shipping services. We have also hired some of the most qualified professionals in the transport industry, and we are consequently in a position to provide you with fantastic service. Keep in mind that Heavy Haulers has experience transporting all type of crushing equipment and we are a high-quality provider of all sorts of industrial machinery shipping services.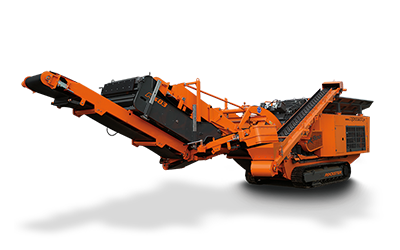 Heavy Crusher Hauling Services
Crushers are used to crush rocks into smaller sizes for use in construction, mining and other industries. There are four major styles of crushing machines that serve varying purposes. These include the cone crusher (sometimes called the gyratory cone crusher), impact crusher, roll crusher and jaw crusher. Many of the most popular crushers are members of the Lokotrack Series from Metso. There are models specialized for hard rocks and the recycling industry.
Heavy Screeners Transportation with Heavy Haulers
Screeners work alongside crushers to separate rocks of different sizes so that they can be manufactured for sale in the construction industry. Many of them have intelligent processing that allows for full automation of the process. Two and three-deck screeners commonly include SmartScreen® capabilities to allow those running the machine easy access to the screener's many features.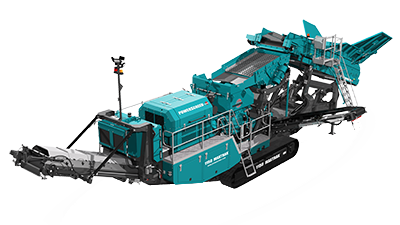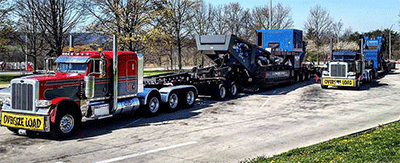 We Transport All Types of Crushing/Screening Equipment
The specialized industry of crushing/screening requires the use of other types of machinery as well, including track excavators, wheel loaders, off-highway trucks and even generators for convenient power anytime. Each type of equipment provides a service for the industrious business owner and can help to propel a business into a position to access top-tier clients.
Acquiring Permits and Legal Requirements When Shipping Crushing Material and Equipment
Purchasing the equipment for a crushing/screening company is only part of the battle. Most machinery needed is bulky and hard to transport. In addition, there are a number of legal restrictions and permit requirements to move oversized equipment across states. That's where we step in. At Heavy Haulers, we know the legal statutes for each state and how to transport Super Load or oversized equipment from one side of the country to the other. We handle the paperwork and obtain the permits necessary to deliver your heavy machine directly to your place of business.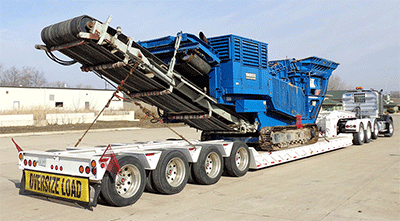 Common Trailer Types Available from Heavy Haulers.
Heavy Haulers specializes in hauling heavy loads such as construction equipment, oil field rigging and Super Loads. We are wideload experts! We offer an extensive range of trailer choices, including:
Max Weight: 48,000 lbs. | Max Length 53 ft. | Max Width 8.5 ft. | Max Height 11 ft.




Max Weight: 45,000 lbs. | Max Length 29 ft. | Max Width 8.5 ft. | Max Height 11.5 ft.
Max Weight: 150,000+ lbs. | Main Deck Length 29 ft. | Well Width 8.5 ft. | Legal Height Limit 11.6 ft.




Max Weight: 48,000 lbs. | Max Length 53 ft. | Max Width 8.5 ft. | Max Height 8.5 ft.
Manufacturers of Crushing/Screening Heavy Haulers has Experience Transporting
Trust Heavy Haulers to transport any brand of Crusher or Screener you own. Most of our drivers are experienced heavy-machinery operators who can safely maneuver your loads aboard our trailers. Some of the brands we have shipped include:
American Pulverizer

Astec

Balzer Pacific

Bedeschi America

Bison Steel

Carman Industries

Cooley Equipment

Diamond Equipment

Eagle Crusher

Elliott & Frantz

Excel Foundry

Fisher Industries

FMC Technologies

GEO Crushers

Gulf Atlantic
GW Van Keppel Co.

H&L Mesabi

INGG Meani

J&B Industrial

Kemper Equipment

Koppern Equipment

McLanahan

Midwestern Industries

PacWest Machinery

Pennsylvania Crusher

Polydeck

PR Engineering

Prater-Sterling

Rackers Equipment

Rahnmet
Richwood

Rock Systems

ROK-CO

RR Equipment

SMICO-Symons

Southern Machinery

Stedman Machine

Superior Machine

Techna-Flo Inc.

Terex

Texas Crusher

TRIO

Wabash Power

Western Group

Zeigler
See what you need?
Call us for a FREE Shipping Estimate at (800) 908-6206
Crushing Machinery & Equipment Transport Services
As a leader in the heavy transportation industry, Heavy Haulers has a decade of experience moving all types of crushing and screening machinery to contractors, business owners and government organizations. We are doubly insured with bond insurance and contingency insurance to protect your equipment from uncontrollable situations. Give us a call for more information or to request a transport quote. We would love to work with you!







11423605

MILES TRAVELED






1214292

LOADS SHIPPED







1315658103

TONS TRANSPORTED






921637

CLIENTS SATISFIED