Haul a Walking Excavator with Heavy Haulers Today!
We pride ourselves on our vast network of specialized trailers, experienced haulers, and a comprehensive range of heavy machinery transport services. At Heavy Haulers, we do more than just transport a walking excavator for you. We'll handle excavator attachments, spare parts, working, and non-working walking excavator haulage, all at short notice.
We'll locate the best rig for your walking excavator shipment and arrive on-site with everything that's necessary to load, transport, and offload your expensive excavator machinery safely. Our experienced drivers are capable of handling walking excavator shipping in all environments. Whether you're shipping to a storage yard, remote location, or busy inner-city construction site, we've got professionals available to coordinate your shipment. Based on your needs, we'll arrange for permits, paperwork, escorts, and anything else that's required to provide a superior walking excavator shipping service. Let's get started! (800) 908-6206
Contact Our Expert Shipping Specialist's
(800) 908-6206
Comprehensive Walking Excavator Transport Services from Heavy Haulers
If you're looking for an excavator transport specialist to haul a walking excavator for you, look no further than the Heavy Haulers transport team. We have dedicated walking excavator transport haulers that specialize in transporting excavators manufactured by many major brands, including Kaiser, Menzi Muck, and Euromach. Our experts handle everything from dispatch to delivery. You can rely on us to find the right equipment to load your machinery, the quickest transport route, and the safest delivery options.
Walking excavators are a special type of all-terrain excavator that we believe deserves a unique delivery service. That's why each of our walking excavator transport services is highly customizable, allowing you to experience a walking excavator haulage service that's crafted especially for your equipment. Undercarriage design of walking, or spider, excavators varies between model and manufacturer. Your vehicle may have hydraulic legs, powered wheels, or simple rotating wheels. Whichever configuration your machinery has, you can be sure that Heavy Haulers has an expert on hand that knows how to deliver it securely. Get your free shipping quote now! (800) 908-6206
Common Walking Excavator Manufacturers shipped by Heavy Haulers:
• CRS
• Euromach
• Kaiser
• Kamo

• Menzi Muck
• Solmec
• Spidertec
How to Ship a Walking Excavator
Walking excavators, depending on size, can be shipped on a flatbed or RGN trailer. If you're unsure which type of trailer is right for the size and weight of your excavator, contact us with the make/model, and we will be able to provide accurate recommendations. Walking excavators can usually be reversed onto the trailer of choice so that the boom and bucket face the rear of the transport.
Once loaded, the excavator requires securing with appropriate strength straps or chains to avoid movement in transit. Our haulers can not only transport a walking excavator for you, but we can also handle the loading, securing, and offloading. Contact us to find out more and book our walking excavator shipping service. Call now for more information! (800) 908-6206
HEAVYHAULERS.COM
START YOUR SHIPMENT TODAY!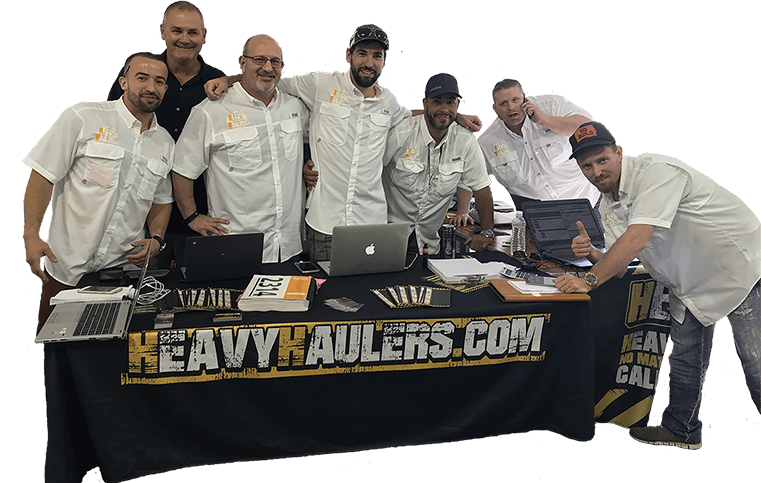 We Are Ready To Help You Haul Your Equipment!
Looking For Transport
With a Specific Trailer?

Max Weight: 150,000+ lbs. | Main Deck Length 29 ft.
| Well Width 8.5 ft. | Legal Height Limit 11.6 ft.

Max Weight: 48,000 lbs. | Max Length 53 ft.
| Max Width 8.5 ft. | Max Height 8.5 ft.
Max Weight: 48,000 lbs. Max Length 53 ft. |
Max Width 8.5 ft. | Max Height 11 ft.
Max Weight: 45,000 lbs. | Max Length 29 ft.
| Max Width 8.5 ft. | Max Height 11.5 ft.
See what you need?
Call us for a FREE Shipping Estimate at (800) 908-6206