Dragline Excavator Shipping throughout the U.S.
Heavy Haulers is one of the most trusted large equipment transport service providers in North America. We are a nationwide network of experienced shipping professionals. We pride ourselves on our ability to handle even the most complex projects, and shipping multi-tonne dragline excavators definitely falls into the category of complex shipping processes. With equipment so specialized, you need a dragline excavator transport company that you can trust to handle your expensive equipment. We are that company!
We respect the value of your time and will work with you to meet or exceed any deadlines you require. We know the importance of being able to turn up to work and have your equipment there ready to start your day. Trust us to transport a dragline excavator, and we'll not only transport your machinery promptly, but we'll protect it as if it was our own, and ensure that it's as safe and secure as possible throughout its journey. Call now for a free shipping estimate! (800) 908-6206
Contact Our Expert Shipping Specialist's
(800) 908-6206
Minimizing the Hassle of Dragline Excavator Shipping
Dragline excavators are some of the largest excavators you'll find used throughout North America. This type of machinery uses a hoist rope system that attaches to the bucket using a hoist coupler on one side, with a dragline running from the bucket to the excavator's cab. Many of the larger models are built on-site, requiring an excavator shipping service that is capable of coordinating and shipping parts separately. That's where the Heavy Haulers dragline excavator shipping specialists can help you. We'll minimize the hassle of shipping dragline excavators by handling the route planning, coordination, shipment, loading, and unloading of dragline excavators.
Traveling to remote sites that don't have loading facilities built is not a problem for us. We'll assess your dragline excavator shipping request and bring everything to the site that we'll need to safely and securely load your dragline excavator onto our trucks and trailers. With project managers dedicated to providing professional, comprehensive excavator shipping services, we'll make sure that only experienced Heavy Haulers personnel handle all of your dragline excavator shipping processes.
Common Dragline Excavators We Ship
• Bauer MC96
• Bucyrus Erie 1150b
• Bucyrus 8200
• Caterpillar 8000
• Caterpillar 8200
• Caterpillar 8750

• Komatsu 9010C
• Komatsu 9020XPC
• Hitachi KH150-3
• Liebherr HS 841D
• Manitowoc 3950D
• RB Priestman VC20
How to Ship a Dragline Excavator with Heavy Haulers
Due to their size and weight, dragline excavators are typically assembled on site. This means you'll need a dragline excavator haulage company that's prepared to ship your equipment safely in multiple parts. At Heavy Haulers, we coordinate all aspects of dragline excavator shipping, so you don't have to. Our door-to-door service will ship your dragline excavator from one site to the next with minimal involvement required from you. Speak to us to see how we can help you transfer your equipment, and we'll provide you with a quote that comprehensively covers all of our services. Call now! (800) 908-6206
HEAVYHAULERS.COM
START YOUR SHIPMENT TODAY!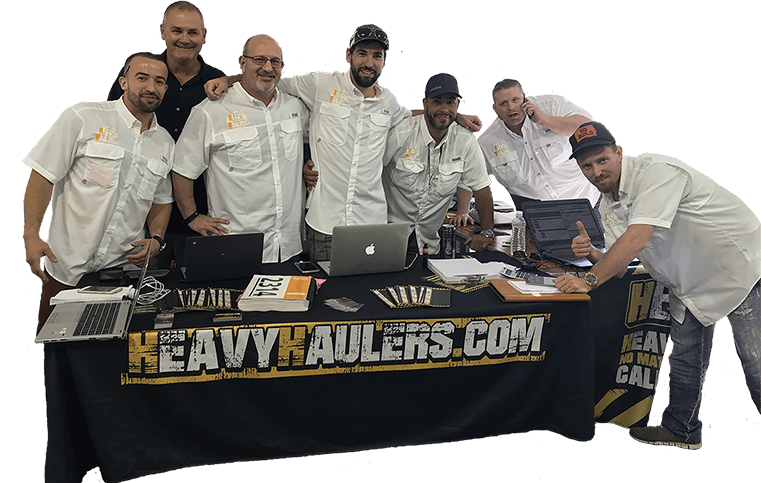 We Are Ready To Help You Haul Your Equipment!
Looking For Transport
With a Specific Trailer?

Max Weight: 150,000+ lbs. | Main Deck Length 29 ft.
| Well Width 8.5 ft. | Legal Height Limit 11.6 ft.

Max Weight: 48,000 lbs. | Max Length 53 ft.
| Max Width 8.5 ft. | Max Height 8.5 ft.
Max Weight: 48,000 lbs. Max Length 53 ft. |
Max Width 8.5 ft. | Max Height 11 ft.
Max Weight: 45,000 lbs. | Max Length 29 ft.
| Max Width 8.5 ft. | Max Height 11.5 ft.
See what you need?
Call us for a FREE Shipping Estimate at (800) 908-6206