Loading and Unloading Hydrovac Excavators on Trailers by Heavy Haulers
Heavy Haulers hydro-vac excavator consignment specialists will make available the permits and cargo insurance that your load may need for transport between states or countries. We have over a decade of hauling experience and dominance in the oversized trucking niche. Get a free shipping valuation when you call a Heavy Haulers dispatcher on (800) 908-6206 for the guaranteed delivery of hydro-vac excavators.
Capacity to Carry Hydrovac Excavators on Tractor Trailers at Heavy Haulers
Contact Our Expert Shipping Specialist's
(800) 908-6206
We operate an extensive fleet of large-capacity drop deck, hotshot and RGN flatbed trailer platforms that will exhaustively carry out the shipping of your hydro-vac excavators. Heavy Haulers oversize load trailers are fully graded and insured to handle the substantial dimensions that hydro-vac excavators come with. Our loaders and hydro-vac excavator handlers use loading ramps, docks, and hydraulic lifts to load or unload your hydro-vac excavator cargo safely at any location.
Heavy Haulers transport Hydrovac excavators to slot trenching, debris removal, potholing, and cold weather and tight spot excavations. The process works by the high-pressure injection of water backed by a vacuum system that digs soil without destroying pipes and other conduits. Soil is turned into a water slurry and then vacuumed out and poured into a dump truck as a safer, faster way of digging deep or long trenches.
Call Heavy Haulers Now for Hydrovac Excavator Transport Solutions
A Heavy Haulers specialized trailer rig will be mobilized once the free estimate determines the size dimensions for your hydro-vac excavator. We work with municipal authorities, commercial construction companies, and contractors to offer conclusive shipping services for hydro-vac excavators that have no competition. Call a Heavy Haulers dispatcher on (800) 908-6206 for comfort while transporting Hydrovac excavators augmented by seamless load tracking and communications.
See what you need?
Call us for a FREE Shipping Estimate at (800) 908-6206
HEAVYHAULERS.COM
START YOUR SHIPMENT TODAY!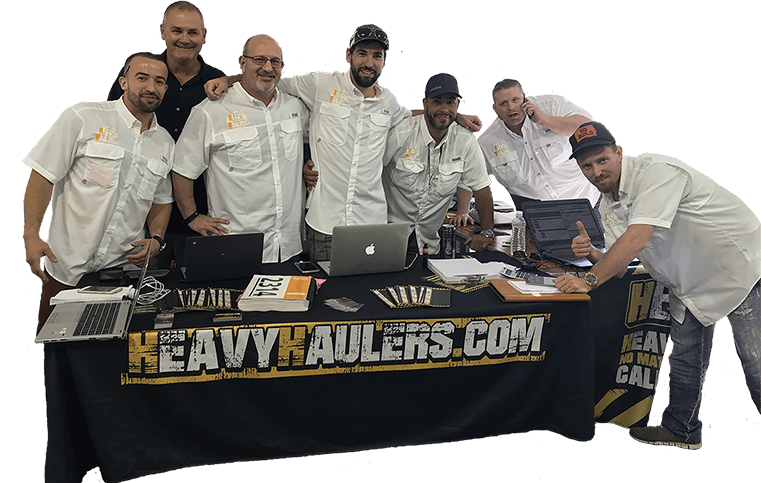 We Are Ready To Help You Haul Your Equipment!
Common Equipment Heavy Haulers Transports
Trust Heavy Haulers to transport any brand of equipment you own. Most of our drivers are experienced heavy-machinery operators who can safely maneuver your loads aboard our trailers. Some of the brands we have shipped include:
Looking For Transport
With a Specific Trailer?

Max Weight: 150,000+ lbs. | Main Deck Length 29 ft.
| Well Width 8.5 ft. | Legal Height Limit 11.6 ft.

Max Weight: 48,000 lbs. | Max Length 53 ft.
| Max Width 8.5 ft. | Max Height 8.5 ft.
Max Weight: 48,000 lbs. Max Length 53 ft. |
Max Width 8.5 ft. | Max Height 11 ft.
Max Weight: 45,000 lbs. | Max Length 29 ft.
| Max Width 8.5 ft. | Max Height 11.5 ft.
See what you need?
Call us for a FREE Shipping Estimate at (800) 908-6206