Domestic and International Shovel Excavator Shipping
At Heavy Haulers, we pride ourselves on our outstanding network connections, not only throughout the U.S. but also overseas. We make sure that every client receives the best shovel excavator hauling experience, by focusing on connecting you with the right shovel excavator transport expertise when you need it most. It doesn't matter if you're shipping to California or Canada, Montana or Mexico, our shovel excavator shipping services have got you covered.
We work together to make sure that every shovel excavator delivery meets its deadline so that you don't experience any delays on site. All of our paperwork, including permit applications for oversized shovel excavator haulage, is completed before we arrive at the pickup location, so we can quickly handle your shovel excavator shipment. Quick shipments don't mean we're compromising on quality either. Each of our chosen haulers is fully trained, accredited, and insured. Call now! (800) 908-6206
Contact Our Expert Shipping Specialist's
(800) 908-6206
Timely Transport a Shovel Excavator with Heavy Haulers
If this is your first time hauling a shovel excavator, you may be a bit overwhelmed by all the tasks you need to think about when trying to get your shovel excavator safely to the next job site. Especially if you've got to consider how to ship additional attachments or customized excavator rigs. That's where the expertise at Heavy Haulers comes in handy – we've got more than ten years of experience transporting shovel excavators of all shapes and sizes.
We know exactly what it takes to haul a shovel excavator securely, and we've taken the time to hone our shovel excavator delivery skills so that no matter where you are, you'll get timely deliveries. When you ask Heavy Haulers to handle a shovel excavator shipping request for you, you'll receive a comprehensive shovel excavator shipping service that's tailored to match your requirements. We plan the routes, complete the paperwork, provide the trailers, haulers, suitable loading, and offloading equipment, and more. Let's get started! (800) 908-6206
Common Manufacturers of Shovel Excavators that we ship:
• Bobcat
• Bucyrus
• Caterpillar
• Kramer
• Komatsu
• Hitachi

• Liebherr
• Mecalac
• O&K
• Takeuchi
• Terex
• Volvo
How to Ship a Crawler Excavator
How to ship your crawler excavator depends on its size and weight. A mini crawler excavator will be treated differently to a large 112,2000lb Caterpillar excavator, and we tailor our crawler excavator shipping process to meet your unique demands. We can haul them on flatbeds, in containers, or as part of a roll-on/roll-off service. Speak to us, and we'll help you to figure out the best shipping method for your crawler excavator. Regardless of how you choose to ship, we provide a door-to-door crawler excavator shipping service that can be scheduled at your convenience.
Common Shovel Excavators Heavy Haulers Transports
Front Shovel
Most modern front shovels utilize a hydraulic power system to load and move overburden and ore into haul trucks as part of the mining process. They can be used in all types of surface mines to obtain sand, gravel, crushed stone, coal, copper, iron, and more.
Steam Shovel
Steam shovels are large steam-powered excavators used for lifting and moving rock and soil. They're the earliest form of power shovel and played a significant role in excavation until the mid-1930s. Steam shovels now mostly reside in private collections or industrial museums.
Power Shovel
Power shovels are bucket-equipped excavating machines that are typically electric-powered, used for digging, earth loading, moving fragmented rocks, and mineral extraction. Winches and steel ropes control the digging arm. Most conventional power shovels consist of a revolving deck, power plant, driving and control mechanisms, counterweight, front boom, and bucket.
See what you need?
Call us for a FREE Shipping Estimate at (800) 908-6206
HEAVYHAULERS.COM
START YOUR SHIPMENT TODAY!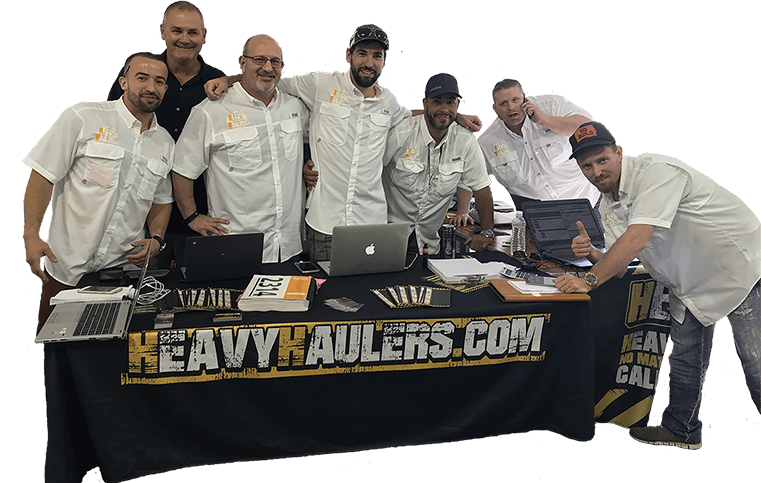 We Are Ready To Help You Haul Your Equipment!
Looking For Transport
With a Specific Trailer?

Max Weight: 150,000+ lbs. | Main Deck Length 29 ft.
| Well Width 8.5 ft. | Legal Height Limit 11.6 ft.

Max Weight: 48,000 lbs. | Max Length 53 ft.
| Max Width 8.5 ft. | Max Height 8.5 ft.
Max Weight: 48,000 lbs. Max Length 53 ft. |
Max Width 8.5 ft. | Max Height 11 ft.
Max Weight: 45,000 lbs. | Max Length 29 ft.
| Max Width 8.5 ft. | Max Height 11.5 ft.
See what you need?
Call us for a FREE Shipping Estimate at (800) 908-6206