Long-Distance and Local Crawler Excavator Shipping
We know the importance of having crawler excavators on site ready to start work, as time is money on a lot of construction projects. We'll work to any deadlines that you impose, to ensure that you don't miss yours! As part of our comprehensive crawler excavator shipping services, we can ship multiple crawler excavators or single excavators. We can also ship replacement buckets, excavator tracks, motors, cabs, and other parts for you. Heavy Haulers specializes in long-distance hauling of crawler excavators, and we've completed multiple shipments from Rockford, IL, to Hamilton, MO, and Fresno, CA, to Candler, NC.
We can also ship locally to and from construction and excavation sites in the same city or county. Wherever you need us to haul a crawler excavator, we'll make sure your delivery is under constant supervision from licensed, certified, and bonded drivers. Call now for a free shipping estimate! (800) 908-6206
Contact Our Expert Shipping Specialist's
(800) 908-6206
Crawler Excavator Shipping Experts You Can Trust
When you choose Heavy Haulers as your crawler excavator shipping company, you'll be partnered with professional heavy equipment specialists that have shipped to and from many construction and excavation zones in North America, Canada, and Mexico. All of our seasoned drivers are qualified to ship crawler excavators, parts, and accessories, undergoing regular training, and keeping up-to-date with all state and federal regulations associated with the shipment of this specialized type of machinery.
Crawler excavators are essential heavy machinery at many construction sites throughout America. The crawler excavator is one of the most versatile pieces of construction equipment found on a job site, and can be used in demolitions, lifting, moving, and digging. From mini crawler excavators for small projects to industrial-sized crawler excavators used in large redevelopment projects, we have experience handling them all. With more than a decade of experience shipping crawler excavators and a reputation built on a foundation of positive reviews, you can trust us to haul your excavator safely. Call now! (800) 908-6206
Common Crawler Excavators We Ship
• CASE D-Series
• Caterpillar 315E
• Caterpillar 336GC
• Doosan DX140LC5
• Doosan DX235LCR
• Doosan DX490LC5
• John Deere 120C
• John Deere 210G
• John Deere 270 CLC
• Hitachi EX700

• Hitachi ZX270
• Hitachi ZX350LC-5N
• Hyundai HX Series
• Komatsu PC138US
• Komatsu PC2000
• Komatsu PC290LC
• Volvo EC750E
• Volvo ECR355E
• Volvo EW180E
• Volvo EWR150E
How to Ship a Crawler Excavator
How to ship your crawler excavator depends on its size and weight. A mini crawler excavator will be treated differently to a large 112,2000lb Caterpillar excavator, and we tailor our crawler excavator shipping process to meet your unique demands. We can haul them on flatbeds, in containers, or as part of a roll-on/roll-off service. Speak to us, and we'll help you to figure out the best shipping method for your crawler excavator. Regardless of how you choose to ship, we provide a door-to-door crawler excavator shipping service that can be scheduled at your convenience.
HEAVYHAULERS.COM
START YOUR SHIPMENT TODAY!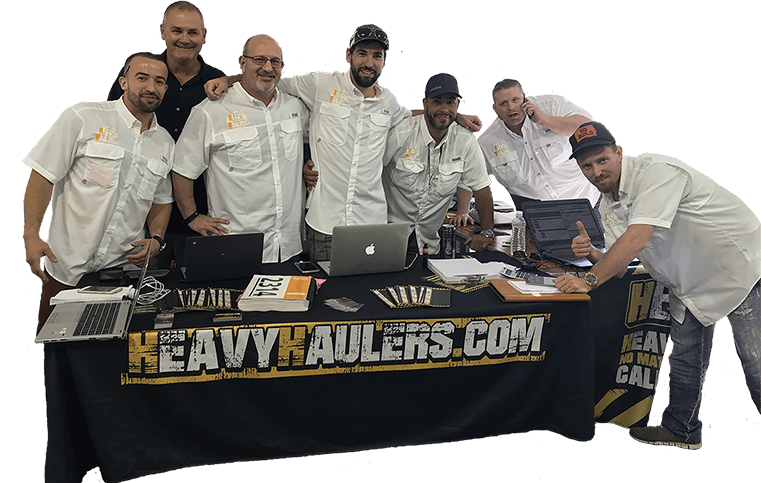 We Are Ready To Help You Haul Your Equipment!
Looking For Transport
With a Specific Trailer?

Max Weight: 150,000+ lbs. | Main Deck Length 29 ft.
| Well Width 8.5 ft. | Legal Height Limit 11.6 ft.

Max Weight: 48,000 lbs. | Max Length 53 ft.
| Max Width 8.5 ft. | Max Height 8.5 ft.
Max Weight: 48,000 lbs. Max Length 53 ft. |
Max Width 8.5 ft. | Max Height 11 ft.
Max Weight: 45,000 lbs. | Max Length 29 ft.
| Max Width 8.5 ft. | Max Height 11.5 ft.
See what you need?
Call us for a FREE Shipping Estimate at (800) 908-6206