Professional Long Reach Excavator Shipping Services
Whether it's a rental, new, or used long reach excavator, we'll handle it with care. Even if you just need a long reach excavator shipping service to safely transport replacement parts, Heavy Haulers can assist you in shipping multiple items or only single pieces. We have the right rigs to handle the excessive weight and specialized loading services often involved in excavator shipping, and the expertise to safely maneuver excavators onto flatbeds and trailers. Our licensed and insured drivers will carefully navigate your long reach excavator through busy urban areas and over rugged terrain.
Our professional long reach excavator shipping service seeks to make the transportation of your equipment as easy as possible. That's why we include the loading and offloading of your equipment and door-to-door shipping as part of our comprehensive service. As a nationwide excavator shipping company, we can serve customers in all 50 U.S. states. Whether you need short-haul excavator shipping or a long haul excavator shipment to a remote U.S. location, we're here for you. Call now! (800) 908-6206
Contact Our Expert Shipping Specialist's
(800) 908-6206
Customizable Long Reach Excavator Shipping Services
As the name suggests, a long reach excavator is a heavy-duty excavator that has a longer arm and boom section that other types of excavators. Extendable arms can often reach over 100ft horizontally, allowing for access to otherwise hard-to-reach locations. Whether it's over water or helping to crumble a tall structure, long reach excavators are best used for demolition projects. These excavators can be customized with attachments to shear, crush, and cut objects. For excavators as large and unique as these, you need an excavator shipping company with long reach excavator shipping experience.
At Heavy Haulers, we can assist you with a range of bespoke excavator shipping services. Not only do we have more than a decade of experience coordinating excavator shipments of all sizes, but we'll also make sure to partner you with a driver that has long reach excavator shipping knowledge. With us, your excavator will be in safe hands.
Common Long Reach Excavators We Transport
• Caterpillar 340
• Caterpillar 352F
• Hitachi EX450
• Hitachi ZX250LC-5B
• Hyundai ROBEX 210 LC-9
• KOBELCO SK260LC

• KOBELCO SK210LC
• Komatsu PC138US-SLF
• Komatsu PC210SLF
• Komatsu PC240SLF
• Komatsu PC360SLF
How to Ship a Long Reach Excavator
We provide door-to-door shipping for all long reach excavators. Since many long reach excavators are too large to ship in standard containers, we utilize roll-on/roll-off services and a variety of customized trailers to transport your machinery. You'll get the final say on the shipping method we use, but if you don't have any experience in shipping a long reach excavator, you can trust us to make all the decisions for you. We'll make sure that your excavator is fully secured and properly rated for transport. Call us to find out more! (800) 908-6206
HEAVYHAULERS.COM
START YOUR SHIPMENT TODAY!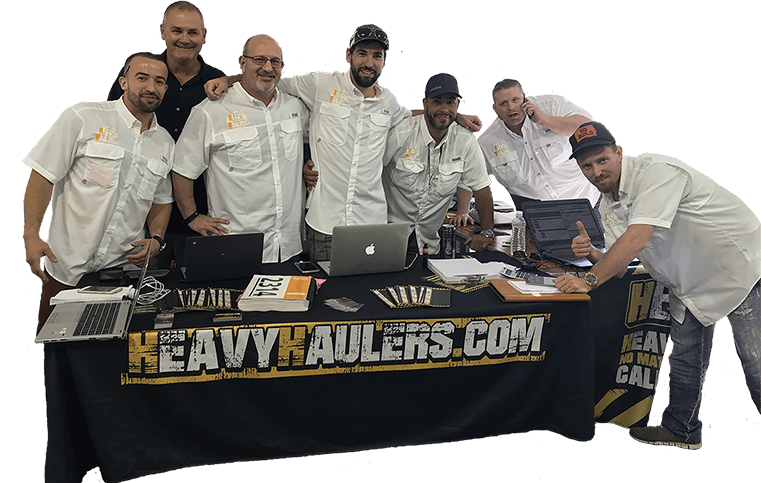 We Are Ready To Help You Haul Your Equipment!
Looking For Transport
With a Specific Trailer?

Max Weight: 150,000+ lbs. | Main Deck Length 29 ft.
| Well Width 8.5 ft. | Legal Height Limit 11.6 ft.

Max Weight: 48,000 lbs. | Max Length 53 ft.
| Max Width 8.5 ft. | Max Height 8.5 ft.
Max Weight: 48,000 lbs. Max Length 53 ft. |
Max Width 8.5 ft. | Max Height 11 ft.
Max Weight: 45,000 lbs. | Max Length 29 ft.
| Max Width 8.5 ft. | Max Height 11.5 ft.
See what you need?
Call us for a FREE Shipping Estimate at (800) 908-6206