Bass Boat Shipping Services
At Heavy Haulers, we are famous for our incredible bass boat hauling services at the most competitive price. We have been offering premium bass boat shipping services for many years, and our previous clients can confirm that we never let them down. Our highly-skilled professionals take their time to understand all the instructions given to them, and they will do their best to meet and exceed your expectations. If you want to know about our efficient bass boat shipping procedures, contact our world-class logistics team. They are always ready to share their extensive bass boat hauling knowledge with you. Besides, they will welcome your opinions so that at the end of the day, your shipping needs are satisfactorily met.
The last thing you need to have on the list of your worries is having to part with an unreasonable sum of money to pay for our bass boat transport services. We have some of the most affordable shipping rates in the industry. What's more, with us, you still get to enjoy quality bass Boat hauling services with around the clock assistance of our very friendly and approachable staff. During our first meeting, we will let you know what we are going to charge you. Our straightforwardness allows for convenience since you can start planning your budget early. Furthermore, it saves a lot of time since we won't spend endless hours bargaining. Call now for a free shipping estimate! (754) 732-0936
Contact Our Expert Shipping Specialist's
(754) 732-0936
Timely Bass Boat Transportation Services
Bass boats are small boats that are built explicitly with bass fishing. They are also equipped for fishers who are interested in other panfish. Most of bass boats are convenient for use in rivers, lakes, and streams. The common features that you will find in a bass boat include storage bins where you can keep fishing equipment like lures and rods. There are also swivel chairs that come in handy whenever you need to cast to different positions around the boat and live wells filled with recirculating water for bass fish storage.
Those looking for bass boat shipping services should come to Heavy Haulers. With our timelessness, you can have your bass boat hauled as soon as you need it. You can even request our expedited shipping services if you need the bass boats urgently. In addition to that, we make door-to-door deliveries for more convenience. Instead of creating time to come and receive the bass boats at one of our pick up locations, you can prepare for their delivery back at home or your business premises.
Types of Common Bass Boats We Ship
• Nitro Bass Boats


• Tracker Bass Bats


• Champion Bass Boats


• Triton Bass Boats


• Ranger Bass Boats


• Xpress Bass Boats


How to Ship Bass Boats with Heavy Haulers
With Heavy Haulers, a competent and experienced shipping company, hauling bass boats is an uncomplicated process. If you need our transportation services, contact us. We will make all the necessary plans for you, and you won't have to worry about a thing. At Heavy Haulers, we are committed to providing the best customer experience, deliver seamless bass boat shipping services, and continue to be one of the world's best hauling company. Our mission is to make Heavy Haulers every client's preferred shipping company. We strive to do so by consistently fulfilling our promises, deliver outstanding values, and make boat shipping a seamless and easy activity. We are also an insured and licensed shipping company. It ensures that you have protection for your boats while they are in transit, plus there will be no complications with the law. To fully enjoy our services, we have a team of fantastic customer service agents who are always ready to serve you. (754) 732-0936
Looking For Transport
With a Specific Trailer?

Max Weight: 150,000+ lbs. | Main Deck Length 29 ft.
| Well Width 8.5 ft. | Legal Height Limit 11.6 ft.

Max Weight: 48,000 lbs. | Max Length 53 ft.
| Max Width 8.5 ft. | Max Height 8.5 ft.
Max Weight: 48,000 lbs. Max Length 53 ft. |
Max Width 8.5 ft. | Max Height 11 ft.
Max Weight: 45,000 lbs. | Max Length 29 ft.
| Max Width 8.5 ft. | Max Height 11.5 ft.
HEAVYHAULERS.COM
START YOUR SHIPMENT TODAY!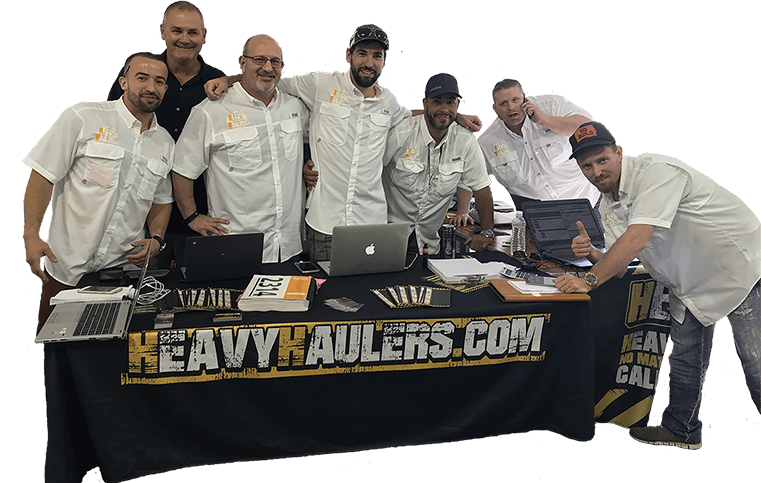 We Are Ready To Help You Haul Your Equipment!
See what you need?
Call us for a FREE Shipping Estimate at (754) 732-0936