Our Comprehensive Network of Gangway System Delivery Haulers
If your gangway system transport needs to travel from the West Coast to the Gulf of Mexico for loading at the busiest ports, including the Port of South Louisiana and the Port of Houston, our dedicated gangway system transport network is ideally placed to assist you. Our national network means we can deliver a gangway system anywhere that you need it. We serve every part of the United States and regularly assist customers with gangway system shipping along some of North America's busiest transport routes.
Whether you need local port-to-port transport assistance to haul a gangway system or you need a reliable long-haul trucker, our gangway system transport services are the right choice. We're a gangway system delivery company that will always connect you with the right local expertise to get your gangway system shipping service safely underway.(800) 908-6206
Contact Our Expert Shipping Specialist's
(800) 908-6206
Heavy Haulers Gangway System Transport Handles All Gangway Shipping
Our gangway system hauling service is built to support customers hauling every type of gangway imaginable. The experts at Heavy Haulers don't just understand the importance of secure loading, unloading, and transporting of gangway systems. We understand the complexities associated with providing an efficient gangway system transport service. Our gangway system shipping services are a comprehensive transport solution, taking care of the transport permits, oversized equipment handling, and providing a reliable, customizable load tracked service.
Gangway systems vary in size and complexity, so when you're looking for a gangway system delivery service, it's vital to select a transport company that you can trust to handle every eventuality. Gangway systems follow three main designs: towers, columns, and riding ladders. Towers with telescopic gangways can be used on small barge decks right up to ultra-large oil carriers. Column towers also utilize telescopic gangways and useful for connecting boats with jetty docks that are up to 18m below the main deck level. Our gangway system delivery services are highly customizable, and we can support the delivery of every type. Let's get started! (800) 908-6206
Common Manufacturers of Gangway Systems:
● Ampelmann
● Barge Master
● Carbis Loadtec Group
● Kenzfigee
● Macgregor
● Marine Aluminium
● Romas Marine
● Royal IHC
● Offshore Solutions BV
● SMI Offshore
● TTS Group
● Tyne Gangway
How to Ship a Gangway System
The Heavy Haulers gangway system shipping team can transport all types of gangway equipment throughout America. Choose our gangway system hauling service, and we'll supply suitable multi-axle trailer transport capable of supporting even the largest gangways, as well as secure the equipment with the appropriate anchors and cabling. Although gangway systems are built to withstand harsh elements, shipping gangway systems will still need expert handling to protect your equipment at every stage of the gangway system haulage journey.
Contact our friendly service representatives to obtain your next gangway system transport service quote, and we'll assist you with any queries you have about how to prepare to transport a gangway system successfully. Give us a call! (800) 908-6206
Looking For Transport
With a Specific Trailer?

Max Weight: 150,000+ lbs. | Main Deck Length 29 ft.
| Well Width 8.5 ft. | Legal Height Limit 11.6 ft.

Max Weight: 48,000 lbs. | Max Length 53 ft.
| Max Width 8.5 ft. | Max Height 8.5 ft.
Max Weight: 48,000 lbs. Max Length 53 ft. |
Max Width 8.5 ft. | Max Height 11 ft.
Max Weight: 45,000 lbs. | Max Length 29 ft.
| Max Width 8.5 ft. | Max Height 11.5 ft.
HEAVYHAULERS.COM
START YOUR SHIPMENT TODAY!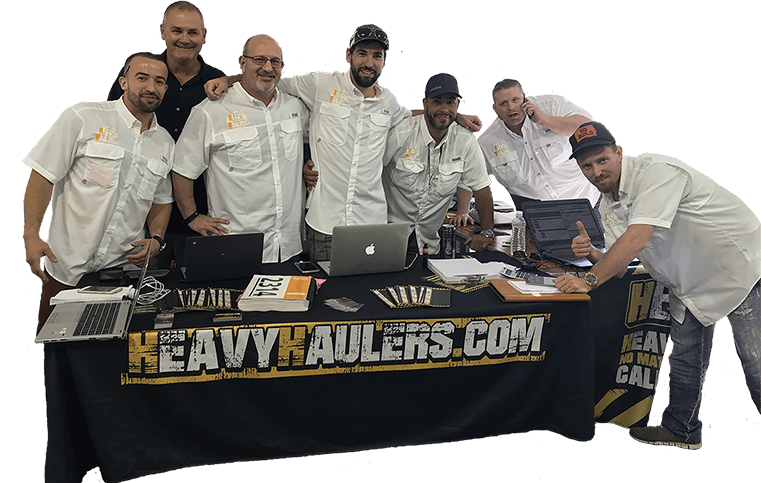 We Are Ready To Help You Haul Your Equipment!
Common Equipment Heavy Haulers Transports
Trust Heavy Haulers to transport any brand of equipment you own. Most of our drivers are experienced heavy-machinery operators who can safely maneuver your loads aboard our trailers. Some of the brands we have shipped include:
See what you need?
Call us for a FREE Shipping Estimate at (800) 908-6206