Cutter Suction Dredger Transport You Can Count On
We're here to provide you with a quality cutter suction dredger transport. Excavation projects on marine environments require specialty equipment. One of the most valuable equipment for such maritime explorations includes a cutter suction dredger (CSD). Moving such a piece of massive and oddly-designed dredging machinery requires proper planning with a keen eye for details and precision. At Heavy Haulers pay attention to every detail so you have a quality cutter suction dredger transport.
We understand how expensive it is to invest in a CSD. That's why we not only help you get reasonable prices, but we also handle the load every cutter suction dredger care. Each of our branches located across the states can plan and organize pre-shipping warehousing services to offer security to the cargo as we schedule the transport. The company has gathered different types of cargo-handling equipment, and we match that with a dedicated and competent team of technicians who can ensure the cutter suction dredger transport goes flawlessly. Call now! (754) 732-0936
Contact Our Expert Shipping Specialist's
(754) 732-0936
Shipping Cutter Suction Dredgers with Confidence
As an award-winning shipping firm, we strive to make every client satisfied. That's why when we transport a cutter suction dredger, we make sure that every detail is handled with precision. Heavy Haulers finds the best driver, truck, and trailer for the haul. Each cutter suction dredger transport is planned out to the very last detail, so you can be confident in the shipping solutions Heavy Haulers provides.
A cutter suction dredger is a floating vessel that features a rotating cutter head that breaks and cuts the bedrock or harder soils below the water. Using dredge pumps, the residue or soil material gets sucked and conveyed to a discharge area using floating pipes. At Heavy Haulers we ship cutter suction dredgers domestically and overseas. We are licensed, bonded, and insured—and we only work with the best to transport. Call now! (754) 732-0936
How to Move a Cutter Suction Dredger with Heavy Haulers
Hauling a cutter suction dredger is not as easy as transporting a generator. The piece of equipment contains a long cutting head and pumps, as well as a cab and pontoons. That calls for creativity and a knack of precision equipment loading. That said, our logistics agents and ground technicians will disassemble the CSD and transport the cutter head, and suction pumps on a single trailer. On the other hand, the vessel containing pontoons and the cab can be secured on a separate lowboy trailer. Later, industry-seasoned drivers will be tasked with the transportation and delivery of the CSD.
Looking For Transport
With a Specific Trailer?

Max Weight: 150,000+ lbs. | Main Deck Length 29 ft.
| Well Width 8.5 ft. | Legal Height Limit 11.6 ft.

Max Weight: 48,000 lbs. | Max Length 53 ft.
| Max Width 8.5 ft. | Max Height 8.5 ft.
Max Weight: 48,000 lbs. Max Length 53 ft. |
Max Width 8.5 ft. | Max Height 11 ft.
Max Weight: 45,000 lbs. | Max Length 29 ft.
| Max Width 8.5 ft. | Max Height 11.5 ft.
HEAVYHAULERS.COM
START YOUR SHIPMENT TODAY!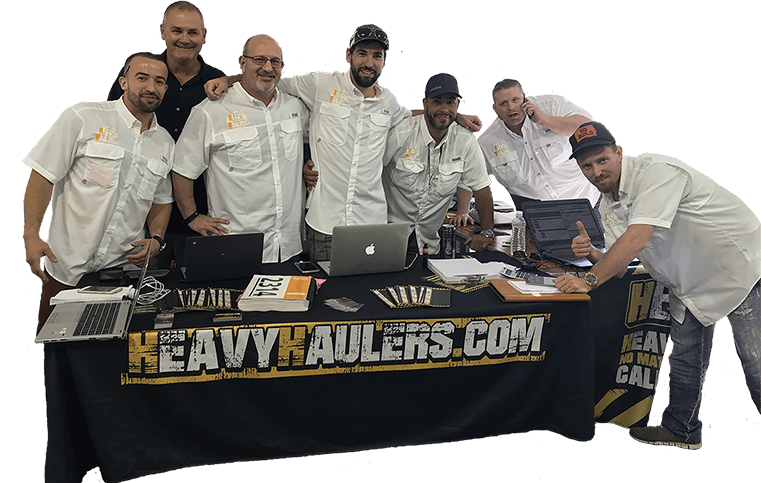 We Are Ready To Help You Haul Your Equipment!
See what you need?
Call us for a FREE Shipping Estimate at (754) 732-0936