The Best Houseboat Mover Company in America
If you are looking for excellent houseboat transport services, Heavy Haulers is your number one go-to moving company. When it comes to transporting a houseboat, we're industry leaders. When shipping houseboats, we pay attention to every detail. At Heavy Haulers we understand your houseboat is your home, which is why we provide the best moving services available. We handle all the paperwork, including permits, to make sure that you have a quality houseboat transportation experience.
At Heavy Haulers, we transport houseboats safely and deliver on time. Each step of the houseboat move is planned with precision. From pickup to routes, to drop off, we make sure to get it done right. Transporting a houseboat is a delicate process, so you want a company you can trust. At Heavy Haulers we're dedicated to providing you with more than just transport. We're here to provide a quality houseboat moving experience. Call now! (754) 732-0936
Contact Our Houseboat Moving Specialists
(754) 732-0936
Affordable Houseboat Transport Rates and Quality Shipping Services
Heavy Haulers provides the best houseboat moving rates in the industry. Our dedicated agents are experienced in houseboat transport, and ready to find the best shipping solutions to fit your needs. The cost of moving a houseboat varies on several factors including the size of the houseboat, distance to travel, and more. Speaking with a Heavy Haulers shipping agent is the best way to get an affordable houseboat transport rate.
Houseboats are created to be used as comfy homes while having a good time in the sea. Some of the houseboats are not even motorized because their owners tether them to land or keep them at a specific stationary position. There are a variety of houseboat types, and Heavy Haulers moves them all. We're here to provide top-quality houseboat moving services that you can rely on. Call now for a houseboat transport rate! (754) 732-0936
Common Types of Houseboats We Move
• Leisure Houseboats Moving


• Floating Homes Transport


• Pontoons Houseboats Shipping


• Canal Style Houseboats Hauling


• Sailboats Homes Moving


HOW TO Move a HOUSEBOAT
As the leading boat mover company in the industry, Heavy Haulers takes care of every step of houseboat transport. A dedicated logistics agent will gather the details, provide you with an affordable houseboat shipping quote, and guide you through preparing your houseboat for transport. We handle all the paperwork, gather all the permits, and even provide load assistance for your houseboat move. Call now and let's get your houseboat moving! (754) 732-0936
HEAVYHAULERS.COM
START YOUR SHIPMENT TODAY!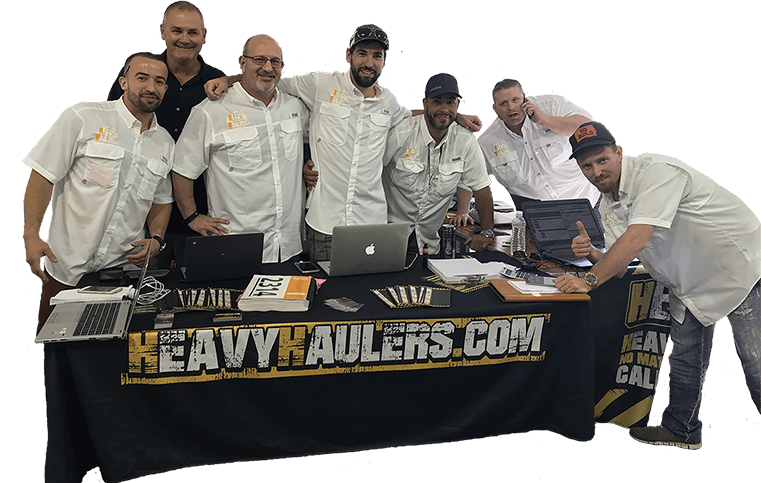 We Are Ready To Help You Haul Your Equipment!
Tips for Transporting a Houseboat
Whether this is your first time or hundredth transporting a houseboat, there are several things to keep in mind.
● The cost of shipping a houseboat varies based on several factors. Houseboats are often considered oversize loads, which require permits, as does crossing state lines. If your houseboat requires an escort vehicle, this is also a contributing factor. Distance traveled is another.

● If you need loading and offloading assistance, Heavy Haulers can also provide that, as well as pilot cars and escort vehicles.

● Preparing your houseboat for transport will help save time in the long run. This includes, but is not limited too:




- Securing loose items, anchors, and gear.
- Draining water and fuel tanks.
- Making sure doors, windows, and hatches are sealed and secure.
- Disconnecting batteries for safe travel.
The best way to make sure you're prepared for transporting a houseboat is to speak directly with one of our shipping specialists. We'll make sure to find the best prices, guide you through the process, and get your houseboat delivered safely. Call today!
See what you need?
Call us for a FREE Shipping Estimate at (754) 732-0936
Heavy Haulers Ships Across All 50 States
Alabama - Alaska - Arizona - Arkansas - California - Colorado - Connecticut - Delaware - Florida - Georgia - Hawaii - Idaho - Illinois - Indiana - Iowa - Kansas - Kentucky - Louisiana - Maine - Maryland - Massachusetts - Michigan - Minnesota - Mississippi - Missouri - Montana - Nebraska - Nevada - New Hampshire - New Jersey - New Mexico - New York - North Carolina - North Dakota - Ohio - Oklahoma - Oregon - Pennsylvania - Rhode Island - South Carolina - South Dakota - Tennessee - Texas - Utah - Vermont - Virginia - Washington - West Virginia - Wisconsin - Wyoming
Looking For Transport
With a Specific Trailer?

Max Weight: 150,000+ lbs. | Main Deck Length 29 ft.
| Well Width 8.5 ft. | Legal Height Limit 11.6 ft.

Max Weight: 48,000 lbs. | Max Length 53 ft.
| Max Width 8.5 ft. | Max Height 8.5 ft.
Max Weight: 48,000 lbs. Max Length 53 ft. |
Max Width 8.5 ft. | Max Height 11 ft.
Max Weight: 45,000 lbs. | Max Length 29 ft.
| Max Width 8.5 ft. | Max Height 11.5 ft.
Heavy Haulers Pilot Car Services
Are you looking for a reliable pilot car
for your transport?
Get Started