Transport an Offshore Winch the Right Way with Heavy Haulers
Moving an offshore winch can be a daunting task, even for the most experienced shipping companies. Luckily, you can rely on the Heavy Haulers offshore winch transport team to assist you with every aspect of hauling offshore winches. To haul an offshore winch securely, you'll need the appropriate equipment to lift and secure the winch onto a suitably-sized trailer, and the right expertise to maneuver the heavy winch aboard safely.
When we deliver an offshore winch as part of our maritime winch shipping service, we can provide a professional crew that can handle the loading and unloading of your winch. Offshore winch shipping services from Heavy Haulers are designed to provide a stress-free, seamless offshore winch transport service for all customers. Our marine winch transport service will haul your offshore winch the right way, making sure that all necessary permits, paperwork, and planning tasks are complete beforehand so that you can have a hassle-free shipping experience. Call us to get started! (800) 908-6206
Contact Our Expert Shipping Specialist's
(800) 908-6206
Oversized Offshore Winch Delivery Services Available
Offshore winches are oversized, heavy-duty equipment built to withstand the rigors of harsh weather. Often designed and built to anchor, moor, or tow ships and boats on the open ocean, offshore winches need to be extremely durable, reliable, and capable of handling demanding lifting and pulling applications. Similarly, our offshore winch delivery company has built a wide range of offshore winch transport services that can be adapted for marine winch hauling anywhere that you need it. Oversized and overweight equipment delivery is our specialty, and we've got tons of experience shipping offshore winches.
Whether you need to transport an offshore winch from an onshore storage yard to one of the busiest shipping ports in America, want an offshore winch transport service that can provide port-to-port transfers, or have a custom offshore winch delivery service requirement, our experts are here to aid you. We serve all ports in the United States and can help you to deliver a marine winch to any destination, whether it's in the Gulf of Mexico or the Port of Seattle-Tacoma. Our national road transportation network can transport offshore winches for you. Let's get started! (800) 908-6206
Common Manufacturers of Offshore Winches:
● ACB Cranes
● ACE Winches
● Brimmond Group
● Rotzler
● Fisher Offshore
● Gemmell & Prout
● Lemans
● Truck and Marine Cranes Ltd
● Mentech
● North Sea Winches Ltd
● Romica Engineering Ltd
● Tufmarine
How to Ship an Offshore Winch
Offshore winch shipping requires an expert to assess the specifications of any offshore winch hauling project to ensure that the correct equipment and expertise are hired to support the offshore winch delivery. Our dedicated Heavy Haulers offshore winch shipping specialists are adept at coordinating offshore winch haulage for many major manufacturers. Marine winch transport requests start with a free, comprehensive offshore winch transport quote, which we'll use as the basis for our comprehensive offshore winch hauling service. Contact us to begin the process! (800) 908-6206
Looking For Transport
With a Specific Trailer?

Max Weight: 150,000+ lbs. | Main Deck Length 29 ft.
| Well Width 8.5 ft. | Legal Height Limit 11.6 ft.

Max Weight: 48,000 lbs. | Max Length 53 ft.
| Max Width 8.5 ft. | Max Height 8.5 ft.
Max Weight: 48,000 lbs. Max Length 53 ft. |
Max Width 8.5 ft. | Max Height 11 ft.
Max Weight: 45,000 lbs. | Max Length 29 ft.
| Max Width 8.5 ft. | Max Height 11.5 ft.
HEAVYHAULERS.COM
START YOUR SHIPMENT TODAY!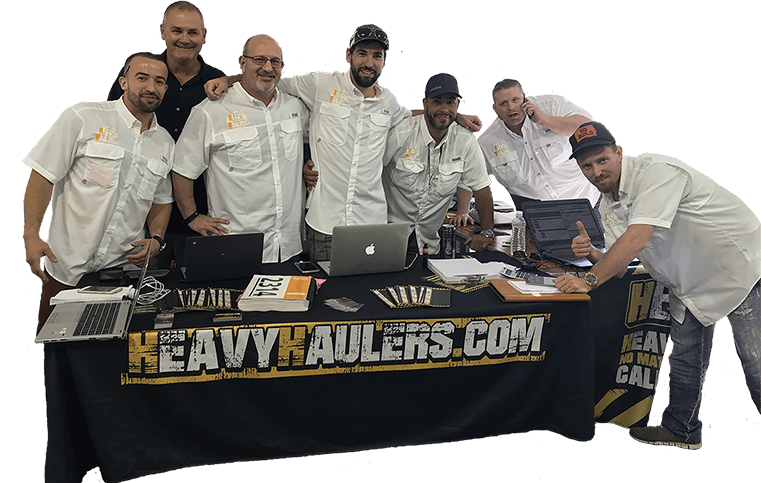 We Are Ready To Help You Haul Your Equipment!
Common Equipment Heavy Haulers Transports
Trust Heavy Haulers to transport any brand of equipment you own. Most of our drivers are experienced heavy-machinery operators who can safely maneuver your loads aboard our trailers. Some of the brands we have shipped include:
See what you need?
Call us for a FREE Shipping Estimate at (800) 908-6206