Unbeatable Water Ferry Hauling Solutions at Heavy Haulers
Water ferries are massive marine crafts. Even if you possess a significantly small-sized alternative that the standard merchant vessel, you still have a massive, overweight, and oversized ferry. So, how can you manage to haul a water ferry from the manufacturer or an inland generating region to the port? Worry not, for Heavy Haulers has the solution. The company has been in the freight and shipping sector since 2006, transporting maritime heavy-equipment across the country.
At Heavy Haulers, we are not driven by the money, but the commitment we have to provide cost-effective shipping solutions. Thus, we will bring you on board, listen to your unique needs, and tailor our service packages to suit them. Thanks to our authority in the industry, we initiate innovative logistics solutions through research. Thus, we are proud to spearhead disruptive services that our competitors emulate. Let's get started! (754) 732-0936
Contact Our Expert Shipping Specialist's
(754) 732-0936
Coast-to-Coast and Overseas Ferry Transport Services at Heavy Haulers
Do you operate within states bordering the sea and would like to transport a ferry? Take advantage of our industry-seasoned logistics personnel and ground technicians to get the shipping process running. From California to New York or Texas to Washington, no distance is too long for us. We have offices in every state, well connected to provide a seamless transition of freight from one state to the other. They understand the laws governing ferry transportation. They will handle any legal papers and organize additional solutions to ensure the haulage goes on within legal limitations.
A water ferry is a sea vessel used to carry goods and people from one side of a water body to the other. They offer a cost-effective option than bridges and tunnels. Heavy Haulers further plummets the capital costs by helping achieve reasonable transportation prices. Every travel path we select have low toll rates. We also negotiate overseas shipping costs on your behalf so that you can retain some bucks in your account. Call for a free shipping estimate! (754) 732-0936
Common Types of Water Ferries Heavy Haulers Ship
• Hydrofoils


• Ro-Ros


• Catamarans


• Cable Ferries


• Docking Ferries


How to Move a Water Ferry with Heavy Haulers
HH provides a hassle-free means to get our top-quality shipping solutions. We will ask you the origin and the destination of the cargo, and expedite the estimate within minutes. Ferries come in varied designs and lengths, and HH has the right transportation and equipment-handling tools to haul a water ferry successfully. We also have clear channels of communication with the drivers, allowing you to use our load-tracking services to monitor the progress of your in-transit boat. Call our logistics team now! (754) 732-0936
Looking For Transport
With a Specific Trailer?

Max Weight: 150,000+ lbs. | Main Deck Length 29 ft.
| Well Width 8.5 ft. | Legal Height Limit 11.6 ft.

Max Weight: 48,000 lbs. | Max Length 53 ft.
| Max Width 8.5 ft. | Max Height 8.5 ft.
Max Weight: 48,000 lbs. Max Length 53 ft. |
Max Width 8.5 ft. | Max Height 11 ft.
Max Weight: 45,000 lbs. | Max Length 29 ft.
| Max Width 8.5 ft. | Max Height 11.5 ft.
HEAVYHAULERS.COM
START YOUR SHIPMENT TODAY!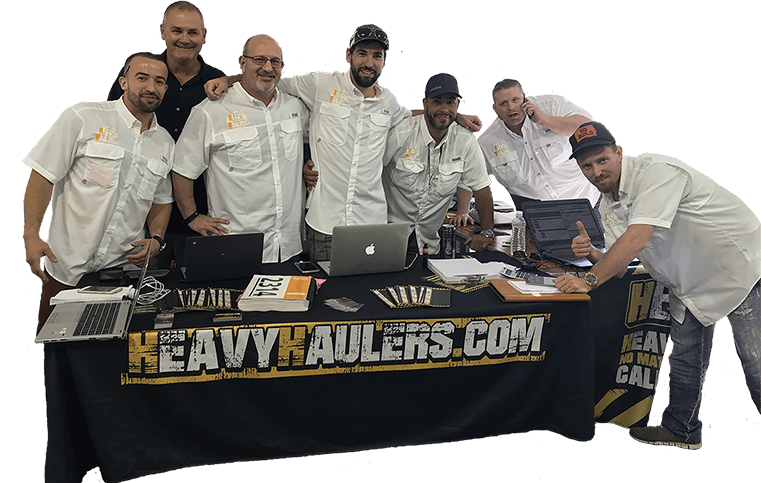 We Are Ready To Help You Haul Your Equipment!
See what you need?
Call us for a FREE Shipping Estimate at (754) 732-0936