Transporting Bi-Articulated Buses with Heavy Haulers
We have been in the transport industry for over a decade and have gained a reputation as a trusted and reliable moving transport company. Our skilled transport specialists provide easy solutions for bi-articulated bus shipping services. We are fully equipped with the necessary equipment, including removable gooseneck and step neck trailers to transport your bi-articulated bus to any location.
We have also adopted the best ways for unloading, loading, and delivering your bi-articulated buses using the best routes in the country. Lowboy RNGs and Drop Neck trailers will take care of your bus height restrictions. Also, our experts only use safe and faster routes to ensure the delivery is within schedule.
Contact Our Expert Shipping Specialist's
(800) 908-6206
What are Bi-Articulated Bus and Hassle-Free Transport
Also known as a double articulated bus, a bi-articulated bus is a higher version of an articulated bus. It has extra axles and two or more sections linked by a pivoting joint or an articulation. The bus has enclosed bellows both inside and outside as well as a cover plate on the floor that allows a longer length and a higher passenger capacity. Call now for a free bi-articulated bus shipping cost estimate! (800) 908-6206
Its greater passenger capacity makes it used as a rapid transit scheme. bi-articulated buses have a steering arrangement, which helps the bus turn slightly and negotiate tighter turns. The buses have a capacity of 200 persons and are used on high-frequency arterial routes. Below are some of the common types of bi-articulated buses that Heavy Haulers has been shipping over the years:
• AutoTram Extra Grand Bi-Articulated Buses
• Trolley Bi-Articulated Buses

• Volvo Bi-Articulated Buses
How to Ship Bi-Articulated Buses
Most transit companies contract Heavy Haulers for bi-articulated transportation services. They understand that Heavy Haulers is a trusted moving company when it comes to delivering excellent bi-articulated shipping services. We only use experienced drivers to deliver goods on time and also provide full insurance coverage for your bus from any unforeseen hazards. Additionally, the Heavy Haulers logistics team use escort cars and travel road systems to avoid delays during transportation. This unique technology enables us to divert traffic and avoid the delay of your bi-articulated bus. Finally, you don't have to worry about additional costs when using our services because we offer a one-off fee with no hidden costs.
Looking For Transport
With a Specific Trailer?

Max Weight: 150,000+ lbs. | Main Deck Length 29 ft.
| Well Width 8.5 ft. | Legal Height Limit 11.6 ft.

Max Weight: 48,000 lbs. | Max Length 53 ft.
| Max Width 8.5 ft. | Max Height 8.5 ft.
Max Weight: 48,000 lbs. Max Length 53 ft. |
Max Width 8.5 ft. | Max Height 11 ft.
Max Weight: 45,000 lbs. | Max Length 29 ft.
| Max Width 8.5 ft. | Max Height 11.5 ft.
See what you need?
Call us for a FREE Shipping Estimate at (800) 908-6206
Other Types of Buses Heavy Haulers has Experience Shipping
Have a bus to ship? Trust Heavy Haulers to move any type and sized bus anywhere in the United States, Canada, and Mexico! We provide same day bus shipping, cross-country bus towing local and long-distance. We're familiar with any make and model bus there is, some of the manufacturer's we commonly transport include:
HEAVYHAULERS.COM
START YOUR SHIPMENT TODAY!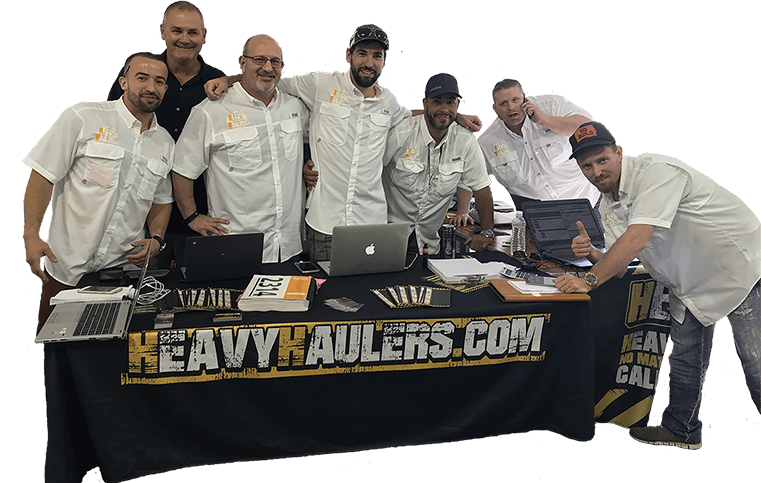 We Are Ready To Help You Haul Your Equipment!
See what you need?
Call us for a FREE Shipping Estimate at (800) 908-6206