Choose Heavy Haulers to Move your Party Bus Anywhere in the Country, Canada, and Mexico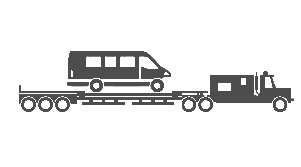 Party Bus Transport
(800) 908-6206
With the capability of extreme recovery and diversification, our fleet of Heavy Haulers is specially designed with long and heavy loads in mind. Modern or earlier party bus designs that include the shorter versions, conventional or integrated models are a quick haul to any destination within the US. The transits style party buses that weigh more than 1,000 lbs. will require highway permits which our logistics managers will arrange on (800) 908-6206.
Pilot cars and escort outriders may become necessary where the road presents challenges and during tight phases of transportation. Your next shipment is in the capable hands of our extensive fleet and staff that will move the party bus from the yard to the city. Due to the inability to disassemble your party bus for transport, you need to have in place a comprehensive haulage service. We shall deliver your airport party bus to the next runway in absolutely no time.
A free no obligation quote will set you on the right path to an exhaustive party bus hauling. Insurance is calculated with our fees to give you a one-off no hidden cost service.
Recent Party Bus Transports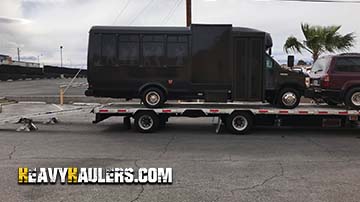 Transporting a Ford E450 Party Bus on a Hotshot Trailer
Origin: Joplin, MO
Destination: Asheville, NC
Specs:26' long, 8' wide, 10' 6" tall and weighed 11,000 lbs.
This 2001 Ford E450 Shuttle Bus was transported recently for one of our return customers. She purchased this party bus to add to her growing fleet. This was an 800 mile run from Joplin, MO to Asheville, NC and was loads of fun! This party bus is 26' long, 8' wide and 10' 6" tall and weighed in at nearly 11,000 lbs. If your heavy equipment needs a lift to the next party then call the haulers that haul it all - Heavy Haulers. Experience our top rating with the BBB and see for yourself why we are the leaders in the transportation industry. Call Brian at Heavy Haulers to transport your next move.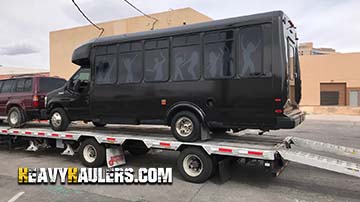 Hauling a Ford E450 Shuttle Bus using a Hotshot Trailer
Origin: Livingston, LA
Destination: Houston, TX
Specs:23 feet long, 8 feet wide and 7 feet high
Here is another angle of this beautiful Ford E450 Shuttle Bus we transported on a hotshot trailer. This party bus was ready for the next big red carpet event and Heavy Haulers is always on the list to get the party started! We can transport LTL to TL loads and everything in between. This party bus received the Heavy Haulers VIP treatment. Whether your load is over width or over height, Heavy Haulers gets it done right. When the delivery of your equipment is crucial to your business, work with a team that values your valuables. Avoid issues down the road by taking advantage of our experience. Call Jason Foltz to give your party bus a lift to the next.
See what you need?
Call us for a FREE Shipping Estimate at (800) 908-6206
Common Trailer Types Available from Heavy Haulers
Heavy Haulers specializes in hauling heavy loads such as construction equipment, oil field rigging and Super Loads. We are wideload experts! We offer an extensive range of trailer choices, including:
Max Weight: 48,000 lbs. | Max Length 53 ft. | Max Width 8.5 ft. | Max Height 11 ft.




Max Weight: 45,000 lbs. | Max Length 29 ft. | Max Width 8.5 ft. | Max Height 11.5 ft.
Max Weight: 150,000+ lbs. | Main Deck Length 29 ft. | Well Width 8.5 ft. | Legal Height Limit 11.6 ft.




Max Weight: 48,000 lbs. | Max Length 53 ft. | Max Width 8.5 ft. | Max Height 8.5 ft.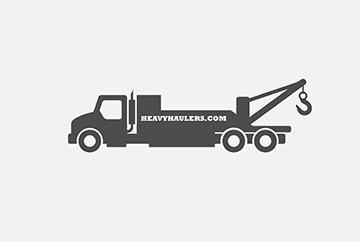 Perfect Towing Services for Your
Party Bus (800) 908-6206
Need a party bus towing service? Heavy Haulers should be the first company to come first into your mind. Our company is equipped with a variety of trailers to ensure that your bus is delivered safe without scratches. Our towing cost is affordable to our clients to ensure that they are satisfied at the end of the deal. Our escort team ensures that they move hand in hand with the towing team to ensure that the customer is communicated to any time there is a need. Call us for high quality towing services. (800) 908-6206
Other Types of Buses Heavy Haulers has Experience Shipping
Have a bus to ship? Trust Heavy Haulers to move any type and sized bus anywhere in the United States, Canada, and Mexico! We provide same day bus shipping, cross-country bus towing local and long-distance. We're familiar with any make and model bus there is, some of the manufacturer's we commonly transport include: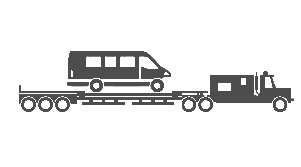 Start Your Party Bus Transport with Heavy Haulers
All across North America, our Heavy Haulers crews are shuttling party buses over state and county highways. We bring to the table over ten years of experience coupled with a comprehensive fleet that is capable of all contract sizes. Whether you have a single bus or an entire fleet of party buses, let Heavy Haulers demonstrate how easy we can get it there on (800) 908-6206.