Affordable Customized Bus Transport
Transporting a customized bus? No worries, we got you covered with our excellent services in customized bus shipping services. Our commitment to meet your needs in hauling customized buses is simply unmatched. We search for the most affordable pricing and provide you with a no-hidden fees bus shipping cost estimate.
Our transport company takes care of very long customized buses that can't fit in single lanes and delivers them to your doorstep. Our drivers can also navigate difficult roads to ensure the shipment arrives in perfect condition. Heavy Haulers knows how to handle different sizes and types of customized buses; therefore, whatever the size or type of your customized bus, Heavy Haulers is the right choice for you.
Contact Our Expert Shipping Specialist's
(800) 908-6206
Customized Buses Shipping and Hauling Services
A customized bus is an innovative model of public transport that offers flexible and personalized transport services to commuters. These buses are modified for decorative purposes to attract clients to use their services. Customized buses were developed in 2001 by the Australian Bus Manufacturing industry, which began making buses for the state transit authority.
Customized buses are popular because they expand the overall traveler accessibility in congested areas with limited physical road infrastructures. That means when you need to get your customized bus across the country, or even shipped internationally, you want to call Heavy Haulers. We can haul your customized bus wherever you need it to be. Call now! (800) 908-6206
Common Custom Buses Heavy Haulers Ships
• Custom School Buses
• Custom Touring Buses
• Custom Exhibition Buses
How to Ship Customized Buses with Heavy Haulers
Heavy Haulers provides professional logistics and moving services for customized buses within Canada, Mexico, and the US. Our transport representative matches your customized buses' needs with the most effective transport services. We have been involved in some recent customized bus transport services, including Blue Bird, Electric school bus, and Glass Show Advertisement Bus. Therefore, your customized bus is always in safe hands with Heavy Haulers. Our experts will consider height, size, and weight specifications to ensure your customized bus is safe and delivered to its destination. You can trust our experienced team qualified to use flatbed and double drop deck trailers to handle your bus regardless of its size and height. Customized bus transportation is hassle-free and quality with Heavy Haulers. Call us now and let's get started! (800) 908-6206
Looking For Transport
With a Specific Trailer?

Max Weight: 150,000+ lbs. | Main Deck Length 29 ft.
| Well Width 8.5 ft. | Legal Height Limit 11.6 ft.

Max Weight: 48,000 lbs. | Max Length 53 ft.
| Max Width 8.5 ft. | Max Height 8.5 ft.
Max Weight: 48,000 lbs. Max Length 53 ft. |
Max Width 8.5 ft. | Max Height 11 ft.
Max Weight: 45,000 lbs. | Max Length 29 ft.
| Max Width 8.5 ft. | Max Height 11.5 ft.
See what you need?
Call us for a FREE Shipping Estimate at (800) 908-6206
Other Types of Buses Heavy Haulers has Experience Shipping
Have a bus to ship? Trust Heavy Haulers to move any type and sized bus anywhere in the United States, Canada, and Mexico! We provide same day bus shipping, cross-country bus towing local and long-distance. We're familiar with any make and model bus there is, some of the manufacturer's we commonly transport include:
HEAVYHAULERS.COM
START YOUR SHIPMENT TODAY!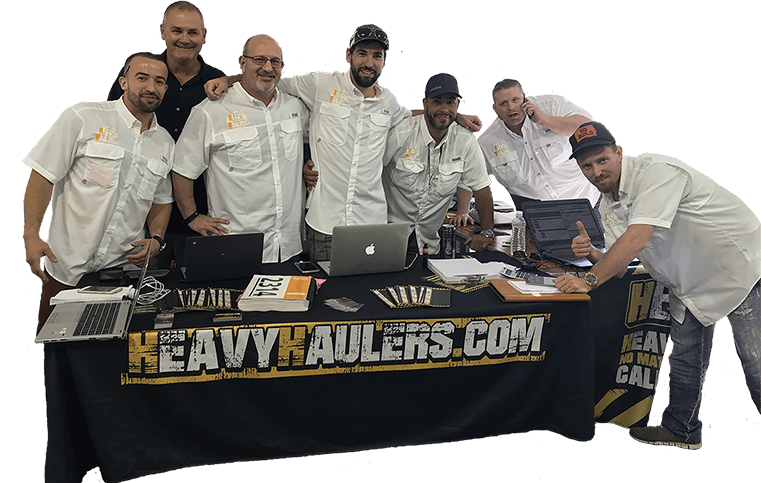 We Are Ready To Help You Haul Your Equipment!
See what you need?
Call us for a FREE Shipping Estimate at (800) 908-6206