Heavy Haulers Provides Reliable Solar Bus Shipping Services
Transporting solar buses can be a daunting task, but Heavy Haulers has you covered with affordable and reliable transport services. With over a decade of experience in providing shipping solar bus services, you can trust us for reputable shipping solutions. Our agents are available seven days a week to handle all of your solar bus logistics issues.
To stay ahead, Heavy Haulers apply new technology and efficient current business techniques to offer our clients top-notch transportation solutions. Our experts are strategically located throughout the country and are knowledgeable about shipping solar buses. They also work with clients to ensure a smooth transportation process. Our licensed and qualified drivers stay in touch with our clients throughout the whole process and use the shortest route possible to ensure the solar bus arrives within the arranged schedule.
Contact Our Expert Shipping Specialist's
(800) 908-6206
How Solar Buses Operate and Available Hauling Services
A solar bus or solar-charged bus is powered by solar energy, which is used to power the electric equipment on the bus. Solar buses can either be battery-electric or hybrid buses, which are equipped with rechargeable solar batteries and other power sources.They are fitted with solar panels made of photovoltaic cells that are located in the vehicle's roof. The cells convert the sun's energy directly into electric energy, which is used by the engine to power the vehicle. The buses are usually recharged from solar-panel covered bus station canopies or solar parking plots. Electro-powered buses get their power from electric power transmitted from power plants while hybrid solar buses are powered by hybrid engines.Heavy Haulers provides top quality solar bus hauling services. Whether your solar bus has broken down and needs a tow, or if it's going to a new home across the country, Heavy Haulers can move it. Call now for a free solar bus shipping cost estimate. (800) 908-6206
Common Types of Solar Buses Heavy Haulers Ships
• School Solar Buses
• Articulated Solar Buses
• Customized Solar Buses
• Trolley Solar Buses
• Hybrid Solar Buses
How to Ship Solar Buses
Heavy Haulers is an expert at hauling solar buses, and you can rest assured that your bus is in the right hands when you subscribe to our shipping services. In case your bus is out of service, we will make the necessary arrangements to ensure the bus is safely loaded into the trailer and delivered to its new location.We have licensed and experienced drivers who can deliver your bus to its new location at an affordable cost. Moreover, we have modern trailers, including low-boys and flat-beds that are designed to ship solar-charged buses.
Looking For Transport
With a Specific Trailer?

Max Weight: 150,000+ lbs. | Main Deck Length 29 ft.
| Well Width 8.5 ft. | Legal Height Limit 11.6 ft.

Max Weight: 48,000 lbs. | Max Length 53 ft.
| Max Width 8.5 ft. | Max Height 8.5 ft.
Max Weight: 48,000 lbs. Max Length 53 ft. |
Max Width 8.5 ft. | Max Height 11 ft.
Max Weight: 45,000 lbs. | Max Length 29 ft.
| Max Width 8.5 ft. | Max Height 11.5 ft.
See what you need?
Call us for a FREE Shipping Estimate at (800) 908-6206
Other Types of Buses Heavy Haulers has Experience Shipping
Have a bus to ship? Trust Heavy Haulers to move any type and sized bus anywhere in the United States, Canada, and Mexico! We provide same day bus shipping, cross-country bus towing local and long-distance. We're familiar with any make and model bus there is, some of the manufacturer's we commonly transport include:
HEAVYHAULERS.COM
START YOUR SHIPMENT TODAY!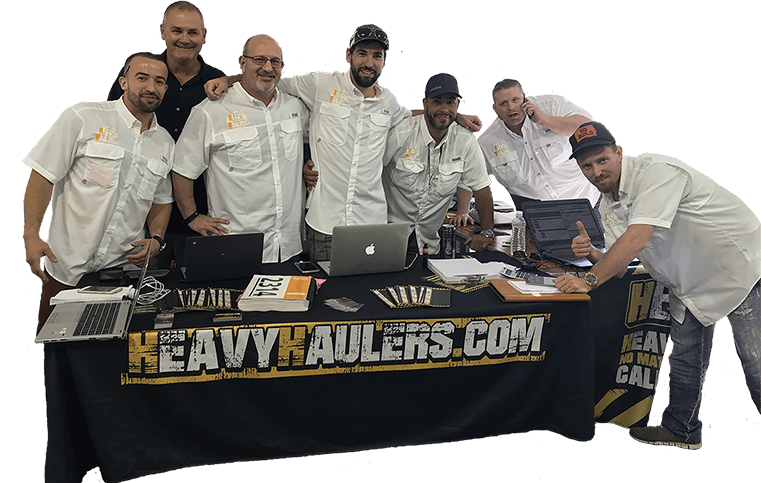 We Are Ready To Help You Haul Your Equipment!
See what you need?
Call us for a FREE Shipping Estimate at (800) 908-6206