Comprehensive Transit Bus Transport
Feasibility is more augmented when having a transit bus hauled from any location to a destination across North America. Shipping rather than driving new, old or reconditioned transit buses means that it gets to its location just as it left; no tire, engine or other component is worn in any way. Alternative fuels that are being opted for by most cities are not convenient for long distance driving and getting the bus within its route makes more sense.
Haulage is also safer and cheaper, especially when taking your transit bus for significant repairs, especially those that concern the wheels and engine components. Our dispatch managers are ready and waiting to initiate your transit bus consignment. Call now! (800) 908-6206.
Contact Our Expert Shipping Specialist's
(800) 908-6206
Choosing Heavy Haulers for Transit Bus Shipping
Our timely and dependable delivery service is coupled with logistics that will arrange all the permits and route schedules that may be required for interstate hauls. Heavy Haulers has worked with various municipalities and transit companies to accord them a comprehensive bus moving service that has no competition. We shall ship your transit diesel or electric from location to the next which reduces any strain on your new transit bus before they begin circulation. A free valuation that incorporated your schedule and deadlines will set the transit bus on the way with a toll-free call. (800) 908-6206.
Our transport specialists have built a solid reputation within the haulage industry which is vital in smoothing any hiccups in your transit bus transportation. Our drivers, riggers, and dispatchers are certified, licensed and insured with a backing of the most extensive trucking fleet. A Heavy Haulers representative will be with you within the hour to secure transportation for your transit bus. They will have any size of transit bus on the rig that matches its weight capacity and is legal in or out of your state.
Quality Transit Bus Hauling
Entire fleets of city transit buses have gone through our capable hands in the last ten years. The switch between diesel and electric in most cities has necessitated a change of transit fleets which we have facilitated with safe, timely deliveries. Since buses aren't feasible to disassemble and transport in pieces, our comprehensive one-off consignment will have your entire city's supply of transit buses at your doorstep.
Heavy Haulers drop deck and lowboy RGNs will resolve the height restrictions that most sizes of transit buses pose if hauled on a regular flatbed trailer. This is augmented by a route plan that takes into consideration any underpasses and restricted residential areas with low hanging utility wires.
Start your transit bus transporting search at www.heavyhaulers.com:
Our shipping company has five-star transportation industry recognition all over the USA, Canada, and Mexico. Heavy Haulers is a specialist oversize load trucking company where we have over ten years of experience transporting transit buses over land or water. High standards and ethics are adhered to by our entire crewing staff that is supported by an extensive fleet of heavy trucking equipment. Call now for a free quote with no obligations to get your transit bus en route to its customers. (800) 908-6206.
See More of Our Recent Transit Bus Shipments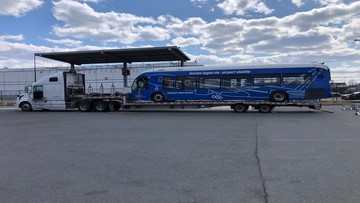 Shipping a 2000 Transit Bus
Origin: Boston, MA 02128
Destination: Owosso, MI 48867
Specs: 2000 Transit Bus; 40L X 8W X 10H; 20,000lbs
See what you need?
Call us for a FREE Shipping Estimate at (800) 908-6206
Looking For Transport
With a Specific Trailer?

Max Weight: 150,000+ lbs. | Main Deck Length 29 ft.
| Well Width 8.5 ft. | Legal Height Limit 11.6 ft.

Max Weight: 48,000 lbs. | Max Length 53 ft.
| Max Width 8.5 ft. | Max Height 8.5 ft.
Max Weight: 48,000 lbs. Max Length 53 ft. |
Max Width 8.5 ft. | Max Height 11 ft.
Max Weight: 45,000 lbs. | Max Length 29 ft.
| Max Width 8.5 ft. | Max Height 11.5 ft.
HEAVYHAULERS.COM
START YOUR SHIPMENT TODAY!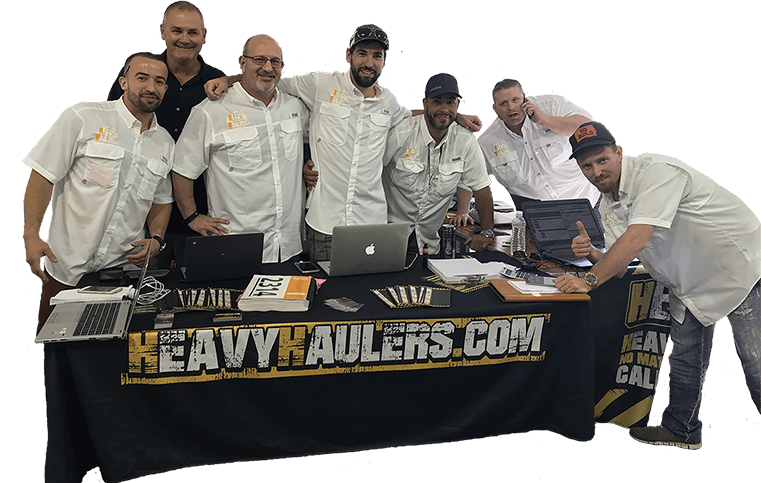 We Are Ready To Help You Haul Your Equipment!
Other Types of Buses Heavy Haulers has Experience Shipping
Have a bus to ship? Trust Heavy Haulers to move any type and sized bus anywhere in the United States, Canada, and Mexico! We provide same day bus shipping, cross-country bus towing local and long-distance. We're familiar with any make and model bus there is, some of the manufacturer's we commonly transport include:
See what you need?
Call us for a FREE Shipping Estimate at (800) 908-6206