Transport Your Electric Buses with Heavy Haulers - Insured, and Door-to-Door
Many cities are choosing to switch from diesel buses to electric ones, to save money and reduce a large carbon footprint. Planning to switch your bus fleet while still keeping your transit routes in smooth operation is a challenge for even the best logistics planner. Let Heavy Haulers help reduce some of the stress with door-to-door shipping service for your new electric bus fleet. Give us a call for a FREE estimate at (800) 908-6206 and get started today!
Heavy Haulers is a heavy equipment and machinery transport specialist. You may have choices to ship buses to your city, but there's one company that's developed a solid reputation for timeliness, safety, and dependability for transporting larger equipment across the country – or just across town. We have certified, trained drivers and powerful rigs to safely transport your electric buses as well as logistics experts that can plan a route to get one bus or a hundred buses to your depot safely.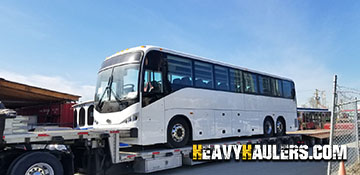 Shipping a BYD C9M Electric Bus
Nationwide Electric Bus Fleet Shipping Services
There's a big difference between shipping one electric bus, or a couple, form one city to another and shipping an entire city's fleet of buses. Timely delivery and careful planning can make a difference in how smoothly you're able to convert from diesel transportation to electric. At Heavy Haulers, we have many contracted, professional drivers ready to load you electric buses onto a properly rated flatbed and transport the convoy to its destination.
Shipping buses has its own unique set of challenges. Unlike many pieces of excavation or construction equipment that Heavy haulers transports, buses can't be partially disassembled for shipping. These vehicles are tall, and the flatbed trailers that they travel on makes them taller still. Part of our expertise is a thorough knowledge of the roadways that we use to transport your bus fleet, including smaller underpasses that may make shipping impossible. With the experts at Heavy Haulers, you don't need to be concerned that your bus won't make it.
Choose The Company with Experience Moving Electric Buses
Electric buses are the wave of the future, and new technology allows a bus to complete its route before needing to recharge. These buses provide a more pleasant riding experience for passengers and reduce particle pollution and noxious gases in your city's air. From smooth acceleration to whisper stops on a dime, it's little wonder that many cities are converting from diesel to electric.
Moving your bus fleet involves securing each bus on a separate flatbed transport, balances and rated to carry the weight. A professional driver certified for heavy machinery shipment will transport your bus overland from the manufacturer, another city, or repair shop directly to your bus depot. The route planners at Heavy Haulers will determine the roadways your buses will travel on, including highways with a wide load convoy through the tight urban areas on the way. We'll make sure that you receive timely delivery and your new buses are ready to go.
Recent Electric Buses Heavy Haulers Has Shipped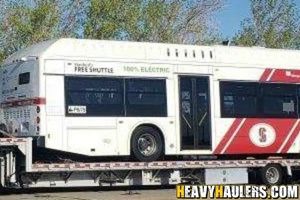 BYD K9S Electric Bus hauled intrastate with-in California
Roger Castro, a Heavy Haulers electric vehicle shipping specialist, undertook the logistics for this 8.4 ft. wide and 29,300-pound BYD K9S Electric Bus. The 35.8 ft. long and 11.3 ft. high BYD K9S Electric Bus required permits for height and length oversize, after which it was loaded onto a Heavy Haulers RGN trailer at San Carlos, California, for delivery in Lancaster, California. Clear skies and low traffic allowed the delivery of this electric bus to fall within the client's stipulated deadlines.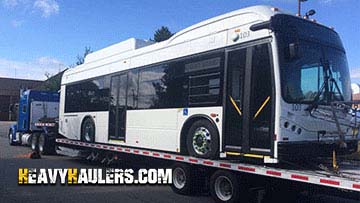 Shipping a BYD K9S Electric Transit Bus
Heavy Haulers recently hauled a BYD K9S Eectric Transit Bus from Santa Cruz, California to San Francisco, California. The Bus was picked up and delivered the same day. The Bus is 36' in length, 8.5' in width, 11.3' in height and weighed 29,300 lbs. The BYD K9S was loaded on a step deck and we had to lower the suspension and deflate the tires to get it to a legal transport height of 10' 8". Here at Heavy Haulers we know how to overcome logistics issues! If you need a Bus transported, call Roger today: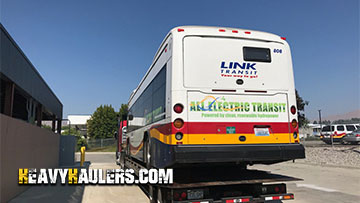 Transporting a BYD K9S Electric Transit Bus
This BYD K9S Hydro- Electric Bus was recently shipped by Roger at Heavy Haulers. Heavy Haulers can handle all of your freight shipment. This Bus was picked up in Wenatchee, WA and delivered to Lancaster, CA. This BYD K9S Hydro-Electric Bus was 36 feet long, 8 feet 5 inches wide, 11 feet 3 inches high and weighed 29,300 pounds. Call Roger at Heavy Haulers to get an estimate on your next shipment!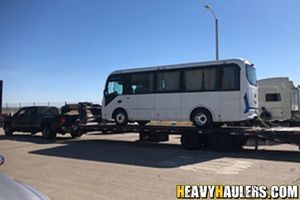 BYD C6 Coach Electric Bus Shipped on a hotshot trailer
Origin: Lancaster, CA
Destination: Menlo Park, CA
Specs: BYD C6 Coach Bus; 23.6L X 7W X 9H; 14,900lbs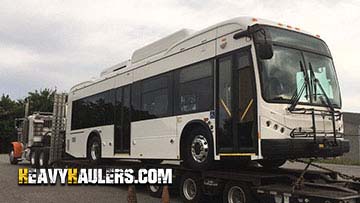 Hauling a BYD K9S Electric Transit Bus
Heavy Haulers recently transported this Electric K9S Bus from San Francisco, CA to Rockville, MD on this nearly 3,000 mile route. This electric bus measured 36 feet in length and is 8 feet 5 inches wide and was 11 feet 3 inches tall with a total weight of 29,300 pounds! Roger C. at Heavy Haulers had this one of a kind bus loaded the same day the customer gave the order. If you'd like a reliable transportation experience you'll need to contact Roger at Heavy Haulers.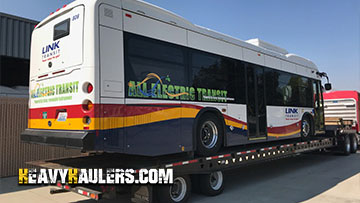 Transporting a BYD K9S Electric Transit Bus
This BYD K9S Bus was recently transported by Heavy Haulers. This BYD Bus was picked up in Washington and delivered to its destination in California. Roger at Heavy Haulers was able to secure a carrier to get this picked up within hours of speaking to this client. If you need a quick pick up for your freight or implements call Roger at Heavy Haulers today to schedule your next shipment.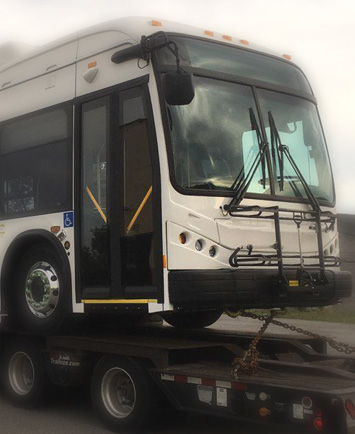 Common Electric Buses Heavy Haulers Ships
At Heavy Haulers, we pride ourselves on a challenge, and nothing is more challenging than sipping many large machines at once. We've been very successful shipping school buses, motorcoaches, and shuttle buses, and we've recently opened our electric bus transport services. We can ship these buses – and many more!
● ABB TOSA Flash Mobility

● Alexander Dennis Enviro500EV three axle double-decker with Proterra drivetrain

● BONLUCK electric bus

● Ebus minibusses

● Environmental Performance Vehicles (EPV)

● Jiangsu Alfa Bus

● Mercedes – Benz Citaro battery powered articulated bus

● Mitsubishi Heavy Industries battery-swapping buses

● New Flyer Electric Buses

● Nova Bus

● Smith Electric Vehicles, Kansas City, Missouri, Speedster and Edison electric minibusses

● Specialty Vehicle Manufacturing Corp. (SVMC)

● Temsa: two electric buses; one model with a high capacity battery pack and one model with quick charge capability

● Thomas Built Buses

● Volvo battery electric buses
Your Heavy Haulers Electric Bus Shipping Experience
Shipping electric buses in a convoy are simple for the experts at Heavy Haulers. You start with a call to one of our transport consultants, where we gather information about the destination and origin of your bus, the weight, and your timeline for delivery. Then, your transport representative gets to work. We plan the roads your buses travel on, considering weight limits, a need for wide load convoys, and any height limits that may prevent your bus from traveling through an underpass. We also include paperwork for weigh stations, and even customs if necessary. With transparent pricing and dependable shipping service, it's no wonder that Heavy Haulers is the first name in electric bus transport. Give us a call today at (800) 908-6206 to get a FREE quote for your electric bus fleet!
See what you need?
Call us for a FREE Shipping Estimate at (800) 908-6206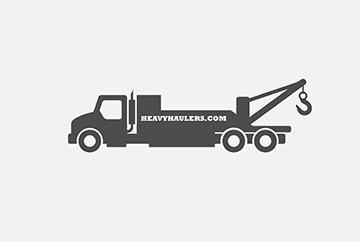 Excellent Electric Bus Towing Services With Heavy Haulers (800) 908-6206
Need electric bus towing services? Electric buses are oversize, over dimensional and extremely heavy. You therefore need to engage a well-established and experienced company when it comes to their towing. Do not go for anything lesser than what Heavy Haulers offer because it is the mark of excellence in the towing industry. We are concerned about our customers' interests, and our trailers are insured, bonded and licensed for heavy hauling transportation throughout the United States and also internationally. Give us a call through (800) 908-6206 today.
Other Types of Buses Heavy Haulers has Experience Shipping
Have a bus to ship? Trust Heavy Haulers to move any type and sized bus anywhere in the United States, Canada, and Mexico! We provide same day bus shipping, cross-country bus towing local and long-distance. We're familiar with any make and model bus there is, some of the manufacturer's we commonly transport include:
Common Equipment Heavy Haulers Transports
Trust Heavy Haulers to transport any brand of equipment you own. Most of our drivers are experienced heavy-machinery operators who can safely maneuver your loads aboard our trailers. Some of the brands we have shipped include:
Heavy Haulers Ships Across All 50 States
Alabama - Alaska - Arizona - Arkansas - California - Colorado - Connecticut - Delaware - Florida - Georgia - Hawaii - Idaho - Illinois - Indiana - Iowa - Kansas - Kentucky - Louisiana - Maine - Maryland - Massachusetts - Michigan - Minnesota - Mississippi - Missouri - Montana - Nebraska - Nevada - New Hampshire - New Jersey - New Mexico - New York - North Carolina - North Dakota - Ohio - Oklahoma - Oregon - Pennsylvania - Rhode Island - South Carolina - South Dakota - Tennessee - Texas - Utah - Vermont - Virginia - Washington - West Virginia - Wisconsin - Wyoming
Looking For Transport
With a Specific Trailer?

Max Weight: 150,000+ lbs. | Main Deck Length 29 ft.
| Well Width 8.5 ft. | Legal Height Limit 11.6 ft.

Max Weight: 48,000 lbs. | Max Length 53 ft.
| Max Width 8.5 ft. | Max Height 8.5 ft.
Max Weight: 48,000 lbs. Max Length 53 ft. |
Max Width 8.5 ft. | Max Height 11 ft.
Max Weight: 45,000 lbs. | Max Length 29 ft.
| Max Width 8.5 ft. | Max Height 11.5 ft.
See what you need?
Call us for a FREE Shipping Estimate at (800) 908-6206