Need to Transport a School Bus? Contact Heavy Haulers To Ship Any Sized School Bus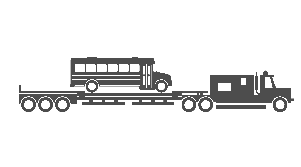 School Bus Shipping
We can get you school bus where it needs to be locally or across the country to service school districts in any state! Heavy Haulers will ship it in a logistically marvelous way. Our detachable gooseneck trailers meet industry and federal requirements for school bus hauling. These trailers allow the modifications of loading a bus from the front or rearing and merely driving it off the ramp. Call our logistics manager now on (800) 908-6206 and dispatch will have a crew at your location within the hour.
A+ Rated and Insured School Bus Shipping | Locally and Long-Distance
With the capability of extreme recovery and diversification, our fleet of Heavy Haulers is specially designed with long and heavy loads in mind. Modern or earlier school bus designs that include the shorter cutaway vans, conventional or integrated models are a quick haul to any destination within the US. The transits style school buses that weigh more than 10,000 lbs will require highway permits which our logistics managers will arrange on (800) 908-6206. Pilot cars and escort outriders may become necessary where the road presents challenges and during tight phases of transportation.
A free no obligation quote will set you on the right path to an exhaustive school bus hauling. Insurance is calculated with our fees to give you a one-off no hidden cost service.
See what you need?
Call us for a FREE Shipping Estimate at (800) 908-6206
Common Trailer Types Available from Heavy Haulers
Heavy Haulers specializes in hauling heavy loads such as construction equipment, oil field rigging and Super Loads. We are wideload experts! We offer an extensive range of trailer choices, including:
Max Weight: 48,000 lbs. | Max Length 53 ft. | Max Width 8.5 ft. | Max Height 11 ft.




Max Weight: 45,000 lbs. | Max Length 29 ft. | Max Width 8.5 ft. | Max Height 11.5 ft.
Max Weight: 150,000+ lbs. | Main Deck Length 29 ft. | Well Width 8.5 ft. | Legal Height Limit 11.6 ft.




Max Weight: 48,000 lbs. | Max Length 53 ft. | Max Width 8.5 ft. | Max Height 8.5 ft.
Other Types of Buses Heavy Haulers has Experience Shipping
Have a bus to ship? Trust Heavy Haulers to move any type and sized bus anywhere in the United States, Canada, and Mexico! We provide same day bus shipping, cross-country bus towing local and long-distance. We're familiar with any make and model bus there is, some of the manufacturer's we commonly transport include: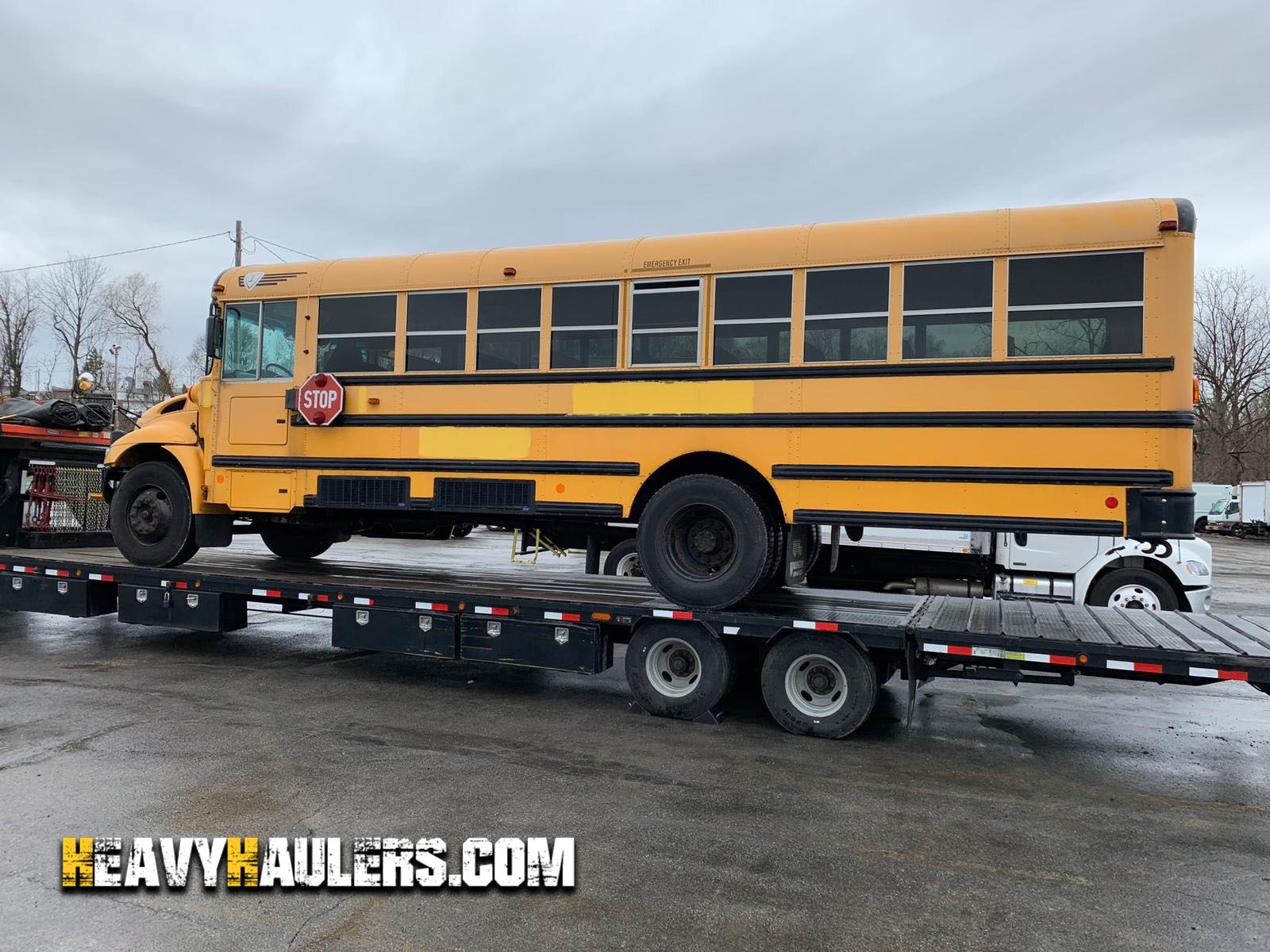 Start Your School Bus Transport with Heavy Haulers
Inoperable, retired and converted school buses are more accessible to carry singly on a trailer than having to tow or drive. This saves you a lot of mechanical headaches and guarantees that your investment reaches its destination in one piece. Our years of experience and the expertise of the Heavy Haulers trucking staff have the necessary equipment and cutting edge logistics to complete your school bus transportation. Email our team on dispatch@heavyhaulers.com, and we shall schedule your shipment's schedule, plan the delivery and regulation permits to facilitate safe haulage.
More Recent Bus Shipments
Hauling a 2000 Ford E350 School Bus
Jason at Heavy Haulers recently transported this 2000 Ford E350 School Bus. It was picked up in Houston, TX and delivered to its destination 287 miles away in Livingston, LA. This shuttle bus was 23 feet long, 8 feet wide and was 7 feet high. If you are looking to have a shuttle bus transported anywhere in the United States, Mexico or Canada call Jason at Heavy Haulers today ! (954) 603-2322
2007 International School Bus Model B Transported Cross Country
We all trust our children on these big yellow buses and now you know who is trusted to transport them ...Heavy Haulers. We love what we do and it shows with each job well done. From free quote to delivery we have you and your prized possessions covered. Your kids may not be so happy about it but our customer was happy to have received their school bus "no later than Monday". And from Venice, CA to Newark, NJ there was only one company to call to haul (sorry kids!). Heavy Haulers will keep the wheels on your bus going round and round. When you need a transport company to work hard for you without recess contact Mitch Reynolds at 954-603-1989 and give him some homework.