Casita Travel Trailers Transported with Ease
Choosing the right hauling company for your Casita Travel Trailer can make the difference to having your motorhome where you need it – when you need it. Heavy Haulers is a long-distance heavy machinery shipping company, capable of transporting a Casita motorhome across town or North America. We partner with professional, licensed, and insured drivers to safely deliver where other companies can't.
We've spent over ten years making a reputation for ourselves as the go-to company for RV shipments. We do this by working with reliable heavy haul trucking contractors that work with your budget and safety in mind. Depending on the size of your Casita RV you need to be shipped, we create a custom quote just for you. We also work with RV dealers, so if you need a fleet of them transported from one lot to another, we can arrange a convoy transport. Professional route planners research the most cost-effective way for your RV shipment to get from the origination to the destination.
Contact Our Expert Shipping Specialist's
(800) 908-6206
About Casita Travel Trailers
Casita Travel Trailers are lightweight, versatile machines that many travelers enjoy. Manufacturing since 1983, Casita Enterprises has owned the road as "America's Favorite Lightweight Travel Trailer". It's the quality of workmanship and materials that set Casita Travel Trailers apart. Family owned and operated, the company takes a lot of pride that shows in the level of comfort experienced every time you and your Casita travel highways and byways. Call now for a free shipping estimate. (800) 908-6206
The right Casita travel transport company can help you get your RV where you need it. Sometimes, driving your motorhome across the country isn't a viable option, whether you don't want to put wear and tear on the Casita or you don't feel comfortable driving it over a long haul.
Common Casita Travel Trailers Heavy Haulers Transports
There are several options for Casita owners, and Heavy Haulers can transport yours. Here are some of the more common Casitas we've transported.
If you need more than one Casita RV moved, we can arrange a convoy, too. We handle any paperwork needed to move your Casita trailers from weigh stations to customs and permits. You'll receive an online code to track your shipment, ensuring it's arriving on time.
See what you need?
Call us for a FREE Shipping Estimate at (800) 908-6206
Common RV Manufacturers We Transports
Trust Heavy Haulers to transport any brand of equipment you own. Most of our drivers are experienced heavy-machinery operators who can safely maneuver your loads aboard our trailers. Some of the brands we have shipped include:
Looking For Transport
With a Specific Trailer?

Max Weight: 150,000+ lbs. | Main Deck Length 29 ft.
| Well Width 8.5 ft. | Legal Height Limit 11.6 ft.

Max Weight: 48,000 lbs. | Max Length 53 ft.
| Max Width 8.5 ft. | Max Height 8.5 ft.
Max Weight: 48,000 lbs. Max Length 53 ft. |
Max Width 8.5 ft. | Max Height 11 ft.
Max Weight: 45,000 lbs. | Max Length 29 ft.
| Max Width 8.5 ft. | Max Height 11.5 ft.
Heavy Haulers Ships Across All 50 States
Alabama - Alaska - Arizona - Arkansas - California - Colorado - Connecticut - Delaware - Florida - Georgia - Hawaii - Idaho - Illinois - Indiana - Iowa - Kansas - Kentucky - Louisiana - Maine - Maryland - Massachusetts - Michigan - Minnesota - Mississippi - Missouri - Montana - Nebraska - Nevada - New Hampshire - New Jersey - New Mexico - New York - North Carolina - North Dakota - Ohio - Oklahoma - Oregon - Pennsylvania - Rhode Island - South Carolina - South Dakota - Tennessee - Texas - Utah - Vermont - Virginia - Washington - West Virginia - Wisconsin - Wyoming
Heavy Haulers Pilot Car Services
Are you looking for a reliable pilot car
for your transport?
Get Started
HEAVYHAULERS.COM
START YOUR SHIPMENT TODAY!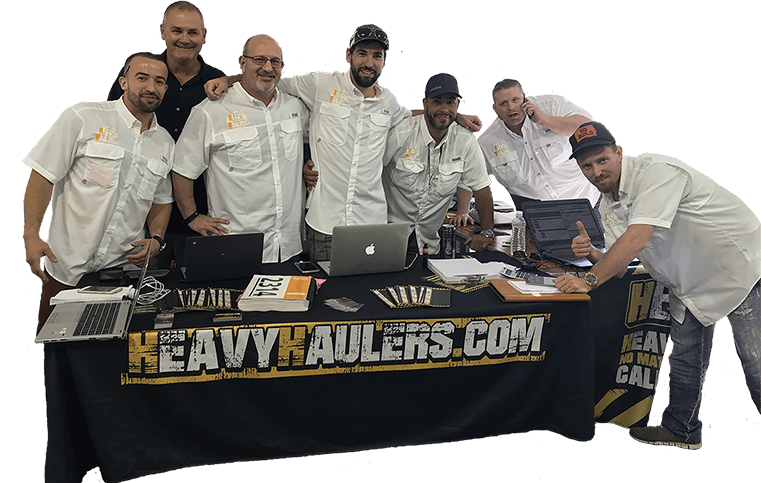 We Are Ready To Help You Haul Your Equipment!
See what you need?
Call us for a FREE Shipping Estimate at (800) 908-6206