Heavy Haulers Provides Comprehensive Grand Design RV Transport
For more than a decade, Heavy Haulers has been delivering world-class Grand Design transport services throughout the United States, Canada, and Mexico. We have served dealers, vacationers, buyers, RV enthusiasts, and travelers in the mentioned regions. Heavy Haulers, as an RV Transport Company, has a wealth of experience in transporting Grand Design RVs of all kinds, and we are also bonded, licensed, and insured.
Transporting a Grand Design RV has its myriad of challenges because of its shape, size, and variance. Also, finding a regional Grand Design shipping company is not that easy. The motorhomes are also quite heavy compared to normal vehicles, and accidents involving RVs result in damages costing thousands of dollars. Only Heavy Haulers can help you ship your Grand Design motorhome safely to its destination. Because we have specialized ultra-modern transport trailers for transporting Grand Design RVs securely and safely.We provide comprehensive Grand Design RV transport services to our clients, including general maintenance, handling paperwork, and dedicated services. Our company focuses on providing an exceptional and quality experience to our employees, strategic partners, and customers.
Contact Our Expert Shipping Specialist's
(877) 202-3708
About Grand Design Motorhomes and RVs
Grand Design RV was established in 2021 by adventure seekers passionate about the outdoor experience. Unlike other RV companies, Grand Design RV strives for a lifelong personal connection with its customers by delivering high product quality RVs that take the motorhome living experience to the next level.
Grand Design RVs come in different models tailored to meet the taste and needs of RV fans by offering a wide range of floor plans, conveniences, and sizes. They also incorporate the features of a conventional home, including entertainment, bathroom, kitchen, storage, and dining. Grand Design RVs are a masterpiece of easily towable and luxurious motorhomes.
Common Grand Design Heavy Haulers Transports
Heavy Haulers offer professional transport services for these recreational vehicles in any part of the USA, Canada, or Mexico. Some of Grand Design's more popular motorhomes include:
● Imagine
● Momentum G-Class
● Momentum M-Class
● Reflection
● Solitude
● Transcend XPLOR
How to Ship a Grand Design RV with Heavy Haulers
Shipping a Grand Design RV may be a hassle because of the procedures and bureaucracies involved during the shipping process. Don't sweat it, Heavy Haulers will easily transport your Grand Design RV by hauling it according to your instructions. We have the expertise of hauling all models of Grand Design RVs, and with the shipping service we offer, you can be sure that your trailer will be transported efficiently and safely.
See what you need?
Call us for a FREE Shipping Estimate at (800) 908-6206
Common RV Manufacturers We Transports
Trust Heavy Haulers to transport any brand of equipment you own. Most of our drivers are experienced heavy-machinery operators who can safely maneuver your loads aboard our trailers. Some of the brands we have shipped include:
Looking For Transport
With a Specific Trailer?

Max Weight: 150,000+ lbs. | Main Deck Length 29 ft.
| Well Width 8.5 ft. | Legal Height Limit 11.6 ft.

Max Weight: 48,000 lbs. | Max Length 53 ft.
| Max Width 8.5 ft. | Max Height 8.5 ft.
Max Weight: 48,000 lbs. Max Length 53 ft. |
Max Width 8.5 ft. | Max Height 11 ft.
Max Weight: 45,000 lbs. | Max Length 29 ft.
| Max Width 8.5 ft. | Max Height 11.5 ft.
We Can Ship Your Equipment Anywhere in the
US, Canada, and Mexico
Heavy Haulers Pilot Car Services
Are you looking for a reliable pilot car
for your transport?
Get Started
HEAVYHAULERS.COM
START YOUR SHIPMENT TODAY!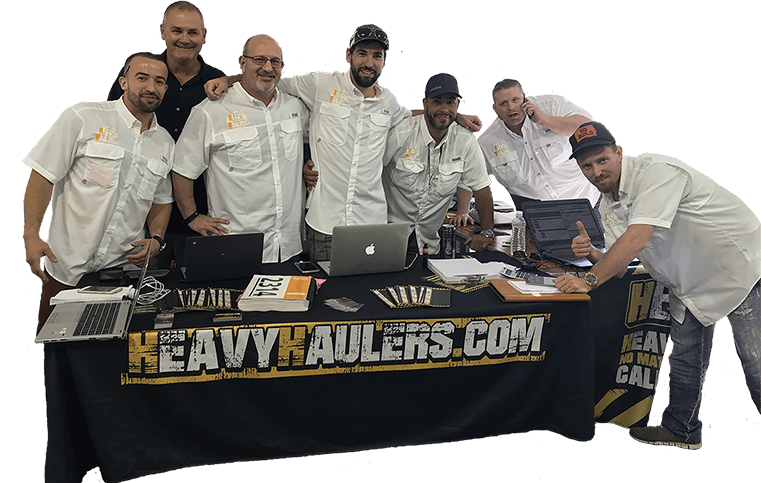 We Are Ready To Help You Haul Your Equipment!
See what you need?
Call us for a FREE Shipping Estimate at (800) 908-6206