Transporting a Jayco Motorhome with Heavy Haulers
Save your time with our RV transport company. As a trusted Jayco shipping company, we are certified and qualified to provide Jayco shipping services throughout North America, Canada, and Mexico. We handle all types of Jayco RV's and make sure that your RV is insured for any damages that may happen during the transport process before we hit the road.
Our competent drivers have vast experience in providing Jayco transport services and can transport a wide range of Jayco RVs from Jayco class A motorhome to Jayco class C motorhomes. We are sufficiently qualified to transport Jayco RVs with units up to 8'6″ wide, 13'6" tall, and 43 long Jayco RVs that are larger require state permits, and we will help you figure out the costs. If you are looking for a Jayco transport company, don't sweat it because we offer competitive prices and have world-class drivers at your service.
Contact Our Expert Shipping Specialist's
(877) 202-3708
About Jayco Motorhomes and RVs
Jayco has been at the forefront of building quality travel trailers, RVs, camping trailers, motor homes, fifth wheels, motorhomes, and toy haulers over the last 50 years. Jayco RVs are the masterpiece of craftsmanship as seen by their unique strong foundations and magnum truss roof system.
There are various types of Jayco's and some of these include:
● Hummingbird Transport
● Jay Feather Shipping
● White Hawk Transport
● Jay Flight SLX 7 Shipping
● Jay Alante Transport
● Jay Flight SLX 8 Shipping
● Jay Flight View Transport
● Jay Flight Bungalow Shipping
● Eagle HT Travel Trailers Transport
● Jay Precept Shipping
● Jay North Point Shipping
● Jay Pinnacle Transport
● Jay Talon Shipping
● Jay Flight Octane Transport
● Jay Embark Shipping
How to Ship a Jayco RV with Heavy Haulers
If you are transporting a Jayco RV, call Heavy Haulers and our specialists in Jayco RV shipping services will help facilitate the whole shipping process to make sure the RV reaches safely within a reasonable time frame. We also provide transportation services for RV dealers and offer them discounts to bring down the costs.
Heavy Haulers may ship your Jayco RV using a drive-a-away service where our licensed and insured drivers come to your location and drive your RV to the required destination. This is an affordable option for shipping a Jayco RV. The second option involves shipping the RV by loading it on a step-deck that has a stronger flat-bed and transporting it to its destination. The advantage of this shipping method is that there is no wear and tear of your RV, which happens when we use a drive-a-away service.
See what you need?
Call us for a FREE Shipping Estimate at (800) 908-6206
Common RV Manufacturers We Transports
Trust Heavy Haulers to transport any brand of equipment you own. Most of our drivers are experienced heavy-machinery operators who can safely maneuver your loads aboard our trailers. Some of the brands we have shipped include:
Looking For Transport
With a Specific Trailer?

Max Weight: 150,000+ lbs. | Main Deck Length 29 ft.
| Well Width 8.5 ft. | Legal Height Limit 11.6 ft.

Max Weight: 48,000 lbs. | Max Length 53 ft.
| Max Width 8.5 ft. | Max Height 8.5 ft.
Max Weight: 48,000 lbs. Max Length 53 ft. |
Max Width 8.5 ft. | Max Height 11 ft.
Max Weight: 45,000 lbs. | Max Length 29 ft.
| Max Width 8.5 ft. | Max Height 11.5 ft.
We Can Ship Your Equipment Anywhere in the
US, Canada, and Mexico
Heavy Haulers Pilot Car Services
Are you looking for a reliable pilot car
for your transport?
Get Started
HEAVYHAULERS.COM
START YOUR SHIPMENT TODAY!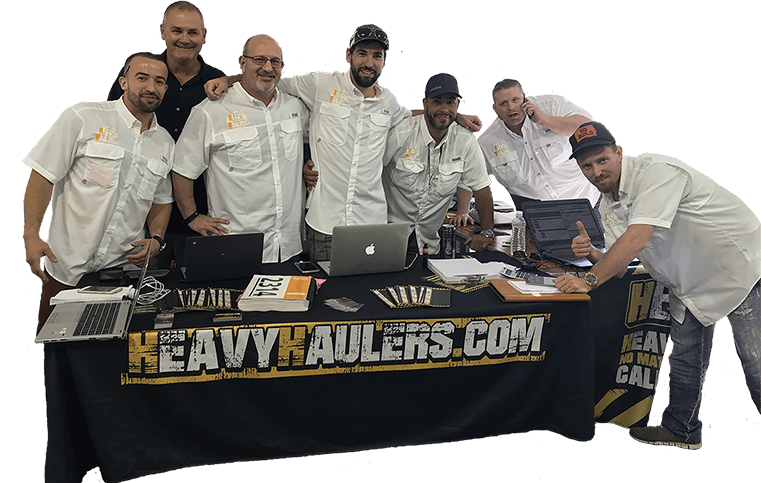 We Are Ready To Help You Haul Your Equipment!
See what you need?
Call us for a FREE Shipping Estimate at (800) 908-6206